Top 5 Videos: Markforged Replicates The Historic NYSE Bell For Their IPO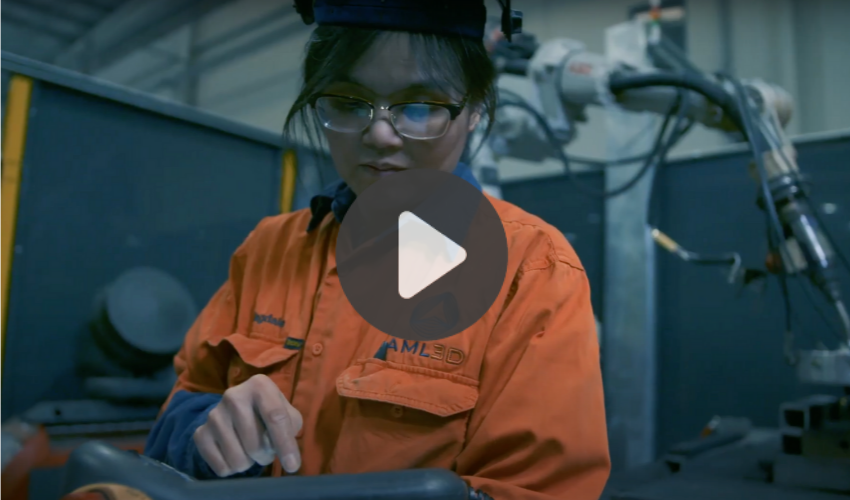 This week we found the top 5 videos about 3D printing, focused on how additive manufacturing can be applied in medicine, movie sets, and more. First, we take a look at the 3D printed robotic arm that is capable of beating the first level of the classic video game, Super Mario Brothers, and learn about its potential applications in medicine. Next, we take a look at the latest innovation from Materialise. Traditionally, 70% of powder from sintering becomes waste, but with the new Bluesint PA 12 material, the unsintered powder can be used to build brand new parts. Then we head over to the New York Stock Exchange (NYSE), where Markforged celebrates their IPO by ringing a reverse-engineered replica of the NYSE ticker bell which the company created using its own technology. Happy Sunday — enjoy watching!
TOP 1: A 3D-printed robot that can play Nintendo
At the University of Maryland, a team of researchers used 3D printing to design a robotic arm, capable of playing Nintendo and beating the first level of Super Mario Brothers in just 90 seconds. It is a "soft" robot, i.e. made of plastic and silicone that is controlled by air pressure, instead of by a source of electrical energy. Thanks to additive manufacturing, the team was able to develop the robot hand as a single component. Check out this technological gem:
TOP 2: 3D Print with 100% Re-Used Powder
A few months ago, Materialise presented a new powder for the SLS process called Bluesint PA12. The powder is 100% recyclable and can significantly reduce CO2 emissions. The production of one kilo of PA12 today generates 7.78 kilos of CO2 emissions. To overcome this problem, Materialise developed a solution to reuse 100% of the unsintered powder that is unused during the printing process. In the video below you will learn about the main advantages of such a polymer:
TOP 3: Fonco Studios streamlines workflow with J55
Feature films have often turned to 3D printing in recent years to create realistic backdrops, props, and costumes. With the Stratasys J55 printer, Fonco Studios is able to create high-quality Pantone-accurate color parts. In the next video, learn about the game-changing benefits of printing in color:
TOP 4: AML3D's Wire Additive Manufacturing (WAM)
Instead of using powder, AML3D relies on its patented wire feedstock to have a more environmentally friendly and cost-effective additive manufacturing process. AML3D uses WAM in their Arcemy printers, which allows them to bring the manufacturing directly to their customers as opposed to having customers rely on outsourced supply chains. Learn how AML3D manufactures across a broad range of metal alloys:
TOP 5: Markforged Celebrates their IPO on the NYSE
Since the 1870s, the New York Stock Exchange has rung a bell to open and close the day's trading. To celebrate their IPO, Markforged took part in the time-honored tradition by ringing the opening bell, which Markforged built with its own technology and brought on to the trading floor for the special occasion:
What do you think of our selection of videos on 3D printing? Let us know in a comment below or on our  Facebook and  Twitter pages. Don't forget to sign up for our free weekly newsletter, with all the latest news in 3D printing delivered straight to your inbox!