How 10 US startups are innovating with 3D printing?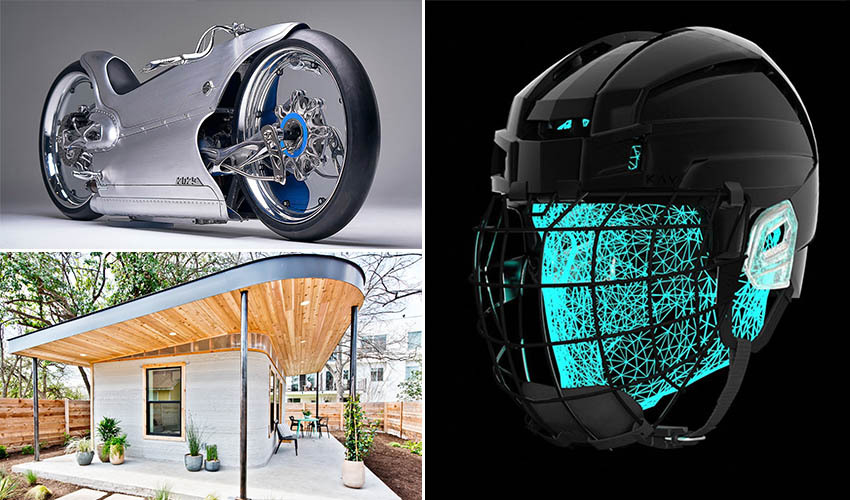 On 3Dnatives, we regularly talk about the giants of additive manufacturing, from machine manufacturers to 3D printing services or material suppliers. However, there are a growing number of startups that see this technology as the future of their industry. AM entrepreneurs are entering sectors as diverse as medicine, construction and sports. To find out more about those who are making 3D printing move to different applications, discover 10 innovative 3D printing startups in the US!
ICON – 3D printed houses
ICON is a construction technologies company based in Austin, Texas. It uses proprietary 3D printing robotics, software and advanced materials to solve problems in the construction industry. ICON's cost of 3D printing a house is estimated to be almost 50% cheaper than the conventional construction process. It is also the first company in America to secure a building permit for a 3D printed home. Their next project is expected to be completed by the end of the year, and aims to give housing to 50 families in a remote part of Southern Mexico in what will be the world's first 3D-printed community.
To support its activities in this sector, the company developed a 3D printer so big that it can additively manufacture walls in under 24 hours. The Vulcan is ICON's next generation construction 3D printer designed specifically to produce resilient single-story buildings faster, more affordably, and with more design freedom. ICON uses Lavacrete, which is a proprietary cement-based mix to build walls. Unlike traditional building materials, Lavacrete is able to withstand extreme weather conditions to minimize the impact of natural disasters.
KAV – 3D printed helmets
KAV is a startup based in California that opts for 3D printing technology to manufacture helmets for hockey players. Located in Silicon Valley, the startup uses advanced polymers, such as TPU, as well as machine learning algorithms, to create custom helmets for not only professional hockey players but everyone. Their goals are to address the lack of personalization and size variation in traditional hockey helmets, but also make the helmets more affordable. Therefore, KAV chose to use FDM, since it is cheaper than, for instance, SLS for a product of this size.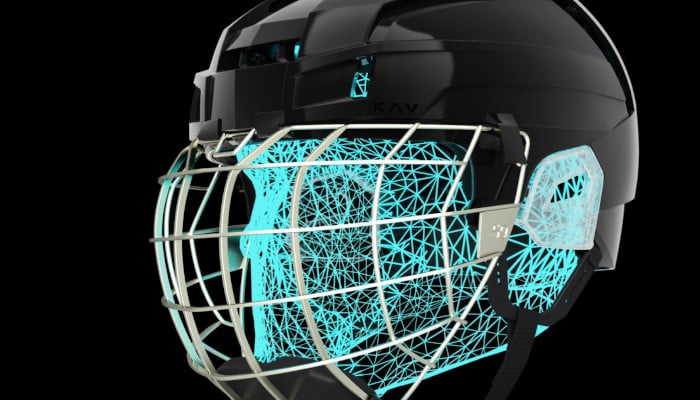 When it comes to the actual design, the inside of the helmets is made from advanced carbon polymers and thanks to the machine learning algorithms they use, KAV is able to optimize material placement. As a result, the weight of the helmet is reduced. Moreover, KAV has simplified the design, eliminating the standard two-shell mechanism.
Multiply Labs – 3D printed pills
Multiply Labs is a new type of personalized pharmaceutical company. It produces unique 3D printed capsules. What makes them unique is that only one such capsule can provide all the medication a patient needs throughout the day. Basically, a patient could have all of their prescriptions in one single pill. How does it work? Simply put, the capsules are programmed to release pharmaceutical ingredients in a controlled way throughout the day. The capsule is produced from a very specific pharmaceutical polymer called Hydroxupropyl cellulose, or HPC. It is a water-soluble polymer which can be taken without any harm and dissolves naturally in the human body. The startup uses FDM technology to print the capsules.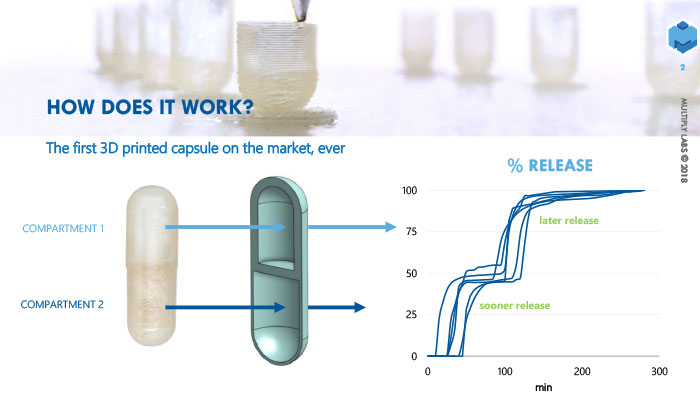 BIOLIFE4D – 3D printed organs
BIOLIFE4D is a biotech company based in Chicago, US. It has developed more than one proprietary technology, including its bioinks, for example. Bioink consists of living cells that make it possible for 3D printers to create complex tissue models. The company is also famous for 3D printing a tiny human heart. The heart is smaller in size than a real heart, but what is important is that the 3D printed organ features the exact same cellular structure as a full-sized human heart.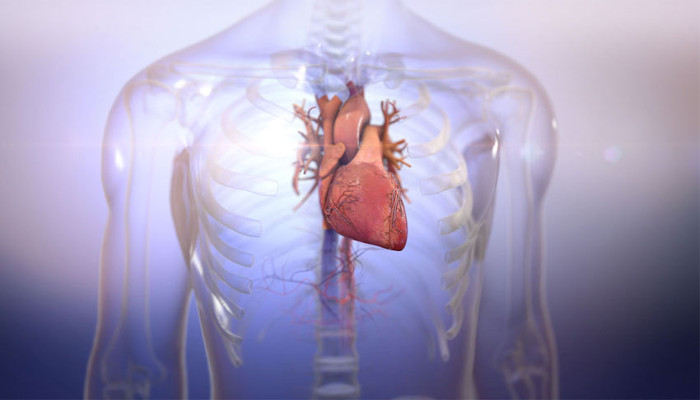 The company sees it as their mission to bioprint hearts viable for transplant, thus addressing the lack of supply issue. Notably, to do so, BIOLIFE4D uses the patient's own cells so there is be no chance of rejection and no need for the tremendously undesirable immunosuppressant therapy that current donor recipients have to deal with, which itself can contribute to life threatening conditions.
FossiLabs – medical implant devices
Based in the US, FossiLabs is a startup that develops FDM 3D printers to produce medical implant devices. It focuses on the PEEK material, which is a high-performance thermoplastic that has gained a lot of attention in the last couple of years. In the medical sector, it's the biocompatible properties that are of particular interest for implants.
FossiLabs' aim is to promote bone growth in patients. As a result, it has developed a proprietary process to offer a first-of-its-kind 3D printed PEEK porous medical implant. Unlike other 3D printed PEEK implants, the entire piece has porous structures instead of only surface porosity.
Tarform – 3D printed motorcycles
Tarform Motorcycles is a startup that specializes in motorcycle development using additive manufacturing. Based in Brooklyn and Stockholm, the company uses environmentally friendly materials to fabricate its vehicles. For instance, last year they released their new zero-emission electric motorcycle that was mostly additively manufactured. A lot of internal mounts, headlight lens and lens bucket where 3D printed out of biodegradable PLA. The body and the side panels where reinforced using ECO flax fiber instead of carbon fiber. The exterior parts on the bike were 3D printed using a combination of various printers such as FDM, SLA, and SLS.
Fuller Moto – motorcycles
Since additive manufacturing allows to build optimized and aesthetic components that are also lighter than the traditional ones, it should not come as a surprise that many vehicle manufacturers are trying to take advantage of 3D printing technologies. One other startup that is worth mentioning is Fuller Moto. Based in Georgia, this American company has already managed to become one of the leading workshops for the design and customizations of cars and motorcycles. One of their most recent and most impressive projects is the Fuller Moto 2029, a futuristic motorcycle inspired by the style of the famous French bike Majestic 1929. It is an electric motorcycle with a fully enclosed sculpted aluminium body, transparent polycarbonate wheels and, notably, 3D printed titanium parts.

Relativity Space
The American startup Relativity Space specializes in the design of 3D printed rockets. Before starting Relativity, its co-founder and CEO, Tim Ellis, worked as a development engineer at Jeff Bezos' space company, Blue Origin. Together with Jordan Noone from SpaceX, Ellis launched Relativity Space in 2015, the company has since raised more than $185 million in total; among the investors are several individuals, including former Disney president Michael Ovitz and artist Jared Leto. With this money, the California-based company is determined to complete the production of Terran 1, the world's first 3D printed rocket.
In order to make very large structures like rocket tanks and airframes, Relativity invented their own robotic 3D printing technology called Stargate. Stargate is the largest metal 3D printer in the world, and uses robotic arms and proprietary print head, sensors and software to deposit the high strength aluminum rocket structures. Then, they add small, detailed parts fabricated with powder-bed metal 3D printers to the rocket's large backbone.
Gantri – consumer goods
Gantri is a San-Francisco based digital manufacturing company that produces consumer goods, more precisely, designer lightning. All of its products – table lamps, floor lamps, wall fixtures, etc. – are 3D printed. In order to create their unique models, the company hires the best designers from all over the world. When it comes to the 3D printing technology, Gantri has a mix fleet of modified desktop FDM printers, plus their own Dancer 3D printer. As for the material, the startup is dedicated to producing lighting that is made from sustainable products. Therefore, they use mostly corn, but also sugar beets or sugar cane derived starch in their blends of PLAs.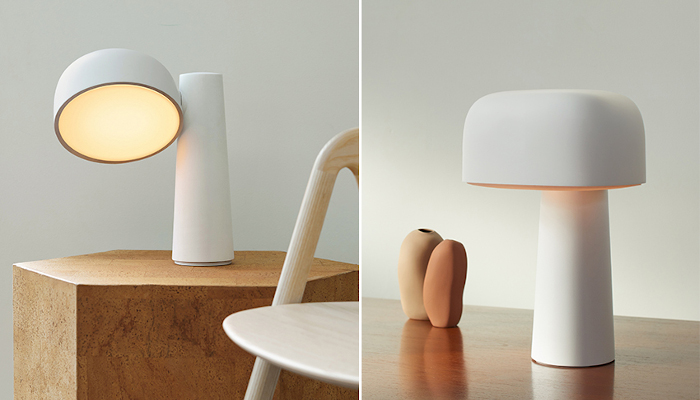 Twindom – 3D printed figurines
Twindom is a startup that utilizes the latest 3D technologies to create miniature figurines of real people. The company's vision is to allow anyone to share and hold their most important memories. The company invented a full body 3D scanner, that enables to create a colorful 3D rendering of a person. The business mostly targets families, parents and pet owners, in other words, people who want to keep "a piece" of someone dear to them. Twindom's full-color 3D prints are mainly produced in Nylon using HP Multi-Jet-Fusion 580 full-color 3D printers. The additively manufactured figurines are available in full-body, half-body, and bust sizes.
Find more startups that we have interviewed HERE!
What do you think of these US 3D printing startups? Let us know in a comment below or on our Facebook and Twitter pages. Don't forget to sign up for our free weekly newsletter, with all the latest news in 3D printing delivered straight to your inbox!