TOP 25 of the most widely used software in 3D printing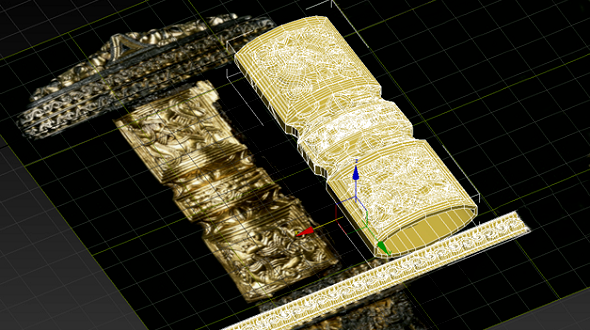 Whether you are designing, modifying, or repairing a 3D file yourself, there are always days when a happy owner of a 3D printer wonders what 3D software to use. Because it is difficult to choose among the many existing programs, the Belgian firm i.Materialise has unveiled a TOP 25 of the most popular design software in the world of 3D printing.
To help them arrive at their ranking, the i.Materialise team based each one on 6 different criteria, assigning a score of 0-100 to measure the popularity of the software. Starting out, they were only interested in the general popularity of the software, doing this through methods such as looking at the number of fans they had on social media and looking at the notoriety of the website for the software (the page ranking and the number of backlinks).
To ensure that their research on the different software was really for 3D printing (and not for design in general), the study also took into account the number of times that the software had been mentioned on specialized platforms, like forums that are dedicated to 3D printing (such as 3Dnatives), as well as videos related to 3D printing on YouTube, 3D file platforms (like Cults3D, Thingiverse, CGTrader) and finally, the number of times the software was mentioned on Google.
The ranking of the most popular 3D modeling software for 3D printing according to i.Materialise is as follows: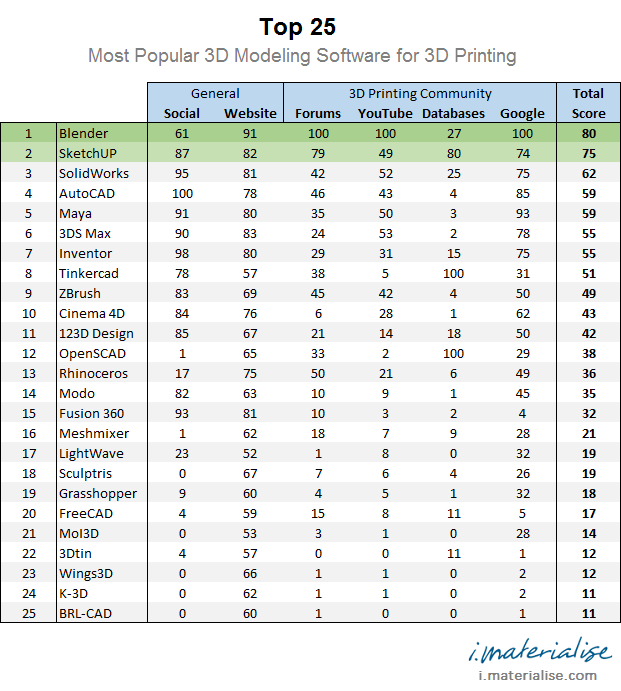 In the first and second position, we find free software by Blender and SketchUp. In third place, we have SolidWorks by Dassault Systèmes, which, however, does lack in popularity within the 3D printing community (so, we wonder if it's place here is related to its price or its complexity).
Although this is not a true classification of the best 3D software, this is a top 25 nonetheless and has the advantage of giving a few ideas for those who would like to try 3D modeling. As everyone knows, the software community is vast and with a community this large, there are always people who need to know and those who are in the know ready to help out.
For more information on the i.Materialise list, check out the link here.