Panic! At The Disco uses 3D printing for its snare drums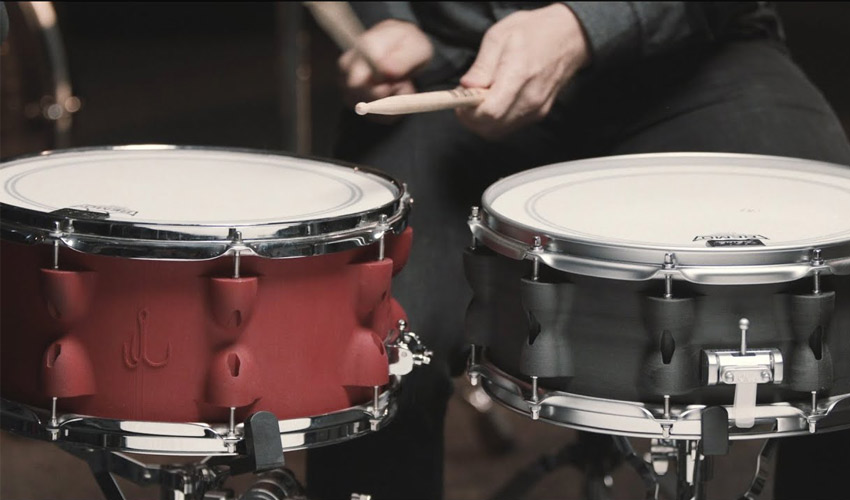 The drummer of the band Panic! At The Disco, Dan Pawlovich used 3D printing to create the body of his snare drum, the horizontal shell that sits between his legs and produces the highest sound. This new method of manufacturing apparently allowed the musician to obtain a cleaner and sharper sound. He worked in collaboration with Stratasys Direct Manufacturing on a Selective Laser Sintering technology; a successful gamble since Dan has been playing with this 3D printed snare drum for a year and a half at the band's concerts.
Increasingly, musicians are turning to additive manufacturing because it allows them to innovate in terms of sound, to play on the complexity of their instruments, or even their strength – you probably remember the 3D printed unsmashable guitar by Sandvik. It also offers opportunities to iterate and design better instruments, which was Dan's end goal. He successfully managed to eliminate the metal lugs that hold the drum together. He explains that these have a negative impact on the precision of the sound. The American drummer therefore wanted to integrate these components directly into the shell of the drum.
The creation process of the 3D printed snare drums
Dan explains that he worked with a CAD designer for 3.5 years before finding a design he liked and printing a first prototype. Several things were important to consider according to the musician: first of all, the body had to be as durable and resistant as possible over time. Dan Pawlovich said it had to be compatible with traditional pull rods, rims and drumheads that could easily be replaced when they were too worn out. That's why the drummer built cavities into the body to make it easier to attach to the drum.
The band's drummer called upon Stratasys Direct Manufacturing's 3D printing service and created a first prototype on an SLS machine, using Nylon 12GF, a UV, weather, moisture and impact resistant material that is ideal for transporting from one gig to the next. The piece went through post-processing, including dyeing to obtain this red colour. The company tested other materials, using FDM technology and ABS. Each iteration produced a different sound, prompting Dan Pawlovich to experiment with multiple materials and combinations. He explains: "I have three cases, all the same dimensions, but made with two different 3D printing methods and three different materials. They look like completely different categories of drums."
It looks like the band has already integrated this 3D printed snare drum in their various concerts and the result seems to be there. Over the last year and a half, the drummer has been explaining that the sound is cleaner and more precise. He hopes that drum makers will also use additive manufacturing to offer better performing instruments. Listen to the result in the video below and find more information HERE.
What do you think of these 3D printed snare drums? Let us know in a comment below or on our Facebook and Twitter pages! Sign up for our free weekly Newsletter, all the latest news in 3D printing straight to your inbox!