3D printing accelerates supercar design and production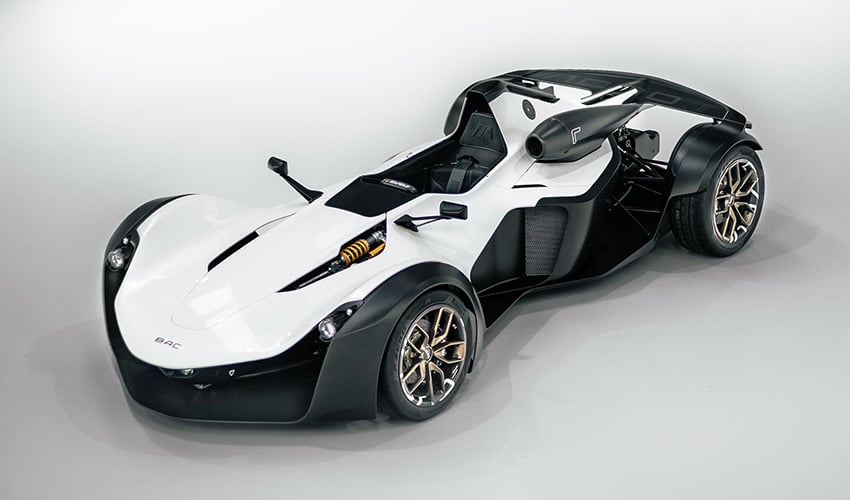 In the automotive industry, additive manufacturing has established itself as a technology for prototyping and tooling applications. Car manufacturers can create prototypes to check fit and form before going further in the design process, and they can also create low-cost tooling such as grips, jigs and fixtures, needed during production. Nevertheless, the technology has been gaining greater adoption in series and customised end-part production, particularly for motorsports and luxury vehicles. It enables to create specific vehicle components that are custom and lightweight, especially convenient when the cost of such components is justified by an improvement in vehicle performance. As a result, a growing number of automotive players are investing in 3D printing technologies, and leveraging their benefits.
In the UK, Briggs Automotive Company (BAC), the British manufacturer behind the BAC Mono and BAC Mono R single-seater supercars, has announced its continued adoption of 3D printing. The company said it is partnering with 3DGBIRE, the professional 3D printing expert based in the UK, and using Ultimaker 3D printers, to integrate the technology smoothly in its production workflow. Founded in 2009, BAC's Mono and Mono R supercars offer performance and a unique aesthetic. These luxury cars have been designed to be a canvas for customer personalisation, for which additive manufacturing is perfect.
Together with 3DGBIRE and Ultimaker, BAC is investing in the technology to create higher-performance, lighter and more advanced parts for its Mono R supercar. The aim was to reduce the design-to-manufacture timeframes of complex geometrical components and bring production in-house. Daniel Abram, General Manager at 3DGBIRE, explains in more detail: "The introduction of 3D printing into the car production process has proven to be beneficial at numerous stages. From R&D and prototyping, to manufacturing aids, to the production of end use parts, 3D printing is saving businesses like BAC money and slashing lead times."
A key step in the successful adoption of any technology is to invest in the right system. Considering that the parts they wished to produce varied a lot, from prototypes to end use parts, it made sense to adopt a versatile 3D printing technology. As a result, BAC and 3DGBIRE announced they have been using Ultimaker S5 FFF 3D printers. Material choice was one of the key considerations, and Ultimaker's Open Source Material Alliance was perfectly adapted to the needs of the company. The Open Source Material Alliance, which counts more than 80 contributors worldwide, focuses on bringing a very wide range of industrial-grade 3D printing materials to the Ultimaker platform.
3DGBIRE, which supplies 3D printers and provides support and training within the 3D printing market, made the choice of the manufacturing system BAC would employ to create vehicle parts. Adam Mughal, Lead 3D Designer, Briggs Automotive Company comments: "It's been fantastic, it allows us to create something and have it ready to test in a matter of hours, this is game changing for BAC. We're already using it in all aspects of production from R&D to prototyping to end use parts. It's also had a big impact on cost savings for particular parts; for example the cost price of our wing mirrors used to be £60, now we can print them in two parts for just £10 total cost. 3D printing really has been a revelation for us at BAC."
Finally, the company revealed that in total, it has 3D printed 40 parts for its Mono R vehicle, including the front and rear light surrounds, mirror arms and mirror housing, front hatch hinges, the front hatch latch mechanism, engine inlet components and more. The benefits of 3D printing are obvious, and we cannot wait to see what new capabilities it can offer to the automotive industry! You can find more information HERE.
What do you think of the Mono R and BAC's use of 3D printing technologies? Let us know in a comment below or on our Facebook and Twitter pages! Don't forget to sign up for our free weekly Newsletter, with all the latest news in 3D printing delivered straight to your inbox!