3D printing materials: suppliers doubled in the last two years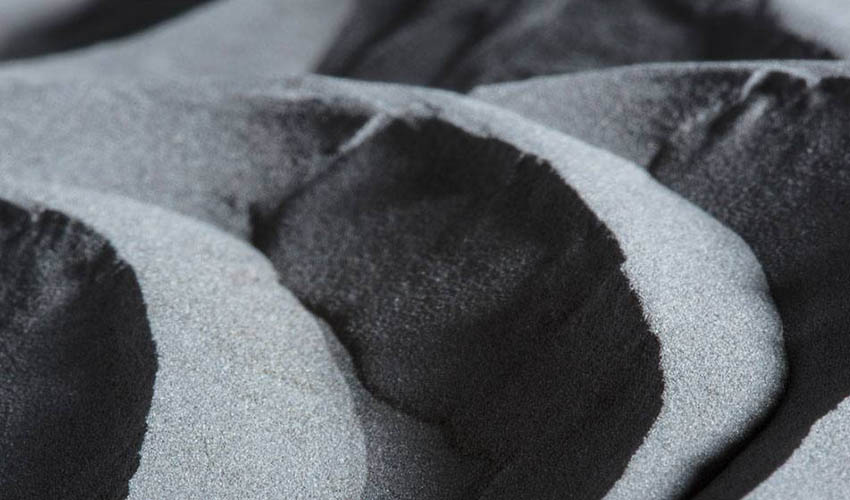 Every year, the American firm, Wohlers Associates, Inc. unveils its industry-leading report on additive manufacturing. At the beginning of the week we told you about its 25th edition, containing wide-ranging data on the latest developments and trends in the AM market in a 380-page report. Included in the report is an expanded historical analysis of the developments of 3D printing materials. The data for this part of the analysis was provided by Senvol from the Senvol Database. Moreover, the group made its historical analysis of additive manufacturing materials included within the report publicly available, revealing how AM materials have developed over the years!
Material choice is a key driver of adoption of additive manufacturing by companies. A lack of material choice or closed systems participate in limiting the number of businesses that will invest in 3D printing for their activities. Senvol reveals that the most diverse materials offering is for metal PBF by a large margin, followed by polymer SLA (which they call vat polymerization, VPP), and material extrusion (MEX). Note that MJT stands for material jetting and SHL stands for sheet lamination. In fact, last year's Wohlers Report (24th edition) reported that the metal segment of additive manufacturing was experiencing a strong growth, mainly due to the strong growth in metal materials. The variety of metals available enables industrial applications of 3D printing, which are increasingly sought after by companies.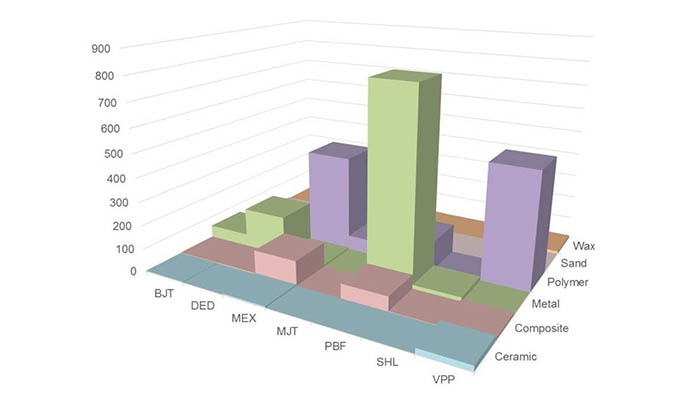 Additionally, Senvol tracks the companies that supply AM materials. They include AM system manufacturers and producers of third-party materials. According to the data, the number of material suppliers doubled in two years (from 2017 to 2019). Most of the materials manufactured are polymers and metals. However, composites are growing. Composite materials also enable higher performance, and offer properties that are very interesting for a number of industries such as aerospace and automotive, enabling manufacturers to create parts that are stronger but not as heavy. Ceramic, sand, and wax represent specialized applications and systems, and are only available from a narrow selection of suppliers.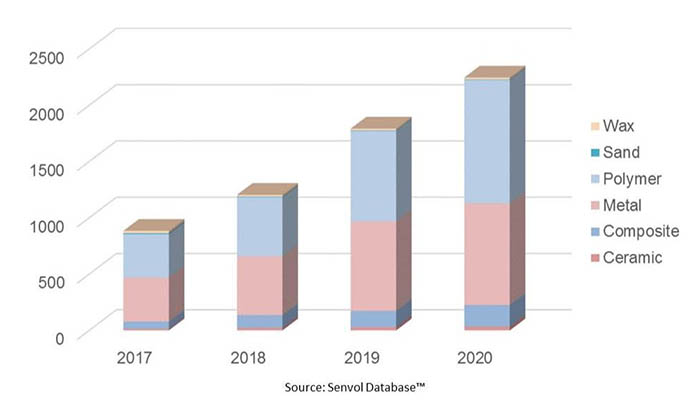 Nickel, steel, and titanium products have led the metals market by a large margin, although aluminum products are growing. The other category includes iron, precious metals, and refractory metals. Applications for these metals are increasing, but the materials are available from a limited number of suppliers.
Even though the thermoplastics segment is not growing as quickly as metal, it still represents a bigger share of additive manufacturing in terms of revenue. In the following chart shows the trends in thermoplastics, mainly used in material extrusion (FFF technology) and powder bed fusion systems (SLS technology). Polyamide (PA) products dominate the thermoplastics market due to the increasing volumes of PBF machines that use these powders. They include many grades of PA, such as PA6, PA11, and PA12, with PA12 being the most common, by far.
ABS and PLA are mostly used in MEX systems. However, an interesting subcategory is PEI, which is generally sold under SABIC's brand name ULTEM. This plastic has become common for some production applications, but is available from a limited number of suppliers. In this case, the number of products may not correlate directly with the amount of material consumed. Also notable is an increase in TPE and TPU, which are elastomers used with MEX and, more recently, PBF systems. At Formnext 2019, a growing number of companies displayed elastomers for AM. This segment of materials is expected to diversify.
You can find more information on the Senvol Database HERE. Do these trends in 3D printing materials surprise you? Let us know in a comment below or on our Facebook and Twitter pages! Don't forget to sign up for our free weekly Newsletter, with all the latest news in 3D printing delivered straight to your inbox!