3D Printing Job Market Trends in 2021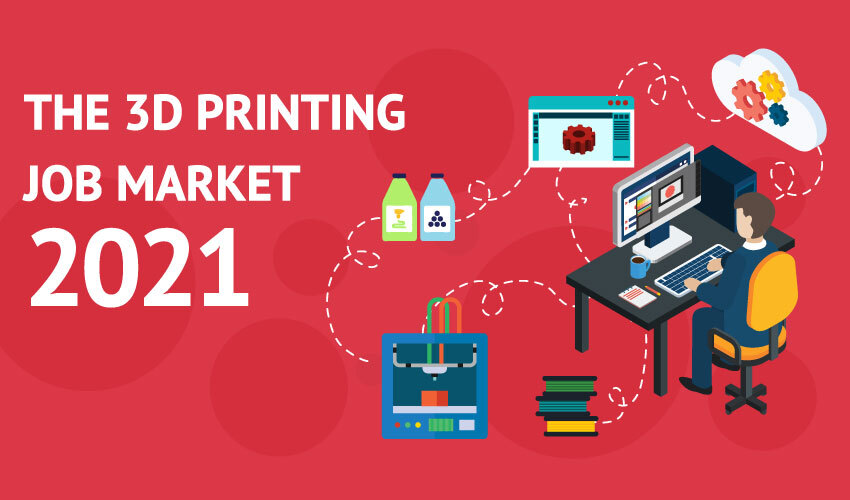 While many industries were heavily impacted by the health crisis during 2020, the field of additive manufacturing continued to grow. Companies are more confident in the technology and continue to invest in order to continue their development. But that's not all. Other companies, from a variety of industries, have also picked up on 3D printing and are now major players in the additive manufacturing world. In particular, the emergence of these players has led to the development of new jobs, and the need for recruitment has therefore increased. But what are the main trends in the 3D printing job market?
In order to understand what the state of the job market is in the 3D printing sector, and to make a comparison with 2019, we have analyzed information from the 3Dnatives Job Board, which counts more than 350 job offers published internationally in 2020. This study covers a variety of topics such as which types of contracts are the most common, which sectors and companies are the most in demand, but also which jobs are the most sought after by companies specialized in 3D printing. It will also provide an opportunity to review the major market trends, which are constantly evolving due to the nature of the AM sector.
Companies with a long-term vision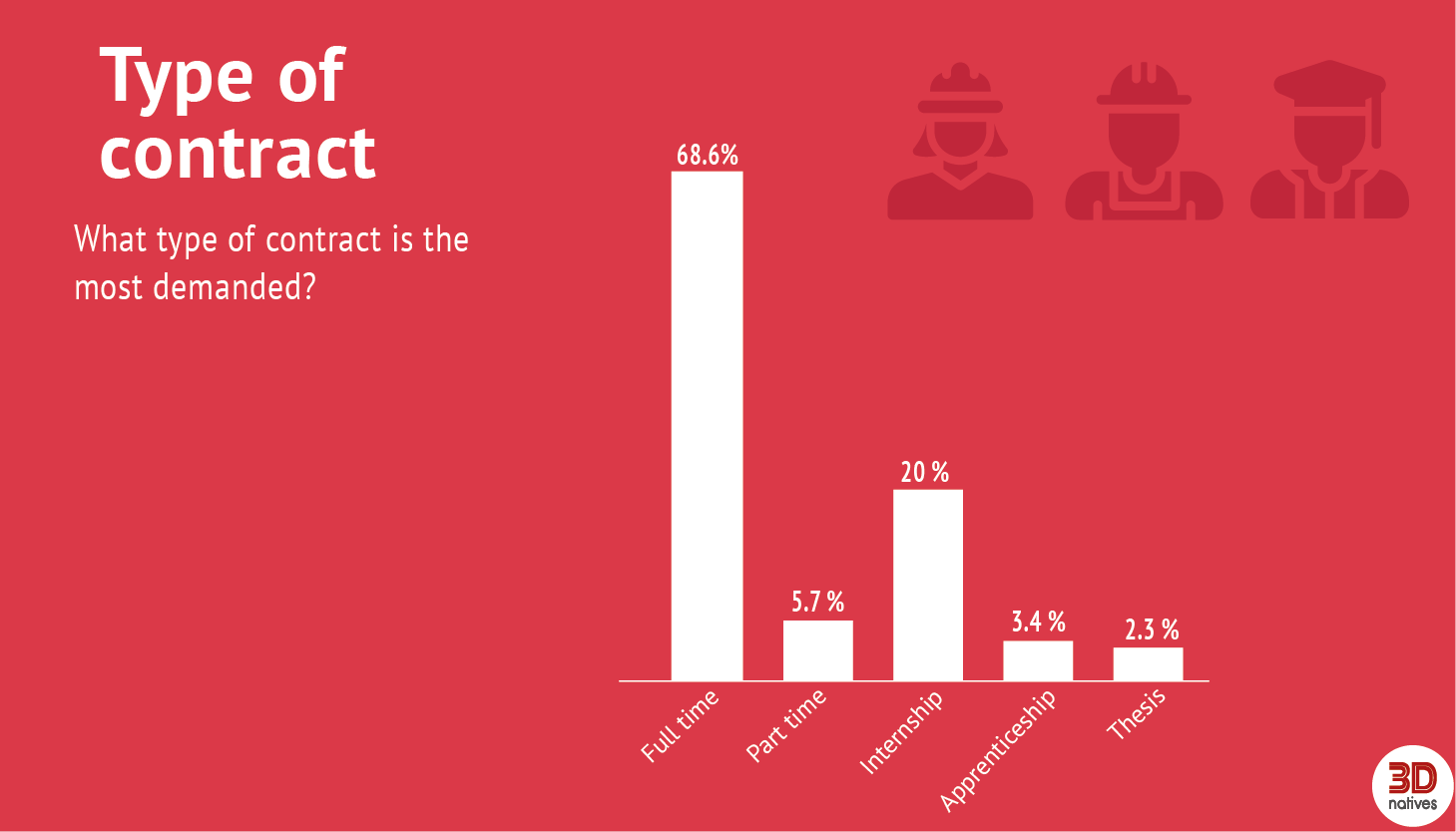 Between fixed-term and permanent contracts, companies have made their choice. For the most part, companies are growing rapidly and wish to recruit professionals for the long term. With out of all the jobs published nearly 70% were permanent offers, there is no doubt that they are confident about the evolution of the market. A fact that sounds obvious today, but which was far from being so a few years ago. In early 2020, Audrey Chikhaoui, founder of the recruitment firm Rosa Parks Consulting, explained that many companies doubted the longevity of the 3D printing market and were unwilling to recruit for that reason. But during the health crisis, additive manufacturing showed its potential and agility. Now more serene about the evolution of the market, companies are recruiting more. As for jobs dedicated to students, such as internships and work-study programs, they make up 23.4% of published offers, a figure higher than in previous years (around 15%).
Technical profiles are the most sought after
Even if the positions to be filled are more and more varied, the additive manufacturing market is mainly looking for technical profiles with a good knowledge of the 3D printing world. Indeed, more than 40% of the job offers published concern the production and design sector. This proves that, even if the technology is becoming more and more democratic, it remains above all a technical field, requiring certain skills. For example, the positions of machine operator, 3D technician (machine installation, after-sales service, etc.) or engineer are highly sought after. However, it is interesting to note that other fields, such as sales, marketing and management are booming (27.1% between them compared to 11.9% in 2018).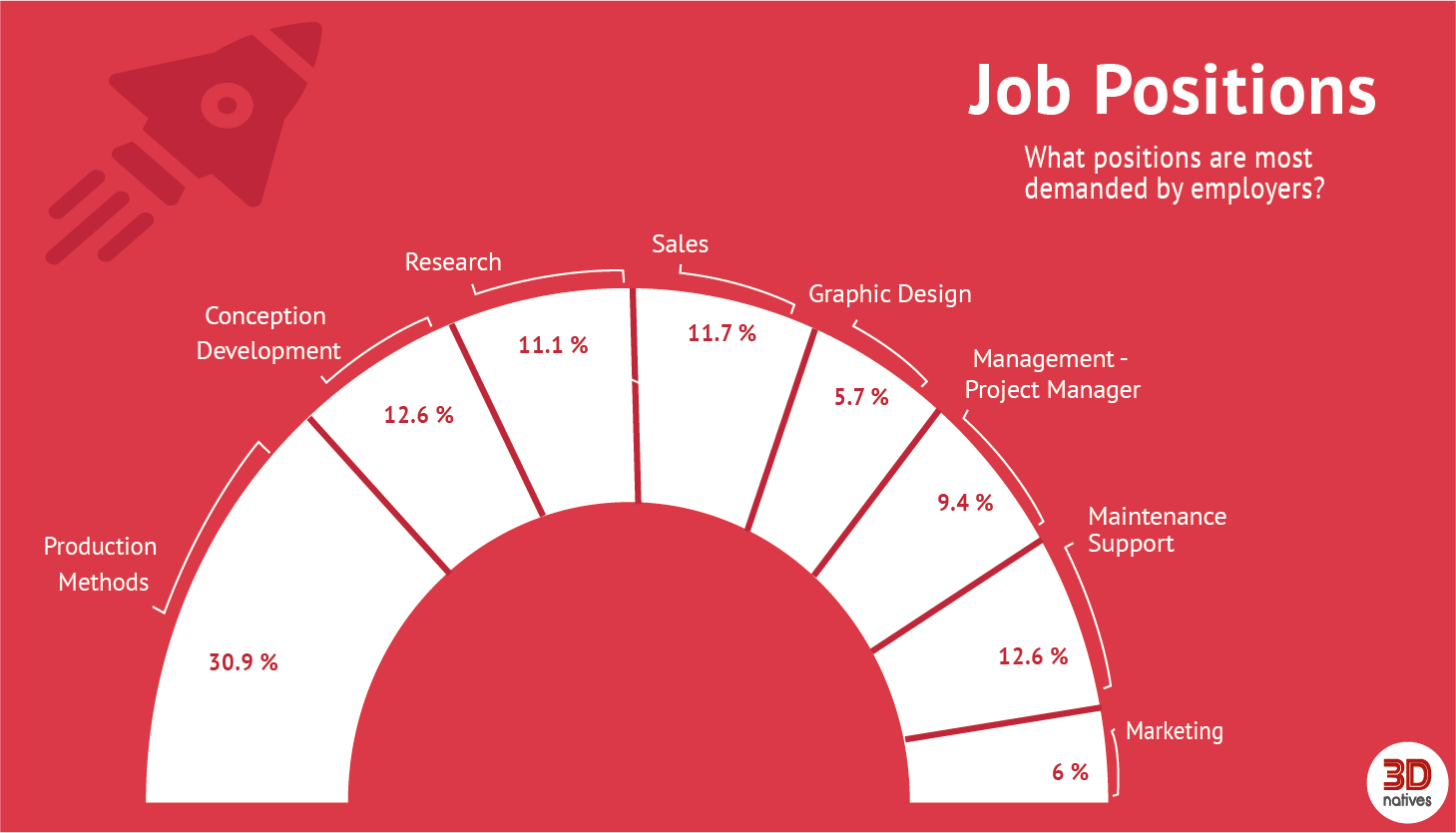 The democratization of 3D printing
This diversity of profiles can be explained by the growing number of sectors that are now using 3D technologies. Over time, 3D printing has become an essential manufacturing method, improving productivity and efficiency. The majority of job postings come from 3D printer manufacturers (27.1%), a figure that is up from 2019 (16%). Other fields are also slowly beginning to embrace the technology. This is particularly true of the chemical sector (7.7%), where there is a strong development of materials: raw material manufacturers are increasingly partnering with printer manufacturers. For example, BASF developed a polypropylene powder in collaboration with HP in 2020. These partnerships are more common, proof that industry players want to create a sustainable ecosystem.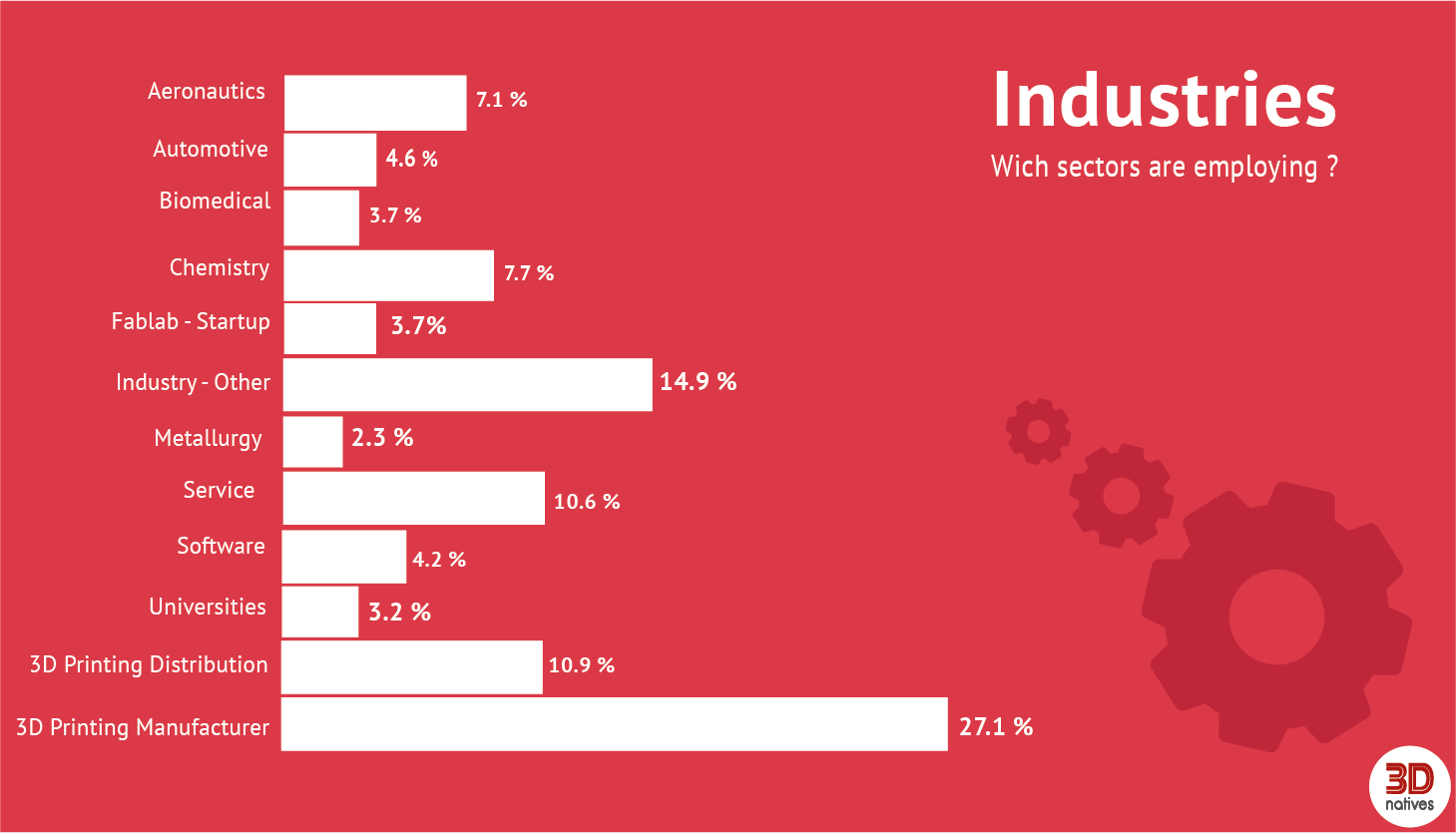 In the automotive industry (4.6%), even though this sector has been using 3D printing for a long time, several manufacturers have decided to create their own additive manufacturing centers in recent years. BMW has recently set up a 3D printing center, where no less than 80 employees are working. General Motors and Seat have also created jobs. The same applies to aeronautics (7.1%), where the French giant Safran will inaugurate its Additive Manufacturing Campus factory by the end of the year. And of course, this new eco-system around additive manufacturing has added significant recruitment needs.
Growing recruitment
Regardless of their sector, most companies are looking to recruit new profiles. From startups to large groups and SMEs, the entire field of additive manufacturing is looking for new talent. While large companies regularly post new job offers (36.3%), VSEs, SMEs and ETIs are not to be outdone, with 30.7% of offers published. These figures can be explained by the large number of startups present on the market, but also by the fact that large groups have become users of technology.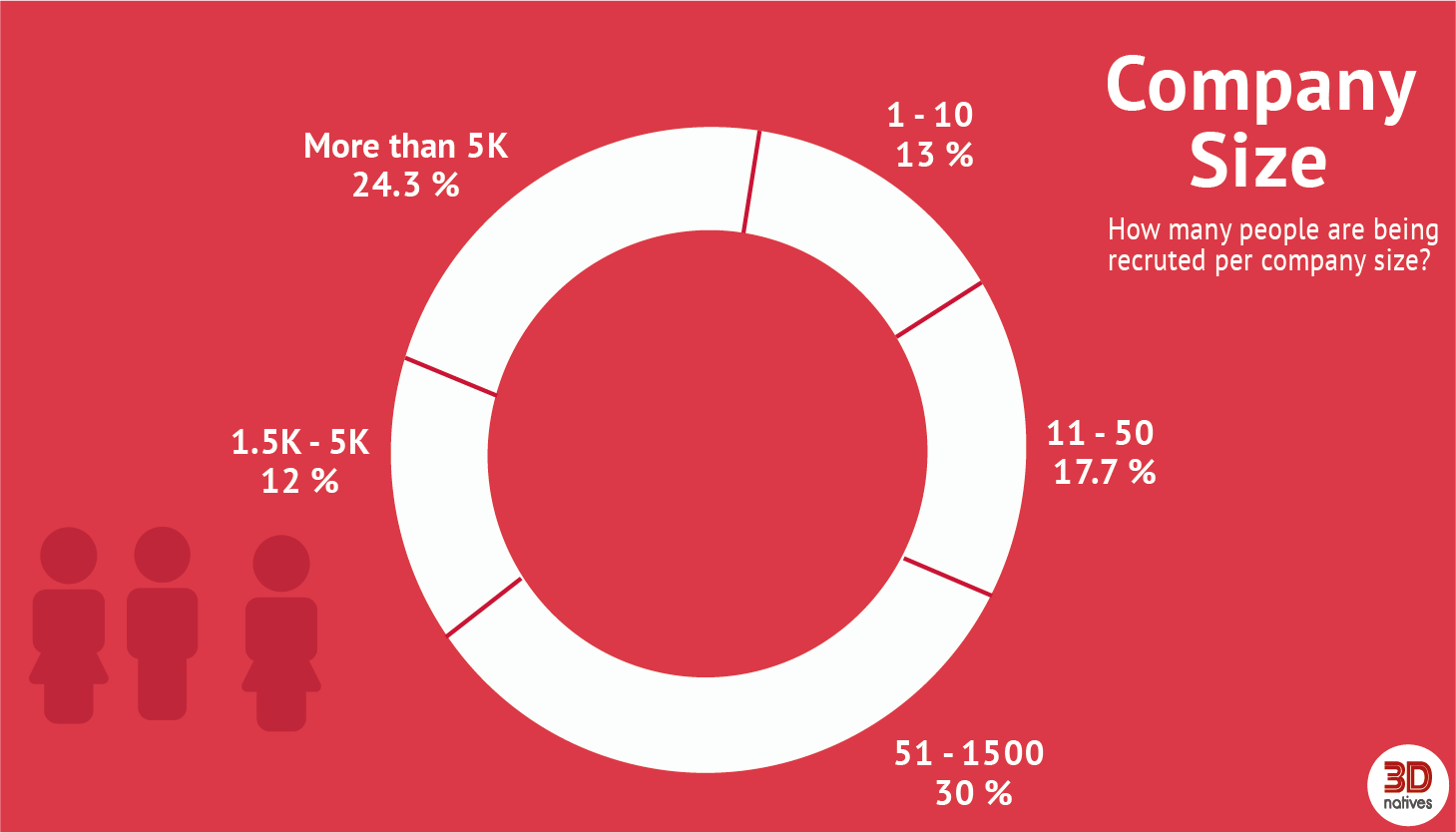 What do you think of the evolution of the 3D printing job market over the past year? Let us know in a comment below or on our Linkedin, Facebook and Twitter pages! Sign up for our free weekly Newsletter here, the latest 3D printing news straight to your inbox! You can also find all our videos on our YouTube channel.
Find the 3D Printing Job Market 2021 infographic HERE.