The Importance of 3D Printing in Industry 4.0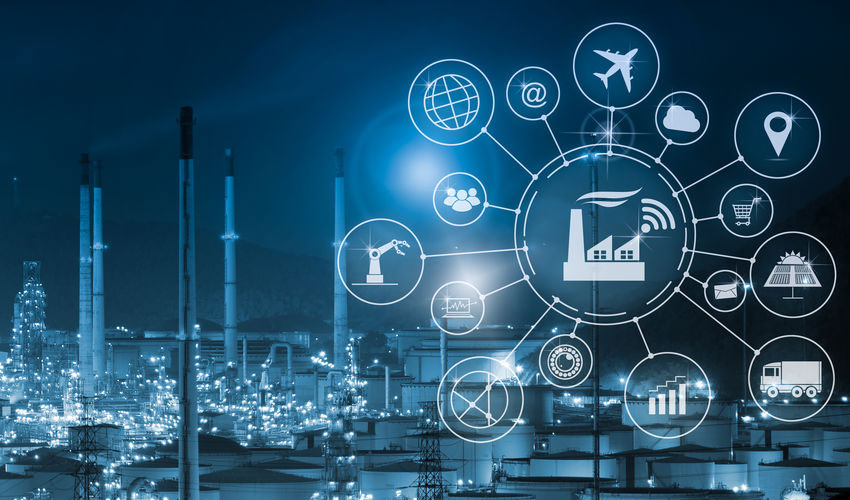 3D printing is one of the fundamental elements of Industry 4.0. But before considering the role of additive manufacturing, it is first necessary to understand what Industry 4.0 is. Industry 4.0, or the fourth industrial revolution, consists of the automation and digitization of industry and all business-related processes. Industrial revolutions occurring throughout history have been defined by the characteristics of the different emerging technologies of each moment. These characteristics and the new technologies change the industry's methods of production at great speed. At the same time they incite economic and social change, profoundly transforming humanity and how it has evolved. Society has lived through three industrial and technological revolutions in the nineteenth and twentieth centuries that have led to progress in all its aspects, both economically and socially.
Since about 2014, industry, economy and society have been experiencing a new change marked by the fourth industrial revolution. This has been possible thanks to the exponential growth of technology and ICT in the last decade, giving rise to Industry 4.0. Industry 4.0 groups physical, digital and biological systems into an intelligent production network where different components interact and collaborate together. Likewise, it is made up of different innovative technologies that give rise to flexible, intelligent and autonomous solutions. This change implies the digital transformation of industry and companies with the integration of new disruptive technologies: 3D printing, IoT, cyber-physical systems (CPS), cybersecurity, cloud computing, blockchain, artificial intelligence, machine learning, deep learning and big data. This gives rise to the industry of the future or Smart Factory.
3D printing in industry 4.0
The  3D printing is one of the leading emerging technologies of Industry 4.0 . The use and implementation of additive manufacturing, in combination with other technologies, is producing an evolution in the industry towards an intelligent production where machines (autonomous, automatic and intelligent), systems and networks are able to exchange information and respond to the systems of production management. In addition, as a technology capable of turning a 3D design into a product without intervention, 3D printing has a fundamental role. Moreover, the need for expensive tools and fixtures is eliminated, reducing post-processing, material waste and human intervention. These are characteristics that define the industry of the future .
Thanks to 3D printing, factories have the ability to increase their flexibility, adapting to the needs of an increasingly demanding and unpredictable market. In addition, it enables all kinds of personalized objects to be manufactured without expensive molds and manufacturing tools. Likewise, 3D printing is a great ally of the environment, a very important characteristic considering our current climatic situation and the importance of having sustainable manufacturing processes with less consumption of resources and generation of waste.
3D printing has come to maturity very quickly according to the well-known Gartner curve. This curve represents the maturity, adoption and commercial application of a specific technology. At the highest peak is medical implant 3D printing, point of sale 3D printing and in supply chains. In addition, we also find 3D printing in classrooms within the education sector and bioprinting for research in the field of medicine.
Future prospects for additive manufacturing
Additive manufacturing has a very promising future. The increase in the number of techniques and materials, together with the considerable amount of scientific research and creation of specialist companies, has produced an increase in the possibilities of applying the technology. 3D printing has emerged as the preferred manufacturing technology in multiple industries, with the prospect of continuous growth. In addition, the current situation that is being experienced worldwide due to COVID-19, has led to greater progress and consolidation of 3D printing following an increased need for personalized elements quickly.
3D printing and Industry 4.0 are being promoted through several initiatives worldwide, with Silicon Valley, London and New York as the leading locations for Industry 4.0 related startups. DFactory BCN stands out among these initiatives, aiming to be the largest Industry 4.0 hub in southern Europe. Its objective is to generate between 1500 and 5000 indirect jobs. Additionally, the facilities of the 3D Factory Incubator, Europe's first high-tech incubator in 3D printing, has more than 50 companies specialized in additive manufacturing. Another example, is Project DIAMOnD in Michigan, which seeks to help bring manufacturing in Michigan into the age of Industry 4.0. The maturity of the technology, the wide range of possibilities offered by 3D printing and the impulse that is being given from the institutions, will produce the consolidation of additive manufacturing as a leading technology in multiple sectors in the near future.
What do you think of the role of 3D printing in Industry 4.0? Let us know in a comment below or on our Facebook, Twitter and LinkedIn pages! Sign up for our free weekly Newsletter here, the latest 3D printing news straight to your inbox!