3D printing in footwear: disrupting the shoe industry?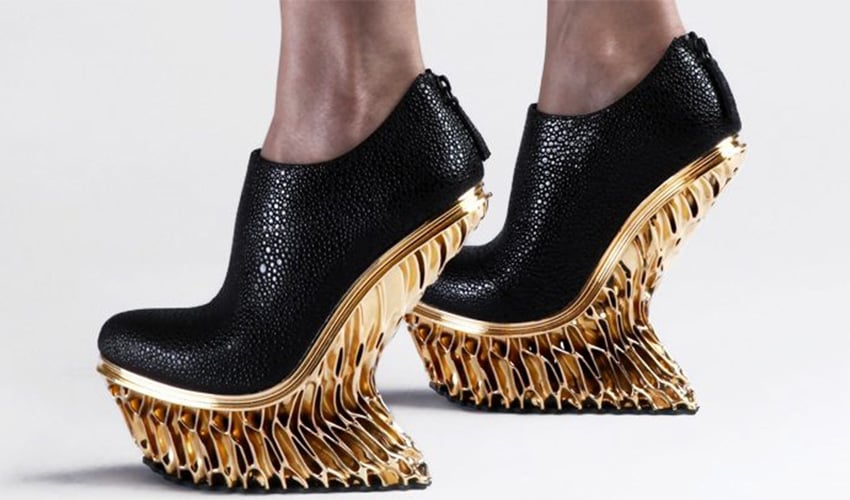 3D printing is being incorporated into more and more industries, and fashion is no exception to this. The technology is opening up for new, creative possibilities and solutions. Something we've seen being utilised in a variety of ways from jewellery to costume design and so on. Another area where the use of use of the technology is growing is with 3D printing in footwear.
As you may know additive manufacturing in the shoe sector has really taken off over the past couple of years. As shoes are intricate item to produce, it's often time consuming and a somewhat specialised field. Especially if it's a customised product. Thus making 3D printing the perfect tool to make the process easier. This in everything from prototyping to the finished product and detailing of the shoes. All though there is still a way to go before 3D printed components truly gets integrated into mass production, companies like Adidas has already taken great leaps in pushing the technology forward in their sneaker production.
Bringing technological innovation
The craft of creating footwear have been around for centuries, and for a long time it was all done by hand. American Lyman Blake invented the first shoe stitching machine in 1856, which were perfected in 1864. This lead to a heightened industrial side of shoe manufacturing. Now 3D printing in footwear is looking to take it to the next level with more and more designers and manufacturers looking into the possibilities.
As in many other industries the technology started out as a tool for prototyping. Silvia Fado, CEO and Head Footwear designer, explain; that 3D printing in the shoe industry is "Mainly in prototyping to show to the customers the volume before spending money in mould making, which is very time and cost effective." However it is slowly being implemented into other areas as well.
As new techniques and materials keep being developed, it also opens up for new possibilities. Silvia herself likes to play around with this as well. She explains: "I like to also use the technology for production. Always using appropriate materials for footwear, trying resistance and forces during the prototyping process." It is clear that it can help in the prototyping faces, but also in adjusting and customising throughout. And in the case of Silvia Fado it helps when producing limited series and innovate new shapes.
She is not the only designer looking into the possibilities outside of prototyping. Another key player is Iris van Herpen that have been pushing the boundaries of fashion for a while now. She has created exquisite collections combining 3D printing and traditional methods throughout. And as early as 2013 she collaborated with shoe designer Rem D. Koolhaas, founder of United Nude to create 3D printed shoes, looking like tree roots. Koolhaas explains: "Iris is very dramatic with her concepts and the shapes she wanted were only possible with 3D printing. They are almost like a sculpture on your feet, mimicking nature." The possibilities the technology brings is one reason many designers and brands have started to look to 3D printing.
A growing market of 3D printing in footwear
The footwear sector is already a huge industry consisting of a variety of materials and products with everything from men's and women's footwear to specialised product like snowboard boots etc. In 2018 the industry generated over $106 billion globally. A majority of the companies working in the industry still use the traditional methods. However there is a growing market for implementing 3D printing, and especially in the sportswear industry with brands such as Nike, Under Armour and Reebok coming out with their take on it.
Some brands like ECCO have been working on expanding the use of 3D printing in the finished products. However Adidas is still in the forefront of the industry in this area. As a leader, they seem to be one of the only brands to truly bring the technology into a new mass production level. 3D printing in footwear has gone in and out as of the market for years now. But the sports wear brand is the only one to date that has managed to amp up the production like that. They recently released their sneaker: the Alphaedge 4D, that mixes traditional manufacturing with 3D printing. This sneaker was produced in their ongoing collaboration with the 3D startup Carbon By the end of 2018 Adidas introduced 100.000 pairs of their new shoes and are planning to push the technology even further in 2019 aiming to produce in the millions in the coming year.
"We have a really aggressive plan to scale this," stated James Carnes, vice president of strategy creation at Adidas, last year. He continues; "We are scaling a production. The plan will put us as the (world's) biggest producer of 3D printed products." Adidas is clearly leading the market in the 3D printing aspects at the moment. However, as big as Adidas is and how hard they are pushing the technology they have yet to send out a fully 3D printed shoe. And there are very few doing so at the moment.
Fully 3D printed products
Fully 3D printed shoes still seems to have a long way to go. But some brands have been developing their own products moving in that direction. Olivier van Herpt mostly known for his implementation of 3D printing in traditional crafts such as pottery has also created his own shoes, to make a product that fits the exact measures of each wearer's foot. By utilizing 3D scanning and 3D printing he created unique, lightweight and strong open structure. Leading to shoes manufactured locally and made for the individual to accommodate that each foot's shape and its differences.
But also newcomes like Nicholas Unis are entering the market with their own fully 3D printed shoes. The young man studies Finance and Accounting at the Pennsylvania State Univerity, but have always had an interest in footwear. This lead him to launching UnisBrands. Which initially was a reseller of major footwear brands it has now moved to customization; "Adding materials, colors and graphics based on the customer's needs". This new initiative seemed to grow big fast and he moved forward with it.
"I then did a shoe with a larger rapper (at the time) Riff Raff. We put this custom shoe on eBay, which hit over a million dollars," He continues: "Nike then sent us a letter demanding we remove the listing and cancel the sale. I had done the custom over-top of an Air-Jordan 5." As Nike claimed they had violated a copyright in the sale of this custom shoe, they ended up canceling the sale. But this steered the company in a new direction and Nicholas made a decision; "to create my own footwear brand focused on customization. The best way I could think to do this was to use 3D printing." Now the UnisBrands creates their own footwear, and besides a few minor parts 3D prints the complete shoe.
Disruption of the global footwear industry
3D printing do seem to be disrupting the global footwear industry to some extend. At the very least as Silvia Fado states it: "is certainly influencing the industry." She specifies; "specially on big sportswear's brands that innovate constantly." A point of view backed up by Nicholas Unis. As he agrees that it is not something that is happening now but will most likely come sometime in the future. Thus making it clear that the technology is pushing forward. For now designers mainly use 3D printing for prototyping and customisation, however it expands from high fashion and sneakers to insoles and specialised equipment. Not only bringing new production methods and cutting waste but could also in the long run optimise production time of each piece. All valuable assets for the companies designing and producing shoes to the world market. The question however still remain; is it worth it for the consumers?
3D printing in Footwear on good and bad
At least at this point in time on the smaller scale there are some difficulties to work around. First of the research and development stages at this point in time is still somewhat demanding especially for the smaller companies. There's also issues such as the printing speed at this point, and area many companies are working on fixing. But for now it can be time consuming and in some cases with certain materials the deliverables don't have the perfect finish one would hope for.
However there are also more than one positive aspect to it. Besides the more eco-conscious approach to manufacturing the shoes, it is easier to make made to measure products. Leading to a finished product that when it comes out in the other end the consumer do get a more personalized item. A shoe that fits their exact needs. This can provide a superior product in fit and style. As 3D printing can easily be customized for sports equipment, such as the way TAILORED FITS use it to make their insoles or provide an edge to the traditional craft in the same way Alex Reed use it. The technology gives the designer more freedom and can give the consumer looking for a more unique and fashion forward shoe a way to express themselves better.
What do you think of 3D printing in footwear? Let us know what you think in a comment below or on our Facebook and Twitter pages! Don't forget to sign up for our free weekly Newsletter, with all the latest news in 3D printing delivered straight to your inbox!