How are 3D printing technologies reshaping design and architecture?
Published on November 12, 2020 by
Aysha M.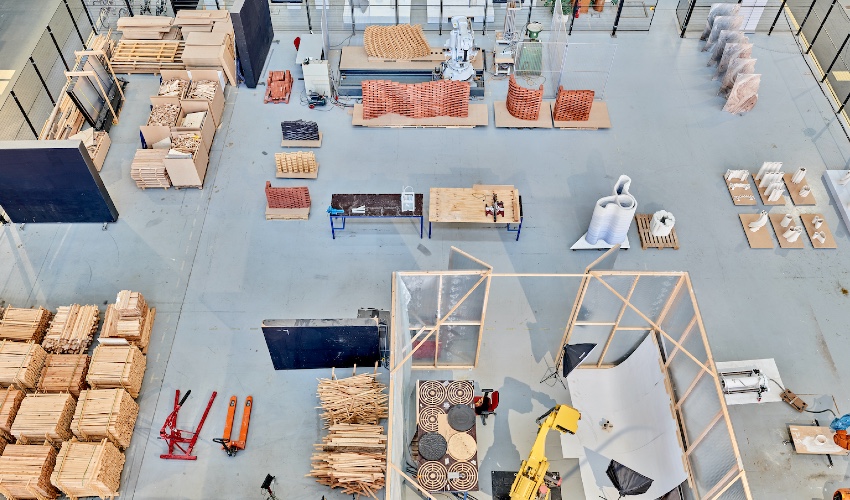 Architecture is both the process and product of planning, designing, and constructing physical structures. A good architect can often transform an average space into an aesthetically superior and practical design. Several years ago, the architecture and design sector started experimenting with 3D printing technologies: in 2015 for example, the largest 3D printed architectural pavilion opened for Beijing Design Week. Today, additively manufactured structures are not much of a shock anymore. It has become almost common for innovative design & construction studios to own a desktop solution to create 3D models of their projects. Additionally, a rapidly growing number of companies all over the globe are choosing to incorporate additive manufacturing in their production processes too, redefining their business model around 3D printing.
So how exactly does 3D printing benefit architecture & design firms? What are the different applications of this advanced technology within the sector? We decided to take a closer look at the current adoption to understand why companies are choosing to integrate 3D printing in architecture and how they are managing it.
What are the benefits of adopting 3D printing in architecture?
If these new techniques did not offer benefits over conventional methods, there probably wouldn't be much of a reason to integrate the technology in architecture. Indeed, the advantages of 3D printing in architecture and design are numerous are somewhat similar to those in the construction sector. Jose Aguilar, Co-Founder & CEO of the Texas-based māk studio, told us more about the usefulness of additive technologies:
"I've been using 3D printing since 2008 and I saw the benefits of that technology in the architectural areas of design and construction pretty quickly. Software development for the architecture, construction, and furniture industry has always been much ahead of the manufacturing industry's actual ability to generate very complex geometric designs. This is mainly because the traditional methods of fabrication rely on the translation of three-dimensional objects into two-dimensional drawings that are used for fabrication, and then there is the labor cost involved in assembling those pieces. 3D printing bypasses that extensive process and the current technology being what it is, you can almost print straight from a 3D dimensional object. This brings huge advantages such as decreased time in CAM Design, accurate fabrication simulation printing time, and the printed object and any of its other components are ultimately more sound and have greater structural integrity", says Jose Aguilar.
Design Freedom and Complex Geometries
Undeniably, the biggest advantage of applying 3D printing in architectural projects is the freedom of design, as shapes previously unimaginable have now become possible and even easy to manufacture. In other words, with more design freedom comes the opportunity to create new complex geometries. In addition, companies are now able to conduct design studies: "By using a 3D printer, we are able to print out a lot of different design options", comments Bercy Chen Studio, the US-based architecture firm. "Instead of having the design on the screen only, the 3D models help us to have a better view of our design and give us the chance to explore the best options," in addition making multiple iterations is cost-effective.
When XtreeE 3D printed three unique concrete benches that featured a woven pattern, the company used a 6-axis additive manufacturing robotic arm to create the complex design. The robot could deposit layers of material, moving in a defined movement to create the woven pattern. It is a very complex geometry to obtain with a classic mold, which would have been considerably more expensive. Therefore, the 3D printing technology offered the manufacturers more freedom to add complexity to the model.
Sustainability
There has been some debate regarding whether additive manufacturing is truly more environmentally-friendly than other production methods. But even if some 3D printing materials are indeed not "green", there are still several ways in which 3D printing proves to be more sustainable than most other traditional construction methods. According to XTreeE, the sustainability is manifested in the reduced material consumption, either considered in the product itself, reduced thanks to geometric optimization, or the various wastes associated with manufacturing like formworks. "We believe in an off-site robotic prefab paradigm, which helps producing high-end elements of novel performances and lower impact. An important advantage to mention is the tremendous reduction of on-site operations, bringing efficiency and sustainability."
According to Studio RAP, the contribution of 3D printing to sustainability is obvious in that it clearly minimizes the use of scarce resources. In addition, this technology enables on-demand, decentralized manufacturing, with no need for stocks and (intercontinental) transport, thereby minimizing its carbon footprint.
Customization
The ability to offer highly customizable products has become key to stay competitive. Again, customization is hard to achieve with traditional techniques, where each mold needs to create a great number of products to justify the initial cost of investment. Jose Aguilar explains: "An important factor for us to be competitive in this industry is the gift of customization that we can give our clients. Our customers are always looking for "off the shelf" products but they naturally want and need them personalized to their specific requirements. This is a tough thing to achieve with the traditional methods of fabrication, but with 3D printing you can offer customization and not have to R&D every time a customer wants a change."
Applications of 3D technologies in architecture
Linked to the benefits of additive technologies are the applications, and a fascinating thing about architecture is that it encompasses a wide variety of projects and applications, ranging from urban planning to interior design. When it comes to the creation process, here are some of the main applications where 3D technologies are being used:
Digital 3D Modeling
3D modeling is a key step in the 3D printing workflow, and the variety of 3D modeling software available on the market has continued to grow in the last few years. Modeling can be used to design prototypes of a part, actual structures or scale models of a project. Some companies prefer to use several different software programs to achieve the best results. Romain Duballet, Co-Founder of the French AM construction company XtreeE, said, "We use various software, Rhino and Grasshopper of course, some Autodesk software, some physical analysis and optimization software. For specific applications we code our own programs, this helps us generate more complex geometry, on the one hand, and easily manage production, on the other hand." Once the digital file is rendered, the designers typically delegate to the engineers to start 3D printing the prototype.
Prototyping
Prototyping is extremely important in architecture, and it is the stage that is being most heavily impacted by 3D printing technologies. Previously, the creation of cardboard 3D models took a long time in addition to being labor-intensive, while 2D versions were not nearly as helpful. Today, 3D printing allows to create high-quality 3-dimensional prototypes, significantly reducing time and effort. Due to the flexible nature of 3D printers, you can produce simple and complex building or structural models in hours instead of weeks or even months! Once you have your model you can begin discussions with clients, which in turn saves time and money, reduces the risk of costly errors, and speeds up the entire design-to-agreement process.
Based in the United States, māk studio specializes in the engineering and fabrication of complex architectural features and commercial interiors furniture for the design and construction industry. The Texas-based architecture studio quickly realized that 3D printing was ideal for prototyping and testing concept models. Today, the firm uses its Gigabot 3D printer to prototype the initial stages of almost all of its projects.
"Not so long ago, we designed a reception desk that had a complex geometry. Once we had a design, we 3D printed several small versions which were then shared with some of our current customers to get their feedback. A small test of the product helps us get the right market fit before we go large scale. Some customers actually asked us to build the full size for their projects! So we did not have to spend too much R&D time upfront and we are about to launch this as a product to the market", says Co-Founder and CEO, Jose Aguilar. To learn more about the firm's process, you can watch the video below in which the designers talk about a custom wall they created for re:3D.
Urban Infrastructure
3D printing is revolutionizing urban planning in more than one way. Firstly, architects have the ability to 3D print a model of an entire town or city. This is something that's achievable within hours with the right equipment and print materials. But even more interesting are the actual projects that have either been completed or are underway. Urban infrastructure 3D printing is often a collaboration between a 3D printing architecture firm and the city or government, even though it can also be a commercial project. The structures usually range from 3D printed bridges to decorative building facades to transport stops.
Based in the Netherlands, Studio RAP is working on several 3D printed architectural projects, including a water taxi stop in Rotterdam, which is currently under construction and will be 3D printed with concrete. Having the Municipality of Rotterdam as the client, the company has developed a parametrically designed water taxi stop that applies state-of-the-art concrete printing technology. Co-Founder, Wessel van Beerendonk, explains: "The design consists of two intersecting (weaved) surfaces that guide the post-tension cables along the structure. Six concrete printed pieces will be stacked on top of each other to ensure a cantilever of 3.5 meters."
3D Scanning in Architecture
City planners often communicate with other instrumental professionals such as engineers and architects to create or improve cities. When doing so, they often provide measurements of physical objects, such as additions to a building. However, inaccurate measurements could slow down construction, resulting in errors that make projects go over budget. Fortunately, laser 3D scanning is a faster and more accurate way of measuring dimensions compared to traditional methods. A good example would be the reconstruction of Michigan Central Station by Ford Motor Co. Aiming to ensure the historical design accuracy of the iconic building, the manufacturing giant used Creaform's laser 3D scanners to create precise 3D models of various elements of the station, enabling the contractors to repair or replicate the intricate structures.
The Creaform 3D scanner utilizes 15 laser crosses that capture the shape of any physical object. It measures fine details, down to the thickness of a human-hair, and captures free-form shapes to generate digital mesh files. This type of scanning is for contoured surfaces and complex geometries which require large amounts of data in order to be accurately processed. Overall, 3D scanning makes restoration projects more precise, saves time and allows to take measurements that otherwise would have been impossible to obtain.
Materials
What are the most popular material choices for the innovative architects and designers who create their pieces with 3D printing? The first thing that comes to mind is concrete, as it is indeed the most widely used construction substance, both for conventional and additive manufacturing. Naturally, the material is constantly modified or reinforced by almost every AM construction company that uses it, so it is rare to see two manufacturers extruding exactly the same type of concrete with their machines. Another popular material for 3D printing in architecture would be ceramics. For instance, for one of their projects, Studio RAP is 3D printing 4,000 ceramic tiles to decorate a residential building. The ceramic tiles reinterpret the world-famous decorative qualities of the Dutch Delft Blue porcelain
For interior design pieces there are, of course, plastics. However, among the less popular but, perhaps, more unique 3D printing materials is wood. It is not often that we encounter a company that uses wood as their main 3D printing material, but Forust Corp. is one of them. This American company 3D prints with sawdust, that is a waste byproduct of furniture making, to create beautiful functional objects for building interiors. They have demonstrated a 3D printing with wood proof of concept and more recently have been able to use texture and color mapping to recreate a realistic wood appearance on objects made from sawdust.
How straightforward is it for companies to adopt 3D printing in their workflow?
"It was easy!", claims Jessie Ho from Bercy Chen Studio. Headquartered in Austin, Texas and with offices in Taipei and Mexico City, the architecture firm has been using Ultimaker 2 & 3 for 5 years to 3D print models for their projects. "We can use the software that we are familiar with (Sketchup, Rhino, Revit) to model the project and then simply export it to Cura for 3D printing. There are some tips on settings when exporting the files that we need to learn, but all the information can easily be found on the internet!"
Certain companies train a couple of employees to be in charge of 3D printers, while others encourage every team member to learn to operate the AM machines. "We have a team of designers and makers, so pretty much everyone knows how to operate the 3D printer which is a necessity as we are always prototyping and the more team members who can help with that work the better", says the CEO of māk studio. 
The two main challenges in adopting 3D printing for an architecture company is the technical side of operating an AM machine, as well as optimization of parameters for certain materials. When asked about the challenges faced during the adoption of the technology, Bercy Chen Studio responded that it was "mostly technical issues, like nozzle head blocked, plate leveling, different materials parameter setting", that they learned how to solve with time. Aguilar told us about similar issues: faced by māk studio, "In the beginning we did have quite a few errors, but it had to do more with the technical problems with the printer that we had at the time than the individuals programming and running the machine. With our current 3D printer (Gigabot) we get much more accurate prints".
Is 3D printing the future of architecture and design?
The Co-Founder of Studio RAP, Wessel van Beerendonk, believes that 3D printing will contribute to a revolution in the way buildings are designed, built, maintained and reused. "This technology is one of the last missing links to enable a complete digital supply chain within the construction industry. In addition to efficiency and design freedom, there are also social benefits that contribute to a level playing field in which companies and individuals across the world can and will contribute in the design and creation of buildings which are manufactured locally. This offers opportunities for sustainable and inclusive growth around the world. It enhances new aesthetics, let us rethink the architectural profession, the position we take within the building process and our business models." The benefits of this technology are very diverse, one thing is clear: it has what it takes to disrupt the way we live!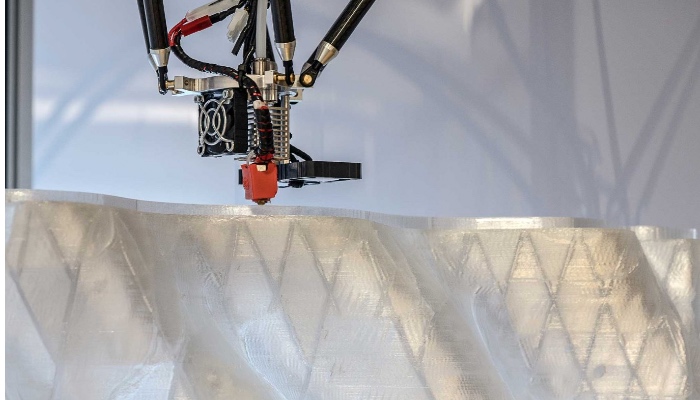 What do you think about combining 3D printing and architectural design? Let us know in a comment below or on our Facebook and Twitter pages! Sign up for our free weekly Newsletter, all the latest news in 3D printing straight to your inbox!