3D Printing Impossible-to-Machine Parts for Hexapods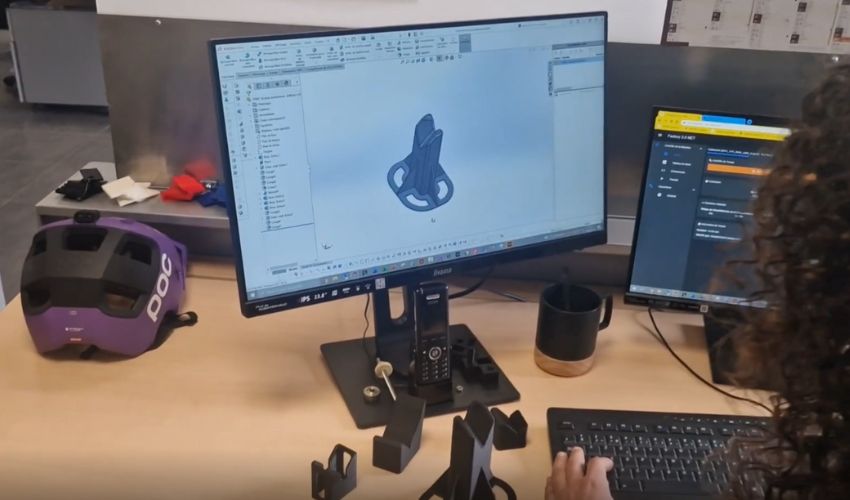 More than ever, the way we are manufacturing is changing. In particular, due to increased issues such as the Global Supply Chain Crisis of 2022 or even the COVID-19 pandemic itself, we are seeing the benefits of local manufacturing. For this reason, the adoption of additive manufacturing has also been growing in many new sectors. One particularly interesting case comes from French company Symetrie (meaning symmetry), which has acquired a 3D printer from OMNI3D to help in the manufacturing of hexapods.
You may not have previously heard of hexapods. According to Symetrie, these are parallel kinematic mechanical systems with, as the name suggests, six legs. They are used to position or move an object in space with six degrees of freedom with high accuracy, resolution and stiffness. The company itself has become one of the world's leading providers of hexapod solutions for both positioning and motion applications since its creation in 2001. 
As mentioned, there are two different types of hexapods, both of which are made by Symetrie. The first are precision positioning systems, often used for samples on beamlines, mirrors on satellites or even on telescopes. Second, there are motion systems which simulate the motion of a boat, truck, tank or airplane. They are most often used to test and qualify sensors, optical components, inertial measurement units or gravimeters.
Symetrie's solutions in particular are used especially to meet the specific needs of industrialists and research laboratories, especially when it comes to large-scale technological projects (Laser MegaJoule, JWST, and GAIA space telescopes). And there are a number of different applications. To name a few, hexapods are used in astronomy, automotive, defense, energy, medical, naval, space, optics, among many more. But how exactly can 3D printing be used to help in the creation of these machines?
The Benefits of Using 3D Printing for Hexapods
The decision to adopt additive manufacturing started for Symetrie, as a way to solve a problem the company was facing. Symetrie has always designed, assembled and qualified its hexapods internally on its premises. However, in recent years, the number of machines sold has increased significantly. Adding onto that, supplier delays have also increased, as many saw especially during the COVID-19 pandemic, which subsequently forced the company to sometimes delay its own customer deliveries, clearly a situation that was not ideal. 
This led the company, in 2022, to invest in a printer, specifically an industrial solution from OMNI3D – a Factory 2.0 NET 3D printer. And the choice has been a beneficial one. Not only did it help compensate for increasingly frequent delays from suppliers, thus allowing them to avoid postponing customer deliveries, but they also reduced production costs by making more parts internally.
3D printing now has an important role in different services in the company. For example, to make tools for manufacturing in order to set up the micromechanical systems, or printing blocks to place the actuators in a precise and repeatable way during the assembly of machines. These parts are made as a prototype in PLA as thin as possible to validate the design before the final versions are printed in only two hours using CF-PA12 to reduce the risk of breakage. 
Irvin Stil, Symetrie's production manager notes, "The OMNI3D printer allows a reactivity to the unexpected needs of production, and manufacturing possibilities of parts impossible to machine." 
The 3D printer has been used to manufacture parts on finished products such as cable trays for the hexapods, spacers in the fixed platform or PCB covers in less than 3 to 4 hours. This speed especially came in handy when the company was asked to manufacture a part in a hurry for a customer who needed an interface between Symetrie's HEGOA hexapod and an optronic system. They were able to print the part in CFPA-12 in six hours in contrast to the several days or even weeks that would have been necessary if done with more traditional means.
The Factory 2.0 NET from OMNI3D also was not chosen by chance. The printer has a few characteristics which were particularly attractive to Symetrie. For example, the large size allows for simultaneous printing of a large number of small parts. But they point as well to the quantity of material available for printing, heating chamber, double extrusion and the option of soluble support (ODS20). All critical in industrial applications such as hexapods. You can learn more about OMNI3D HERE or check out the video below:
What do you think of the use of 3D printing for the production of hexapods? Let us know in a comment below or on our LinkedIn, Facebook, and Twitter pages! Don't forget to sign up for our free weekly Newsletter here, the latest 3D printing news straight to your inbox! You can also find all our videos on our YouTube channel.
*All Photo Credits: OMNI3D