Exciting Projects Using 3D Printing for Humanitarian Aid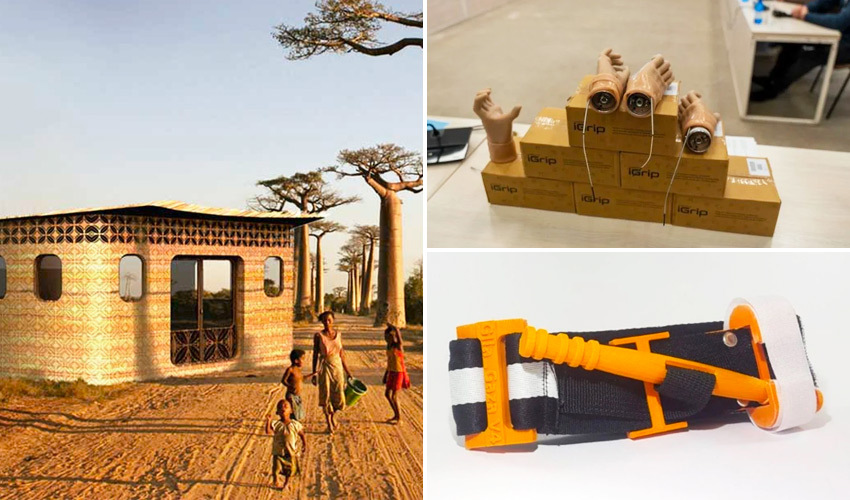 Humanitarian aid is defined by the European Commission as "delivering life-saving assistance to those in need, without any adverse distinction." This help is done outside the boundaries of politics, religion and the military in order to help those who are suffering due to natural disasters, war and more. But due to the chaos that is often on the ground due to these circumstances, it can be difficult to get care to everyone who needs it. Enter 3D printing. Increasingly, the technologies are being used to give quicker aid to people in conflict zones or areas that have been devastated due to environmental phenomena like hurricanes, earthquakes and tsunamis. But what exactly is out there? In this listing, we took a closer look at some of the projects where additive manufacturing is being used for humanitarian relief. From construction of homes and schools to critical medical aid, see some of the exciting projects in the field.
Field Ready and 3D Printed Hospital Supplies in Haiti
Field Ready is an American non-profit charity dedicated to helping people living in disaster and conflict zones. To this end, it has launched numerous projects aimed at lifting people out of poverty and suffering around the world. The organization's Haiti program is one of them. After the severe earthquake that struck the island in 2010, the country was faced with the great challenge of reconstruction. As part of this project, Field Ready used 3D printing technology to manufacture medical instruments. Numerous umbilical cord clamps, oxygen splinters, infusion bag hooks and prostheses were developed, as well as other materials needed by the hospital, such as buckets. In addition, the Field Ready team provided training in the basics of CAD and 3D printing, offering the people of Haiti concerned the chance to earn a living and break free from dependency.
Humanitarian Aid in Madagascar to Improve Education
Thinking Huts was founded in 2015 by Maggie Grout with the aim of providing access to education for people in need. The company's first project, dubbed "Bougainvillea", took seven years and resulted in building a 3D-printed school in a more eco-friendly and sustainable way in Fianarantsoa, which lies in south-central Madagascar. The East African island is so lacking in schools that, according to a UNESCO report, 97% of Malagasy children aged 10 can't even read a single sentence. This makes Madagascar one of the most educationally disadvantaged countries in the world. With school overcrowding and long distances the main problem, it is estimated that around 22,000 schools are needed in Madagascar. Thinking Huts believes that 3D printing construction is the way forward to help address the need and help get more children in schools in the country.
3D Printed Tourniquets in Ukraine
Amidst the current crisis in Ukraine caused by the Russian invasion, Canadian company Glia is urging medical professionals with access to 3D printers to download and donate their 3D-printed tourniquet template. Tourniquets are critical devices used to stop bleeding in emergency situations, particularly in war zones where access to medical supplies may be limited. Glia aims to make medical components more accessible worldwide and has already developed 3D printed tourniquets, along with other clinical devices like goggles and stethoscopes. The tourniquets, made using additive manufacturing and ABS, offer a cost-effective solution compared to conventionally manufactured alternatives. Glia plans to manufacture 1,500 tourniquets through a fundraising campaign and distribute them to hospitals and civilians in Ukraine at risk of serious injury. If the conflict ends before reaching their goal, the tourniquets will be sent to another war zone. The free-accessible design enables 3D printing to play a vital role in saving lives and providing essential medical support in crisis areas.
The First 3D Printed Community
Another humanitarian aid project made possible by 3D printing was realized by New Story in collaboration with ICON. New Story is a non-profit organization committed to building a more inclusive housing market for vulnerable families. It decided to build 3D-printed homes, as this method is faster than traditional methods and enables better quality and more affordable housing to be built than current industry standards. This project enabled them to build the world's first community of 3D-printed homes in Latin America, providing a haven for families in deed. Each house was printed in around 24 hours using a proprietary cement mix called Lavacrete, made from local materials and with zero waste.
350 Prosthetic Hands for Ukrainian War Victims
The war in Ukraine is severely harming the people stuck in the crossfires. Many citizens have had their lives severely disrupted and suffered injuries such as amputations, creating an urgent need for humanitarian aid. In the midst of this tragedy, 3D printing has emerged as a hope for restoring normal life. A researcher named Gerwin Smit, from Delft University of Technology in the Netherlands, has developed affordable, high-quality handcrafted prostheses using a hybrid method of 3D printing and laser cutting. Thanks to the generosity of the Indian social enterprise Vispala and an American technology company called Cisco, they have donated 350 of these prostheses to Ukraine.
3D Printed Homes for the Homeless
In the United States, more specifically in Austin, Texas, the Mobile Loaves & Fishes organization is encouraging communities to adopt a new lifestyle to improve conditions for the homeless. This is why the "Community First! Village" neighborhood has been developed. Covering an area of over 30 acres, the development features affordable and permanent 3D printed concrete housing by ICON. It is capable of housing over 500 formerly homeless men and women. The village aims to house 40% of Austin's homeless population. The neighborhood includes: motorhomes, micro-homes, a market, an organic farm and a community cinema among others. These facilities were part of phase 1 of the project while phase 2 involved increasing the number of homes to over 500. 3D-printed office buildings were also added to the neighborhood. You can find out more in the video below:
A 3D Printed Elementary School in War-Torn Ukraine
Humanitarian aid startup HIT (Humanitarian Innovative Technologies) has set itself the goal of responding to humanitarian disasters using 3D printing technology. Since the outbreak of war in Ukraine in February 2022, reconstruction has been a major concern. Almost all Ukrainian industries are currently using their resources and knowledge to cope with the war. Foreign companies and organizations are now using their skills to launch reconstruction and provide aid. One such humanitarian organization is HIT, which in December 2022 launched a pilot project to build an elementary school in Lviv. This key project, called HIVE, focuses on creating sustainable spaces, integrating technological innovations and modern planning. Thanks to 3D printing, it is possible to build quickly, cheaply and sustainably. The aim of the project is, on the one hand, not to neglect children's education despite the war and, on the other, to create childcare facilities so that parents can remain active. This should help to revive the economy and rebuild the infrastructure in the long term. Behind HIT is a team of humanitarians and technology entrepreneurs led by CEO Jean-Christophe Bonis and co-founder Dominique Piotet. The latter has extensive experience in Ukraine and is considered an expert in digital transformation. Their knowledge will help HIT to further the reconstruction of Ukraine. In addition to the construction of the school, 10,000 homes will also be built in the future using 3D printing.
3D Printed Pipes in Disaster Zones as Another Form of Humanitarian Aid
The next example is yet another case from Field Ready in their ongoing efforts to provide material aid to populations who are the victims of natural disasters. Namely, pipes. More specifically, Field Ready has set up a three-stage process enabling member organizations to manufacture O-rings in places where they are not readily available, in order to make pipe fittings. The organization began by 3D printing a series of molds corresponding to different O-ring sizes. These in turn are used to make silicone molds, which are taken into the field where people need pipe fittings. Castable polyurethane is also brought in, so that people in the field can make the O-rings on the spot. Field Ready, in collaboration with a team from Imperial College London, has also developed an application, MakeFit, which provides a diagram and CAD models for making molds by entering parameters: how many pipes are to be connected, what size, according to which diagram (T-fitting or other).
Using 3D Printing to Reduce the Risk of Sickness in Camps
Oxfam has teamed up with MyMiniFactory to help reduce the risk of disease. Using 3D printing, the aim was to create a hand disinfection device to promote hygiene among Syrian refugees living in difficult conditions in Lebanon. This program is open to all, which means that anyone can create designs for these devices. So, thanks to 3D design and additive manufacturing, people can wash their hands safely, drastically reducing the risk of disease within the often crowded communities.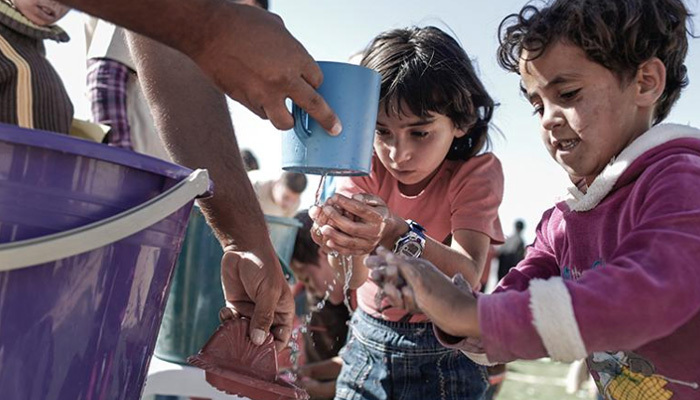 What do you think of these humanitarian aid projects where 3D printing was used? Let us know in a comment below or on our LinkedIn, Facebook, and Twitter pages! Don't forget to sign up for our free weekly Newsletter here, the latest 3D printing news straight to your inbox! You can also find all our videos on our YouTube channel.