3D Printing with Holograms to Speed Up the Process
Published on December 20, 2017 by
Jamie D.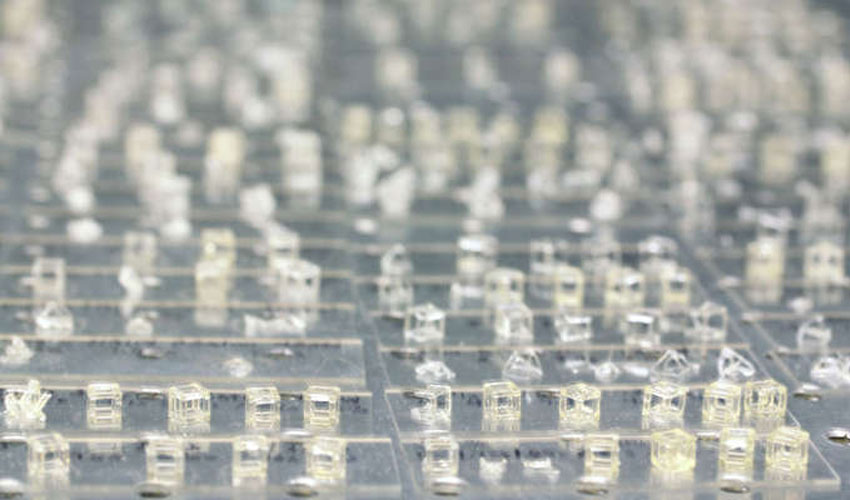 A study conducted by the Lawrence Livermore National Laboratory (LLNL) in collaboration with MIT, the University of Rochester and UC Berkley, demonstrates how the use of holograms in the 3D printing process can dramatically speed it up. 3D volumetric printing would be more effective than light-based methods. According to the researchers, the power of this process lies in the abandonment of the traditional "layer-by-layer" approach.
Hologram 3D printing had already made headlines with Daqri, who developed hologram-based 3D printing technology. It uses lasers to transform a photosensitive monomer into a solid plastic. As a continuation of this work, the LLNL conducted a study on this new process of additive manufacturing also called volumetric 3D printing.
3D Printing with Holograms
3D volumetric printing works by directing multiple light beams at a central point in a large tank of photosensitive resin. The rays alone are not strong enough to 3D print resin. However, when they are combined on a single point, they generate enough energy to solidify the material and create the previously chosen shape, without going through the deposition of successive layers. In our case, the researchers used three lasers to make their parts.
One of LLNL's engineers, Chris Spadaccini, explains, "This is a good proof of what additive manufacturing could become. The potential impact on print throughput could be significant and if we can develop it properly, we can also get a lot of complexity." This process is much faster than traditional 3D printing technologies as it does not go through the deposition of successive layers. By eliminating this process, volumetric 3D printing avoids problems associated with printing technologies such as streaks.
The research team has already used this method to print complex shapes with meshes and curves. This technology makes it possible to create curved structures more easily and without the aid of a support. This technology could even be beneficial for use in space as it would work in weightlessness.
The Limits of Volumetric 3D Printing
The method is still in its infancy: the researchers explain that there are still some limitations in terms of possible geometries, resolution and scale of the finished parts. Extremely complex structures, such as highly detailed jewelry, would require more lasers, implying greater management of heat and exposure. In addition, they explain having to improve the properties of the developed resin. In any case, they hope that this new technology can push other researchers to test different materials. Find the whole study here and more information on the process in the video below:
What do you think about 3D printed jewelry? Let us know in a comment below or on our Facebook and Twitter pages! Sign up for our free weekly Newsletter, all the latest news in 3D printing straight to your inbox!