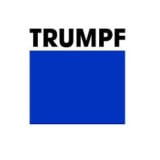 TRUMPF was founded in 1923 as a series of mechanical workshops. Today, it is one of the leading companies for machine tools used in flexible sheet metal processing, and also for industrial lasers. With around 70 subsidiaries, the group is represented in nearly every European country, in North and South America, and in Asia. With 14,490 employees, the company generated sales of 3.784 billion euros in the 2018/19 fiscal year. 
For additive manufacturing, TRUMPF provides solutions in two laser technologies: laser metal fusion (LMF) and laser metal deposition (LMD). For the LMF, they developed four different 3D printers in a series called TruPrint. As for the LMD, their TruLaser Cell series currently comprises two 3D printers – TruLaser Cell 3000 and TruLaser Cell 7040.
For the industrialization of 3D metal printing, TRUMPF offers a complete solution comprising digitalization, services, and additive production systems. As a pioneer in additive technology with around 20 years of experience, they can help you benefit from robust and reliable laser 3D printers, as well as highly productive laser processing machines for industrial series production, and services – all of which they have developed and produced themselves.