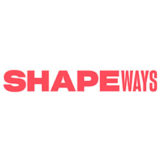 Shapeways is a 3D printing marketplace and community, empowering designers to bring amazing products to life. By giving anyone the ability to quickly and affordably turn ideas from digital designs into real products, Shapeways is fundamentally changing how products are made and by whom.
Through Shapeways, designers gain access to the best industrial 3D printing technology, capable of manufacturing products with complex designs in a wide range of high-quality materials. The Shapeways community can sell their products, share ideas, and get feedback from creative consumers and other designers around the world.
Shapeways is based in New-York, Eindhoven, Queens, and Seattle. Shapeways is a spin-out of the lifestyle incubator of Royal Philips Electronics, and investors include Union Square Ventures, Index Ventures, Lux Capital, and Andreessen Horowitz.