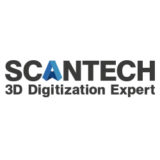 Scantech Co., Ltd is a high-tech enterprise specialized in the development, manufacturing and selling of intelligent visual inspection equipment.
Their R&D team developed a series of 3D digital equipment with self-owned intellectual property rights, such as handheld laser 3D scanners, global 3D scanners, white light 3D scanners, tracking 3D scanners and a global photogrammetry system. Its PRINCE series for the capture extreme detail and its AXE series for high volumetric accuracy are gaining attention and recognition in the 3D digital field.
Furthermore, R&D team established a joint development center with Norway Metronor which is a well-known optical metrology enterprise in Europe.