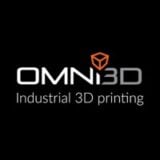 A growing industry still needs innovation. It is in search of new solutions, revolutionary technologies and innovative ideas. Industrial 3D printing has become the answer to these needs. Industrial 3D printers were developed for the creation of strong, precise and mechanically, thermally and chemically resistant large-size models. This is what modern industry requires and OMNI3D responds to these needs.
OMNI3D is a Polish manufacturer of industrial FFF 3D printing systems, with more than 10 years of experience in the industry. Through the use of modern technologies, the company is creating innovative solutions to ensure maximum precision and cost-effectiveness. OMNI3D takes care of a comprehensive approach to business, offering implementation and maintenance services, as well as 3D printing on demand.
OMNI3D, thanks to its intensively developing network of resellers, is available in almost every corner of the world, gaining the trust of brands such as SAMSUNG, Airbus, Whirlpool, Honda, University of Michigan and many more!
OMNI3D serve all users of FFF industrial solutions. It is  important as well for those who wish to use of 3D printing with FFF technology for a variety of applications, including but not limited to:
Production of spare parts for machines and production lines, 

Production of tools and tooling, 

Manufacturing of functional prototypes,

Low-volume and personalized production.
OMNI3D has been operating on the market since 2013 and has won many awards for young Polish companies. It also participates in the Polish Champion program, intended for businesses operating in foreign markets. It offers industrial 3D printing systems, rental of machines and 3D printing on demand. Check out the website to learn more about what OMNI3D offers.