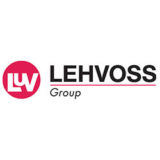 The LEHVOSS Group under the leadership of Lehmann&Voss&Co. is a group of companies in the chemical industry, which develops, produces and markets chemical and mineral specialties for various user industries. Lehmann&Voss&Co., Hamburg, was founded as a trading company in 1894. In its 125-year success story the owner-managed company has developed into a high-performing global organization – relying on long-standing relationships with renowned suppliers and with its own production sites in Europe, the USA and Asia.
With our product lines LUVOSINT®, LUVOSINT® 3F and LUVOSINT® 3F Filaments we are offering you innovative polymer materials specially optimized for 3D printing. They enable the quality-assured manufacture of parts by additive production methods. 
LUVOSINT® materials are powders for laser sintering procedures and other 3D printing processes based on powder bed fusion. Our LUVOCOM® 3F materials for the manufacture of filaments and direct extrusion 3D printing take account of the process and final product during the design stage and are therefore able to achieve another level of properties and quality. LUVOCOM® 3F Filaments are specially designed to provide an easy-to-print experience and to achieve outstanding quality of printed parts. All our products are thoroughly tested in our development laboratory, which ensures that they will work in all the systems available on the market.
In addition to a comprehensive standard portfolio, we also supply individual, tailor-made materials. Assisting us in these efforts are pilot plants for 3D printing in Germany, China and the USA. We work together with many technology partners so that we are also able to offer you complete production solutions.