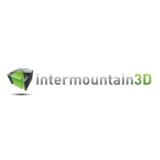 Intermountain 3D is an American company started in 2014 that offers a variety of 3D printing services in addition to selling some 3D printers and materials. With a mission to advance 3D printing and its potential to transform the manufacturing industry, Intermountain 3D offers a variety of extra resources including a newsletter, industry news, and more.
On their website, Intermountain 3D sell personal 3D printers including the CubePro series and ProJet 1200, as well as more professional printers like the ProJet 6000 and 7000. Intermountain 3D also sell a variety of filaments and materials, and offer a rapid prototyping and reverse engineering service too.
Intermountain 3D currently sells printers in 3 states in the US intermoutain West.