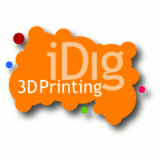 iDig3Dprinting offer "the best brands with our famous level of customer support, we don't just sell 3D printers, we use them."
Our aim is to find quality and affordable 3D printers and consumables. We sell Makerbot, Tiertime (UP), BCN3D, Cel-robox, Photocentric & XYZ printing printers together with Colorfabb, 3Dfuel, 3D systems, XYZprinting, UP & our own brand 3D850 PLA. More brands and more models arriving all the time.
So if you want to make the most of the 3D printing revolution and you need to buy your 3D printers in the UK then take a look at our website, get in touch and ask questions and we will put your on the right path.