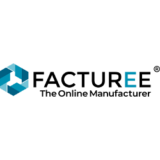 FACTUREE – The Online Manufacturer
Berlin-based cwmk GmbH operates under the brand name FACTUREE as the first Online Manufacturer. The company pursues the goal of providing its customers with state-of-the-art procurement of manufacturing parts through digitalization, automation and networking.
FACTUREE has an extensive manufacturing network of over 1000 manufacturing partners. And more than 8000 machines are constantly available for projects, which always guarantees free capacities and short delivery times. All manufacturing partners undergo a multi-stage audit process, in which the manufacturing spectrum is first recorded and the respective strengths of the companies are examined.
In addition to CNC machining, FACTUREE's range of services also includes sheet metal working, 3D printing and surface treatments. Prototyping projects can be realized as well as small and large series production. This enormously broad range of services means that even complex requests involving different manufacturing techniques and surface treatments can be served and handled by a single contractor.
Intelligent AI-powered supplier matching and an ISO 9001-certified data-driven quality management system ensure that the most suitable supplier is selected for each project. The network approach also minimizes the risks of delivery failures and delays, as capacities can be reallocated within the network at short notice. Important supply chains are thus maintained even in times of crisis.
A high degree of automation, e.g. in reading out CAD files, ensures a high speed in the quotation process. Customers usually receive a soundly calculated quotation on the same day, with a guarantee that it will be delivered within 48 hours.
The customer base covers a wide range of sectors such as mechanical engineering, medical technology, model making, robotics, automotive and aerospace. Leading industrial companies such as Siemens and Parker Hannifin, SMEs, international research institutions such as CERN and universities are among the customers. FACTUREE operates throughout Europe and has a continuously growing number of customers in other European countries. The Europe-wide delivery of goods is also completely climate-neutral.