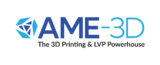 AME-3D is the UK's Printing and Low Volume Production Powerhouse specialising in plastics, seals and rubber overmoulds.
With over 25 years of experience, the team has served the UK's medical, defence, automotive, electrical & household appliances, and hardware industries with the high-quality production of both components and end-use products.
Our 3D Printing services include:
SLS 3D Printing using UV stable nylon.
SLA 3D Printing using Accura Xtreme and Accura Clearvue.
Form, Fit & Function Prototypes.
Engineering Prototypes.
Our Casting capabilities include: 
Vacuum Casting, which creates highly accurate polyurethane parts.
RIM Casting – suitable for large and durable component production.
The team's technical know-how and craftsmanship when it comes to product development is a key differentiator and guarantees the quality of production. Product finishes and post-processing are of such a high quality that AME-3D has introduced direct manufacture with dropshipping services that can deliver products straight from the workshop to your customers.
This winning combination of technology and craftsmanship enables our team to create components well-suited for Additive Manufacturing and Rapid Prototyping projects.