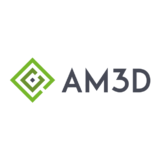 AM3D are an exclusive UK reseller for VSHAPER printers. They sell a range of VSHAPER printers, materials, and software. They will look at the best way additive manufacturing can support your needs and offer the best solution possible. This includes installation, training and support when necessary. AM3D's range of VSHAPER printers includes the GO, 270, 450, PRO, and more.
As well as selling VSHAPER printers, AM3D.co.uk also sell a variety of printing materials. This variety of FILSHAPER filament include PLA, ABS, PEEK, and more. These high-quality materials combined with the VSHAPER printers offer users the tools to create very precise, strong models.
In addition, AM3D offer services to print a variety of materials, including PEEK. These services assist companies in areas such as rapid prototyping, manufacturing, and more.