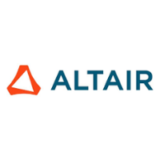 Altair (Nasdaq: ALTR) is a global technology company, which provides software and cloud solutions in the areas of simulation, high-performance computing (HPC), and artificial intelligence (AI). Altair enables organizations in nearly every industry to compete more effectively in a connected world while creating a more sustainable future with over 3,000 scientists, engineers, and creative thinkers in 25 countries.
Altair's Inspire Studio is a solution for innovative designers, architects, and digital artists to create, evaluate and visualize designs faster than ever before–create detailed 2D drawings of complex 3D models and assemblies from multiple perspectives. Functionalities include one-click view creation, section and detail views, linear, angular, radial, and ordinate dimensions, as well as annotations.
Wherever you are and whatever you're doing, Altair's solutions surround you – keeping you safer, more connected, and more productive. They can be found in big places and small — on highways, hospitals, and hockey rinks, in stadiums, skyscrapers, and subways, and in banks, bikes, and boats. For more than 35 years, Altair has helped companies in their digital transformation efforts to make smarter decisions, save costs, reduce waste, accelerate time-to-market, improve business performance, and evolve to a data-driven culture.