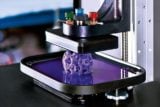 AllThat3D | 3D Printing News
3D printing is the new trend today. Almost anything can be 3D printed including food, a working gun, house, car, prosthetic, rockets or even clothes. In this page, you will learn more about 3D technology.
Was there a time in your life when you wish you could hold and use the objects that go out of your printer? Well, that's possible with 3D printing.