TOP 5 Videos: How to Print and Post-Process Dental Models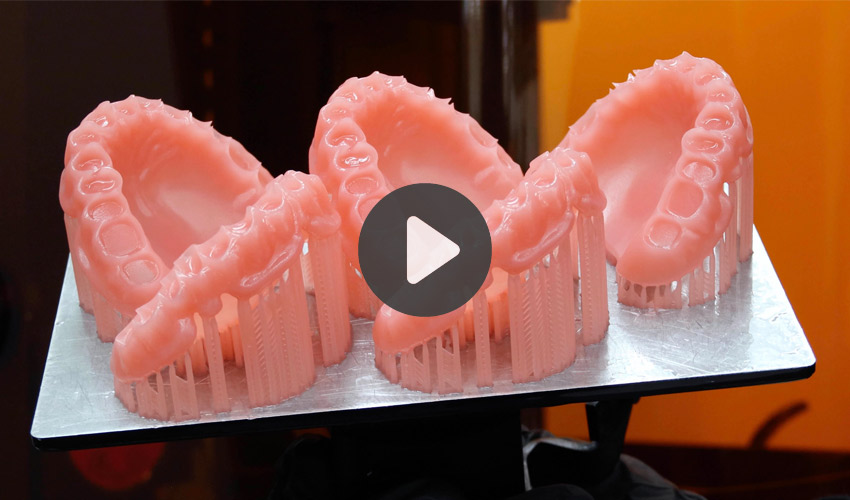 This week, discover how to make dental models via 3D printing: EnvisionTec guides us through the different stages of manufacturing custom-made dental prostheses, designed on resin machines . We will also introduce you to Michael Zabala the founder of XO Armor, a company using 3D technologies to develop personalised orthotics and prosthetics. Finally, discover the advantages of the new trainers from adidas, the 4DFWD which incorporates a midsole 3D printed on a Carbon machine.  In any case, we wish you a very happy Sunday!
TOP 1: Dental additive manufacturing
EnvisionTec is one of the leaders in resin additive manufacturing, in particular the DLP process which allows to design very precise and detailed models. This is particularly interesting for the dental sector, which can thus design tailor-made models adapted to each patient with a very high level of detail. In the video below, the manufacturer shows you the different steps to create dentures, from printing to post-processing. What are you waiting for to get started?
TOP 2: LaserPecker Pro: The World's Smallest Laser Engraver
Last week, we presented you with a list of laser engravers. The LaserPecker Pro is the smallest of those, and in the world. This portable laser engraver allows you to start from scratch, and includes features such as automatic lifting and focusing. The LaserPecker Pro possesses dimensions of 65 x 61 x 53 mm and a weight of 190 grams. According to the manufacturer the machine has a lifetime of 10,000 hours which would allow to work for 416 days without stopping. Despite this the machine is priced just over $500. You can find out more about the LaserPecker Pro's capabilities in the video below:
TOP 3: XO Armor Uses 3D Printing to Create Custom Protective Guards

Raise3D interviewed XO Armor's founder Michael Zabala. Zabala was interested in understanding how one could combine 3D scanning and 3D printing technology, how that in turn could translate into the context of orthotics and prosthetics, and how these technologies could be advanced. XO Armor itself was founded after his neighbour, Robbie Stewart, head athletic trainer at the football team asked if he was able to use 3D technologies to help create a custom brace for a wide receiver who had broken his hand. You can find out more about the company's activities in the rest of the interview below:
TOP 4: The new adidas sneakers 
This week we brought you the 4DFWD sneakers from adidas , designed in part through additive manufacturing. The midsole was 3D printed on a Carbon machine and guarantees runners maximum comfort. As a user of 3D technologies for a few years now, adidas wanted to take it one step further this time by imagining a shoe capable of offering a real forward thrust to its wearer. Concretely, the 4DFWD could reduce the braking force of a runner by 15% while increasing the breathability of the shoe :
TOP 5: Webinar "How to optimize your designs for SLS 3D Printing"
3Dnatives' latest webinar "How to optimize your designs for SLS 3D printing" took place on April 29th at 4PM CEST (10AM EDT). We were joined by Alban d'Halluin, the CEO of Prodways Printers and Solidscape, and David J. Hockemeyer, the owner and co-founder of PERIDOT, Inc., as we explored how to optimize designs to 3D print higher performing parts using SLS technology. Topics covered included: design strategies that sharpen part details and take out weight; Effective post-processing operations to get the final function and finish that your application requires; insight into the materials that are available and how they compare; and real-world examples of cost savings while delivering high performance parts. The hour-long, virtual webinar concluded with a 15 minute Q&A session.
What do you think of 3D printing in the production of dental models? Let us know in a comment below or on our Facebook, Twitter and LinkedIn pages! And don't forget to sign up to our free weekly Newsletter to keep updated on all the latest news in the 3D industry coming straight to your inbox!