3D Printing Breathes Life Into Audi Car Seat Design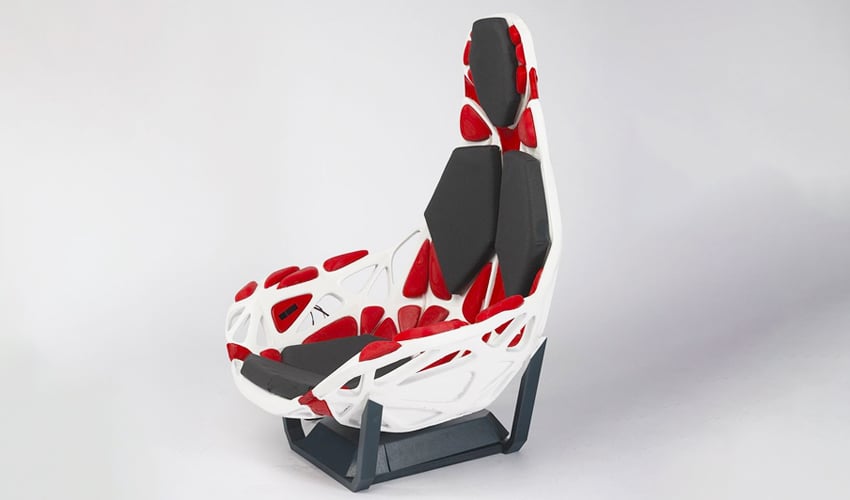 It is undeniable that the use of additive manufacturing in the automotive industry is gaining in popularity. When talking about cars, we generally tend to give a lot of attention to the engine, horsepower and exterior design of vehicles, but we often overlook a fundamental component: the seats. These elements are essential as they function as the interface between the driver and the vehicle, offering ergonomic support, safety and comfort. And with the average American driving 37 miles a day, it's important to have something comfortable underneath you on the journey. In recent years, there has been a shift in focus towards innovation in automotive seat design and manufacturing, and 3D printing, especially large-format 3D printing, is showing revolutionary potential. One such manifestation of this potential is in a revolutionary new project for a 3D printed car seat known as "Concept Breathe."
The idea came from a three-sided collaboration between students at the Braunschweig University of Art, German carmaker Audi and BigRep, a company specializing in large-format 3D printing. The aim? To reinvent car seats, inspired by the idea that the car of the future could be more than just a machine. In this way, the goal is to turn the 3D printed car seat into an element that reacts and responds to our actions, an organism that 'lives and breathes' in harmony with the driver, as explained by project members. It should be noted that Audi had already explored this idea with its Klara concept study in 2017, which sought to create a responsive car that seemed to breathe. However, unlike the previous concept, the use of 3D printing as a production tool is now making it possible to create hitherto unimaginable forms.
The Idea Behind "Concept Breathe"
The team behind Concept Breathe, composed of ten students from the Braunschweig University of the Arts, leveraged innovative algorithmic and parametric design principles. In addition, they turned to BigRep's large-format 3D printing technology to bring the seat prototype to life. The structure was created using the BigRep ONE 3D printer, which has a manufacturing volume of up to one cubic meter. This technology made it possible to reproduce the complex organic shape of the seat and create a 1:1 scale prototype.
The seat is composed of a 3D printed structure and 38 custom active components that create a haptic and visual breathing effect. The design team states that the active components in red, "are designed to increase the seat's ability to respond to changing driving conditions but especially to enhance the user's identification with the animate object through motions of breathing." Large-format 3D printing technology was essential to achieve this innovative design, enabling the creation of large structures in one piece and reducing assembly time and costs.
The Concept Breathe project is an example of how 3D printing is transforming the automotive industry by enabling previously unthinkable designs and optimizing the manufacturing of complex components. Thus, 3D printing technology is becoming a fundamental tool for innovation in automotive design and manufacturing, from rapid prototyping to end-use parts. You can find more information on the Concept Breathe project on BigRep's website, HERE.
What do you think about Audi's collaborative design project? Let us know in a comment below or on our LinkedIn, Facebook, and Twitter pages! Don't forget to sign up for our free weekly Newsletter here, the latest 3D printing news straight to your inbox! You can also find all our videos on our YouTube channel.
*All photo credits: BigRep / Braunschweig University of Art