3D Printing Could Improve Accessibility By Helping Blind Scientists to Read Data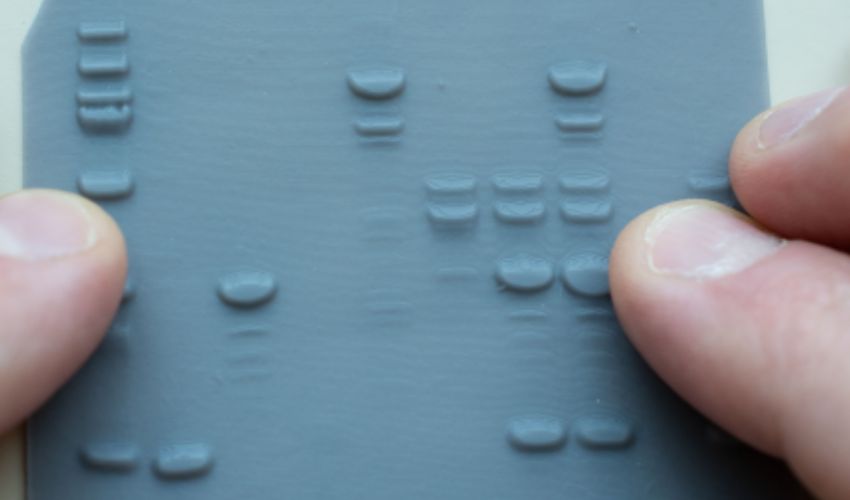 Accessibility, especially in academia, has been a topic of conversation for quite some time. People with a wide range of disabilities have the right to certain accommodations in order to allow them to work or study at the same level, however, often places do not even do the bare minimum. Thankfully, one Baylor Study has now shown how that does not need to be the case for blind scientists thanks to 3D printing. They hope that by turning scientific data into tactile graphics, they will be able to eliminate barriers that have caused the exclusion of individuals with blindness from pursuing chemistry education.
The Baylor study is named "Data for all: Tactile graphics that light up with picture-perfect resolution." It was published in Science Advances and shows the Baylor researchers were able to use 3D printing to turn a two-dimensional image (from data) into a 3D printed lithophanes, allowing it to become tactile and thus accessible to all. Lithographs are an ancient artistic medium that was created in China as early as the sixth century and popularized in Europe in the 19th. Essentially, they are thin engravings made from translucent materials that initially appear opaque but glow when lit by a light source. The scattering of light causes thinner regions to appear brighter and thicker regions to appear darker. This study marks the first time it was used in science and when combined with 3D printing, has resulted in these graphics which could allow individuals to universally visualize the same piece of data.
Bryan Shaw, Ph.D., professor of chemistry and biochemistry and a corresponding author on the study explains, "This research is an example of art making science more accessible and inclusive. Art is rescuing science from itself. The data and imagery of science – for example, the stunning images coming out from the new Webb telescope – are inaccessible to people who are blind. We show, however, that thin translucent tactile graphics, called lithophanes, can make all of this imagery accessible to everyone regardless of eyesight. As we like to say, 'data for all'"
How Successful Was the Study for the Blind and Sighted Participants?
Both blind and sighted people were used in the study to see the results when interpreting the lithophane data by touch or eyesight. Overall accuracy was around 79% however it get evens higher when it comes to the blind participants in the study.The average test accuracy for the five lithophanes was 96.7% for blind tactile interpretation and even 92.2% for sighted interpretation of back-lit lithophanes. Meanwhile, for sighted test participants who were blindfolded, they scored a 79.8% tactile interpretation, less than blind participants but still impressive.
Not only were sighted participants able to accurately interpret the data, but blind participants had a tactile accuracy that was at least equal if not superior to visual interpretation. The lithographs were able to me made with a small commercial 3D printer, namely a Form 3B+ printer from Formlabs. The use of resin 3D printing is what allows for high-precision and visually accuracy for the data. With resin 3D printing, each lithophane was printed at a resolution of 100 μm out of a gray photopolymer resin thus creating an accurate representation for the blind participants to interpret. The choice of 3D printing is also cost effective. The printer was under $5000, making this a project that could be relatively easily replicated in other universities.
Dashnaw concludes, "Most of the research I do on a daily basis won't have a significant impact on the scientific community. However, the lithophane project allows for real change in real time. We are making STEM more accessible to people with vision impairment and calling attention to their systemic exclusion." You can find download the study HERE.
What do you think of the use of 3D printing and lithographs to make tactile graphics to enable blind scientists to read data? Let us know in a comment below or on our LinkedIn, Facebook, and Twitter pages! Don't forget to sign up for our free weekly Newsletter here, the latest 3D printing news straight to your inbox! You can also find all our videos on our YouTube channel.
*Cover Photo Credits: Baylor University