What Are the 3D Printing Applications in the Oil & Gas Sector?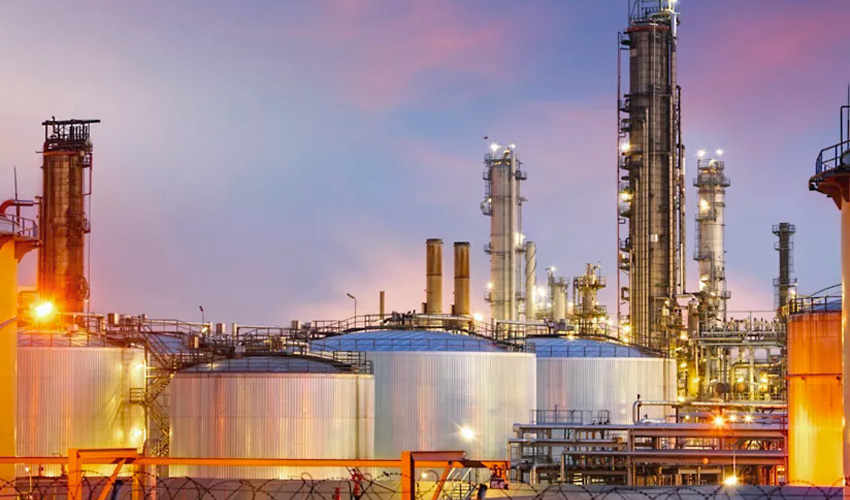 The oil & gas sector is one of the largest industries in the world as it is a critical part of the energy sector with about 4.2 billion metric tons of oil produced globally in 2021. Though due to climate change as well as issues with supplier countries, such as what is happening currently with the war in Ukraine, many have been looking for alternative solutions, it still is the number one energy source especially as it comes to heating. As such, it should come as no surprise that as companies are looking for ways to make the pipelines and other components more efficient to reduce wasteful consumption and accidents due to leaking. One of these is that more and more oil & gas companies are turning to 3D printing to create geometrically complex, cost-effective parts, notably when it comes to replacements and spare parts. We took a closer look at some of the top examples from the market.
3D Metalforge and Shell Collaborate to Make Heat Exchanger Parts
You have almost certainly heard of Shell, one of the world's largest energy companies. But did you know that it has also turned to additive manufacturing? At the end of 2021, 3D Metalforge announced that it had collaborated with Shell Jurong Island, a dedicated chemical manufacturing site based in Singapore and owned by Shell, to provide 3D printed heat exchanger parts. The one-time agreement was driven by Shell Jurong Island's engineers need to reduce the required lead time for the manufacturing of heat exchanger tube components, a feat that thanks to 3D printing was accomplished in a record timeframe of only two weeks. Heat exchanger tube components are thin-walled tubes inserted into the inlet-end of condensers and heat exchangers to transfer heat and prevent tube failures, as such they are critical components in the oil & gas industry. By turning to AM, Shell Jurong Island was able to extend the lifespan of the existing equipment thanks to quickly receiving cost-effective replacement parts.
A 3D Printed Pressure Vessel from AML3D
AML3D is an Australian manufacturer of metal 3D printers, specifically machines that rely on the directed energy deposition (DED) process.  This summer, it announced a new project with the American oil company ExxonMobil. The project involves the design of a metal pressure vessel, 8 meters long and 1.5 meters in diameter, with a total weight of 2000 lbs, using 3D printing. It is believed to be the largest commercially available 3D printed vessel on the market. Thanks to AML3D's technology, which is currently compatible with aluminum, titanium, steel and nickel alloys, AML3D believes it is possible to manufacture this part in only 12 weeks.
AML3D Creates World's Largest Oil & Gas Piping Component
In another example from AML3D, the company has been making a name for itself for its production of large, metal parts with its Wire Additive Manufacturing (WAM®) process, which is derived from DED and combines an electric arc with certified welding wire. Back in November 2021, they created what they deemed to be the largest, verified, metal oil & gas high-pressure piping component using 3D printing in a hybrid approach. Additive manufacturing was chosen because they hoped that they would be able to decrease environmental, human and safety risks and it was the first time that this type of piping spool component was metal 3D printing and independently pressure tested in the world.
Chevron
To solve supply chain problems, Chevron, the world's sixth largest oil company, also turned to 3D printing. To do so, the U.S. company enlisted the services of Lincoln Electric, a company specializing in manufacturing production tools including welding, plasma cutting solutions and metal 3D printing. Together, the two companies were able to meet Chevron's need for on-demand production, producing 8 parts made from a nickel alloy, preventing a delay in supply chain.
General Electric
General Electric also turned to 3D printing for the oil & gas industry in 2018. The American company produced the largest and arguably most efficient gas turbine, named Harriet. As a result, it recorded an increased efficiency of 64%. By using AM, General Electric was able to produce complex geometries such as the cooling paths within the gas turbine's blades, and the design of the engine combustion system was also optimized using parts 3D printed from metal. The reason maximum efficiency was achieved was due in particular to the production of the complex geometries, which enabled engineers to improve the premixing of air and fuel within the turbine itself.
GKN Hydraulic Block
Business development manager Ümit Aydin director of business development at GKN reported that the use of additive manufacturing in design practices at GKN had achieved 80% weight savings in hydraulic block subassemblies (adapter blocks) through additive manufacturing. The application of 3D printing in hydraulic applications is a great alternative to traditional manufacturing methods as they are much lighter and customizable. This additive manufacturing process together with GKN's technology has enabled a freedom when it comes to geometric design with no risk of overlapping bores. Additive manufacturing was chosen because with it, it is possible to make design adjustments at any time, while with traditional methods new tooling is required if the position of the orifices needs to be changed to optimize oil flow.
Markforged Creates Tape Pads
Another example of the various applications of 3D printing in the oil & gas sector is the case of a Canadian integrated oil & gas company which turned to Markforged for the creation of an automated handling machine which could handle glass reinforcement tape pads. The company was struggling as the pads weight between 115 lbs to 230 lbs, making them too heavy to handle for a person. However, the pad handling machine would be too costly to produce, even though having it was expected to increase plant throughput by 15%. Instead, they turned to the Markforged Mark Two and continuous fiber 3D printing to make customized parts for the machine at a much cheaper cost. In the end the company was able to save $27,000 CAD showing as well the applications for oil & gas outside of pipelines.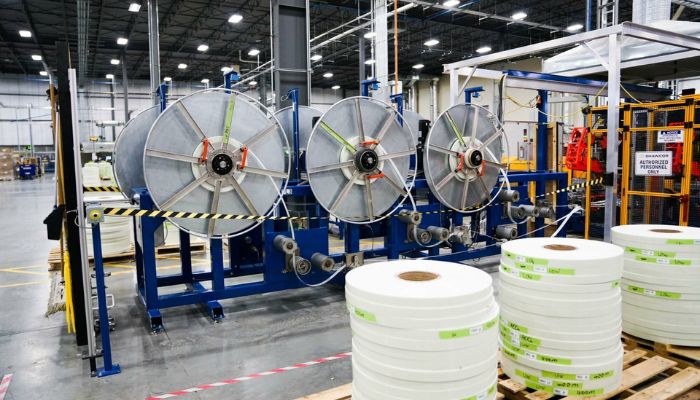 MX3D's 3D Printed Pipeline Clamp
AM company MX3D has developed a 3D-printed pipeline clamp for the oil and gas industry in late 2021. The part was manufactured and tested in collaboration between MX3D, Team Industries and TiaT. A hybrid approach was used, incorporating MX3D's robotic wire arc additive manufacturing (WAAM) process. The 3D-printed pipeline clamp has already been tested and certified to have a high level of safety, demonstrating how WAAM can be used in the oil and gas sector.
PGV Oil Tools and Desktop Metal
Karnes City-based PGV Oil Tools is a manufacturing company that has been specializing in designing and building downhole oil tools for over 3 decades. The Texan company, which was founded back in 1983, has been manufacturing equipment for a number of different sectors, including the oil and gas, aerospace and robotics and automation industries. While still relying on traditional manufacturing methods such as CNC machining, the company also decided to apply metal 3D printing and to make the best use of innovative additive manufacturing technologies. To produce its downhole oil tools, PGV selected the Desktop Metal Shop System, which allows the company to produce its tools cheaper and in less time than with traditional methods. In addition to that, the use of 3D printing cuts down the amount of waste in production.
Space Parts 3D and Ocyan
These two companies, Spare 3D and Ocyan, have partnered to accelerate additive manufacturing in the oil and gas industry. Brazilian company offering solutions for the offshore oil and gas industry, Ocyan, turned to Spare 3D, a French company based in Paris that specializes in digital inventory of spare parts for additive manufacturing. They have been using the comprehensive DigiPART software, a software that allows to apply additive manufacturing on spare parts by reducing obsolescence, lead times, minimum order quantity, or inventory levels. They have been able to integrate this software into their spare parts supply chain. This has been the first part built by the company, also creating a common framework for developing an adoption path for additive manufacturing for spare parts. The work of these two companies has involved the analysis of 17,000 parts from Ocyan's inventory to assess their potential for production with additive manufacturing. This has resulted in viable parts amounting to 11% of the total parts analyzed.
A 3D printed offshore component from Vallourec and Total
In May 2021, French partners Vallourec and Total announced for the first time the successful installation of a 3D printed waterbushing in the North Sea. As a reminder, a waterbushing is a component used in the oil and gas drilling industry to block hydrocarbon surges from wells during their construction. It is therefore a key element to ensure the safety of the workforce on site. The two French groups have therefore relied on additive manufacturing, in particular the WAAM process, to design a 1.2 meter high part, weighing 220 kilos, which represents a 50% weight reduction.
Velo3D and Duncan Machine Products Partner for the Oil & Gas Industry
In 2020, additive manufacturing equipment manufacturer Velo3D announced a partnership with a major player in the oil and gas industry, Duncan Machine Products (DMP). Dedicated to offering high-precision machining services, DMP is a key supplier to the oil and gas industry, as well as the aerospace industry. During the second quarter of 2020, DMP took delivery of the complete Velo3D system, which includes Flow™ prepress software, Sapphire® 3D printer and Assure™ quality management software. Benny Buller, CEO and founder of Velo3D, says, "Metal additive manufacturing is a compatible process for the oil and gas industry, given the complex engineering requirements." Thanks to this metal 3D printing solution, DMP aims to respond to the growing market demand, as well as increase the yield of final parts and reduce lead times.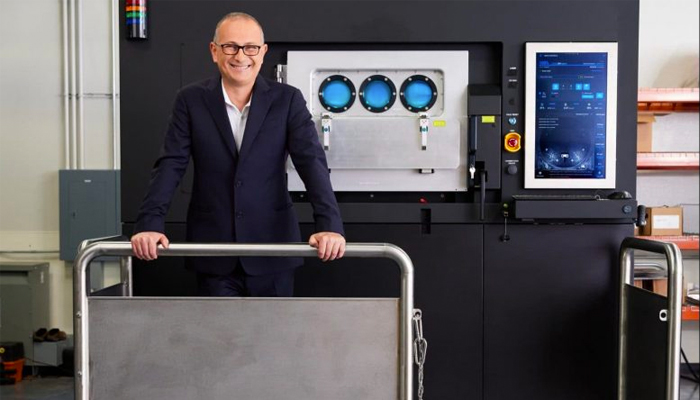 What do you think of these 3D printing applications in the oil & gas industry? Let us know in a comment below or on our LinkedIn, Facebook, and Twitter pages! Don't forget to sign up for our free weekly Newsletter here, the latest 3D printing news straight to your inbox! You can also find all our videos on our YouTube channel.
*Cover Photo Credits: Ansys