A review of the most innovative 3D printing applications in automotive!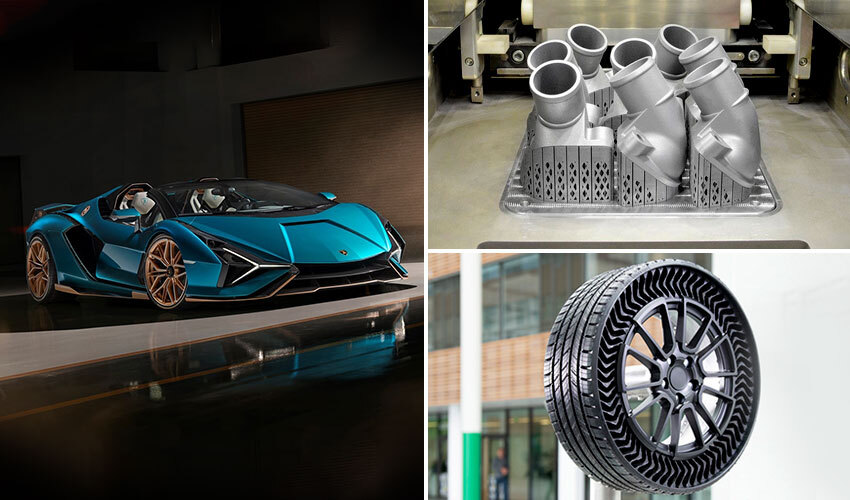 Among the application sectors in which we find additive manufacturing technologies, the automotive industry is one that is taking advantage of them the most. This technology allows large automotive companies to reduce costs, time and weight when producing complex parts. In addition, additive manufacturing also allows greater customisation at the design level. Given the significant growth that 3D printing is experiencing in the automotive industry, it is expected that by 2028 the figure will reach $12.4 billion. To better understand the impact that the integration of this technology is having on the industry, we have compiled a list of the major companies that use 3D printing in the automotive sector, as well as their various applications. The companies have been listed in alphabetical order.
Audi accelerates automotive design
Audi is a German multinational dedicated to the manufacture of top-of-the-range sports cars, and has been part of the Volkswagen group since 1965. A few years ago, the company decided to use Stratasys solutions with the aim of accelerating automotive design. The PolyJet technology allowed Audi to develop and evaluate different prototypes before producing the parts of a vehicle. By incorporating the J750 3D printer into its line, the manufacturer was able to extend the production of models such as wheel covers, grilles, door handles or even rear light cabs, which are usually made of transparent plastic. With 3D printing, they were able to speed up automotive design and creation of final parts, meeting the demands of their customers.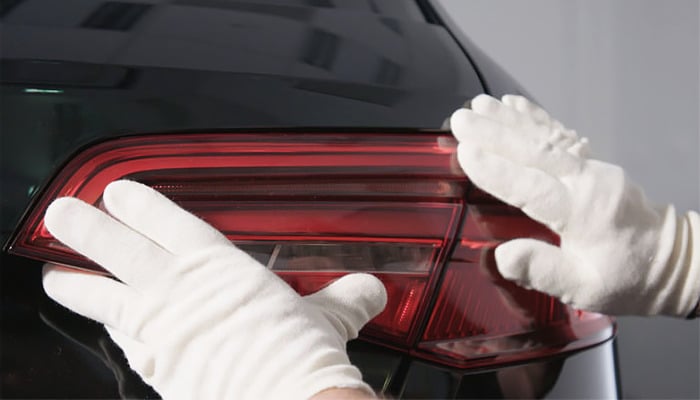 BMW opts for additive manufacturing
Next in our list of companies implementing 3D printing in the automotive sector is the German giant BMW. Based in Munich, it has been using additive manufacturing for more than 25 years and was one of the first automakers to integrate this technology. In June 2020 they finally opened their own additive manufacturing centre with the aim of pooling their production skills. This campus has over 80 employees and more than 50 industrial manufacturing solutions. In addition to the centre, BMW has demonstrated its capabilities on numerous occasions, for example with the i8 Roadster sports car. This model integrates parts that are much lighter than if they had been created using traditional methods. Parts such as the bonnet support are now stronger as well as lighter. An advanced method of optimising car production.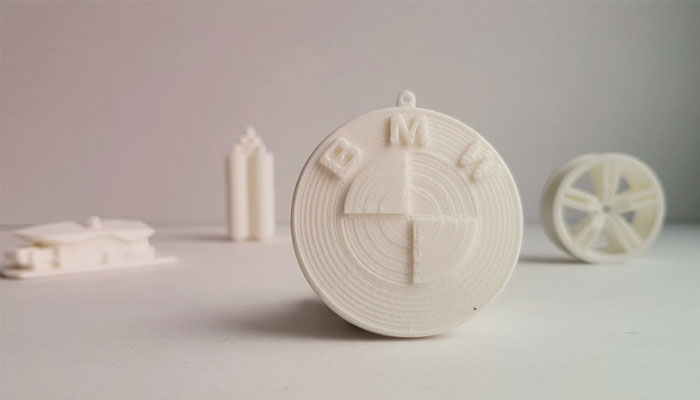 Bugatti 3D prints its brakes
The French company Bugatti, a subsidiary of the Volkswagen group, manufactures luxury and racing cars. At the beginning of 2018, when the automobile industry was already using this technology, the company announced that it had begun to integrate 3D printing for the development of some parts. The top-of-the-range Chiron sports car is known for its high speed and powerful brakes. So Bugatti turned to additive manufacturing of titanium to make the brake calipers lighter. The use of aluminium to integrate the titanium meant a 40% reduction in the front end of the caliper. The engineers claimed to have produced the largest brake caliper for a sports car, with 8 titanium pistons in each front calibre and six in the rear. As a result, the manufacturer expects to be able to improve the performance of its vehicles in the future.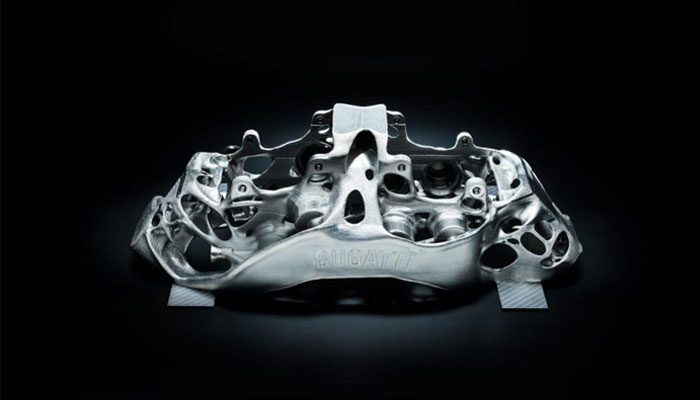 Ferrari and additive metal manufacturing
Additive manufacturing has a key role in motor sport, enabling the design of lighter, stronger and more efficient parts in a much shorter time frame. The manufacturer Ferrari has therefore relied on this technology – in particular metal 3D printing – to design the pistons of one of its engines. Ferrari explains that it used an EOS machine and titanium powder and that additive manufacturing enabled it to imagine a much more complex, resistant and lighter part thanks in particular to topological optimisation. This method also increases the number of possible iterations: the company can imagine as many designs as necessary and accelerate its prototyping phase. The manufacturer has also designed 3D printed brake pedals with a hollow structure – a result that would not have been possible using other manufacturing methods.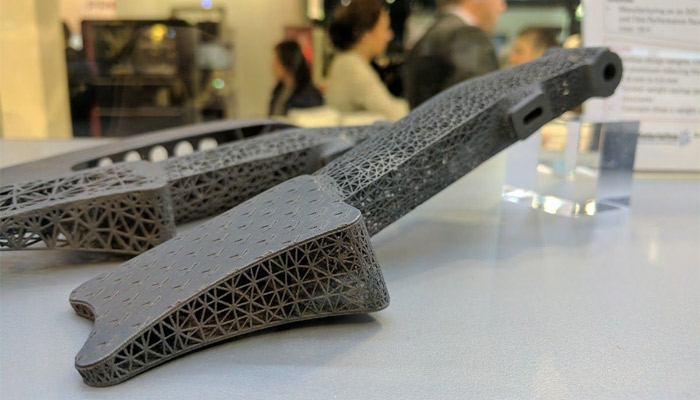 Ford's 3D printing projects
In 1988, the car manufacturer Ford had already invested in 3 3D printers; in 2015, it estimated its production of 3D printed parts at 500,000, proof that the technology has a place of importance for the American company. And for good reason, the company has forged strong partnerships with certain manufacturers such as Desktop Metal and Carbon. If we look at the parts made by Ford, we have to tell you about its aluminium air intake manifold, one of the largest 3D printed metal parts for the automobile. It weighs 6 kilos and was made in just 5 days. More recently, the American has come up with customised wheel nuts to protect the rims. Printed on EOS machines, these lug nuts were modelled from the driver's voice: this is converted into a 3D model and printed inside the nut. This is an effective method of combating theft, since only the driver's voice can be used to remove the nuts.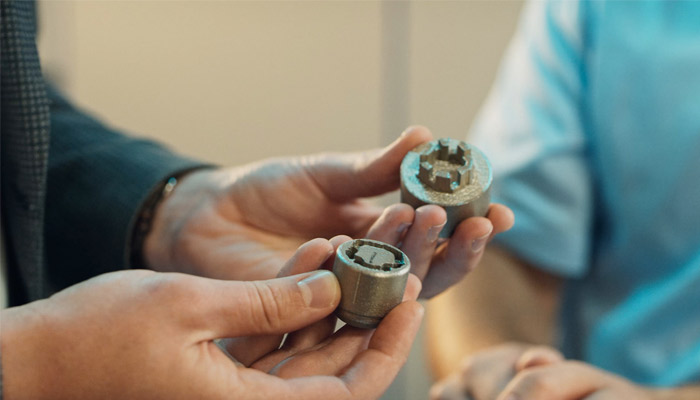 General Motors 3D prints seat supports
In collaboration with Autodesk, the manufacturer General Motors has designed a 3D-printed seat support in stainless steel for its future electric cars. It used generative design to imagine a part with less material and therefore lighter to maximise energy efficiency. The seat support would consist of only one part, as opposed to 8 different parts using conventional methods, would be 40% lighter and 20% stronger. Manufacturing times are also reduced as there is no assembly phase at all. General Motors hopes to produce thousands of parts by 2023, closely following the evolution of 3D technologies.
Lamborghini uses AM to personalize Sian Roadster
Lamborghini is associated with anything but affordability – the brand is the definition of high-end expensive sports cars. Nevertheless, the company still actively uses additive manufacturing because AM offers more than just saved costs and rapid production, for Lamborghini 3D printing represents endless opportunities of customization. Unveiled this summer, Lamborghini's Sian Roadster can be highly personalized according to the client's preferences. The newly designed air vents were manufactured using additive manufacturing technology  allowing perfect customization: among other things, customers will be able to have their initials integrated in the design of this car element.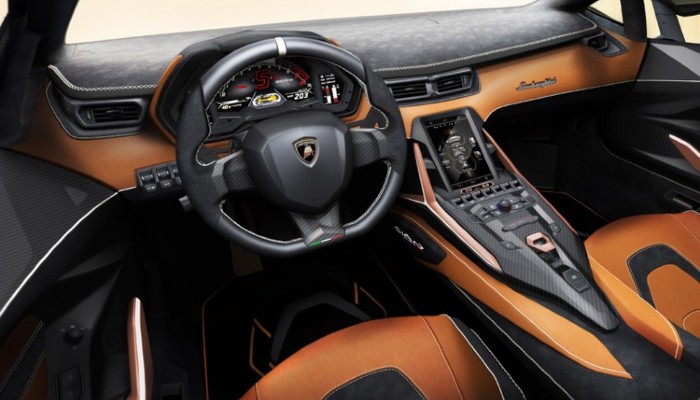 McLaren and its 720S model
The British company McLaren has also integrated additive manufacturing into the production process of its model 720S. By using a resin 3D printer, all individual body parts could be printed in just 140 hours! Since the 720S is a sports car, aerodynamics is a critical component in the car's performance. That's why McLaren decided to replace some of the original aerodynamic parts, such as the rear spoiler, hood, outer door wings and bumper, with 3D printed components. This resulted in the 720S not only being created faster and cheaper, but also being more efficient and of higher quality.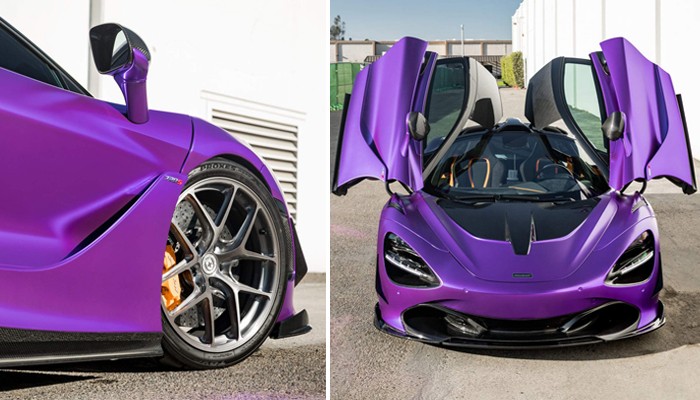 Mercedes 3D prints metal parts
The automotive industry is not limited to personal vehicles, but also includes vehicles for transportation of goods, trucks, for example. After Mercedes first successfully 3D printed truck parts with plastic, the company now also additively manufactures truck parts made of metal. The use of metal AM makes the  components more resistant, even to heat. In addition, Mercedes is now able to cost-effectively produce even discontinued parts in small quantities. Mercedes is the first company to focus on 3D printing of spare parts for trucks.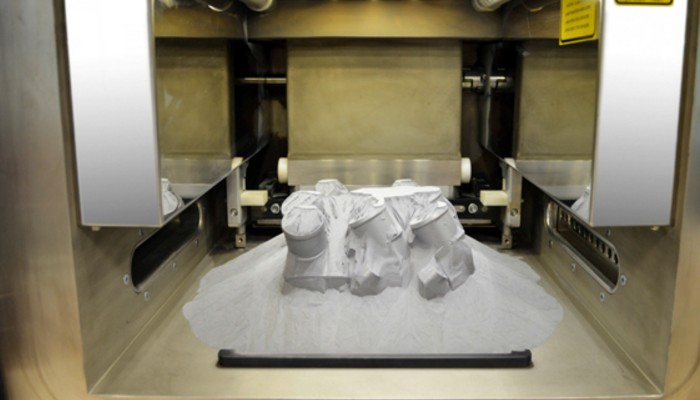 The 3D printed Uptis tires by Michelin
The French tire manufacturer, Michelin, presented its first prototype tire supported by additive manufacturing technologies in 2019. Called Uptis (Unique Puncture-proof Tire System), these tires have been designed to be airless in order to reduce the risk of flat tires and other air loss failures that result from puncture or road hazards. The company worked with the American General Motors to develop this 3D printed prototype. If successful, we could expect Uptis to equip some cars by 2024. As of today, 3D printing was only used to develop the prototype, using renewable and bio-sourced materials, but if production were to reach larger volumes, this technology could be employed on a larger scale. Finally, these puncture-proof tires can also decrease waste to promote sustainable mobility (one of the goals of the company's future of mobility vision).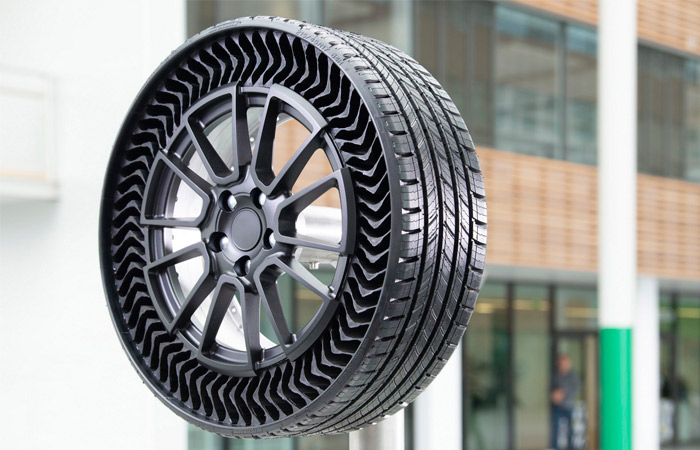 MINI custom car components
MINI, owned by the German automotive company BMW since 2000, has been offering some customization on its cars thanks to additive manufacturing. Today, BMW uses additive manufacturing technologies to produce spare parts for its classic vehicles, tools, and even end-use parts. In fact, because 3D printing offers more freedom in design, it is possible to reduce the lead times and add complexity to parts at an affordable cost. Therefore, MINI customers have the opportunity to customize their vehicle by designing the passenger-side sideband in the cockpit and the side inserts themselves. The pieces are then 3D printed at BMW's facility. The 3D printers used in this process are all highly professional production facilities which were precisely configured by BMW through strategic partnerships with HP, Carbon and EOS. The entire group is manufacturing around 30,000 prototyping projects a year and produces more than 140,000 components.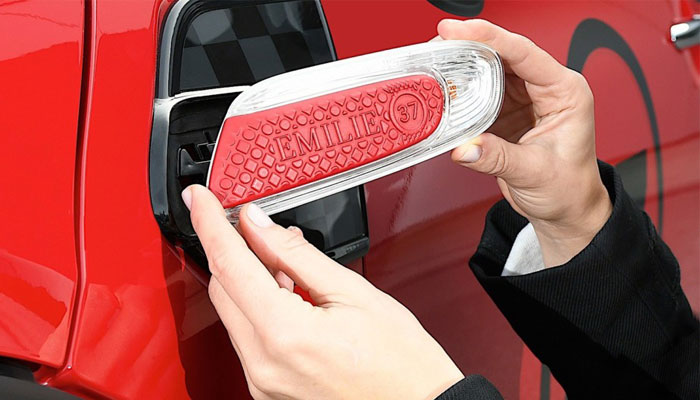 Porsche and the first 3D printed engine pistons
Porsche has been using additive manufacturing technology since the early 1990s. This summer, the automotive giant 3D printed engine pistons for the first time ever. The additively manufactured components were designed for the high-performance engine of the Porsche 911 GT2. 3D printing allowed to optimize the pistons, and as a result, make this critical engine element 10% lighter than the traditionally manufactured ones. Porsche used a special aluminium alloy for Mahle's cast pistons, in order to obtain the best properties for this specific application. The team had to develop new parameters for the printing work, which was carried out by our manufacturing partner Trumpf.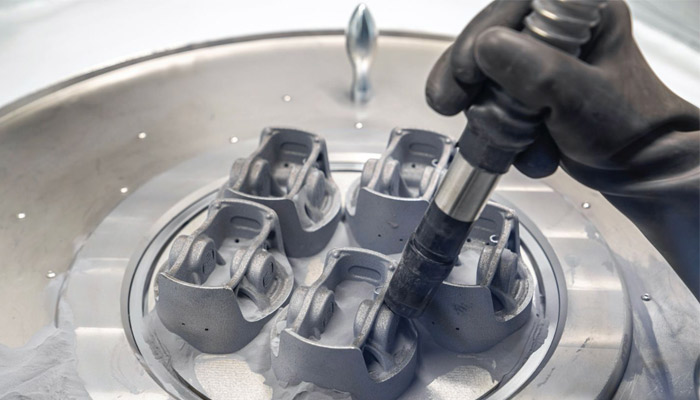 SEAT invests in AM center
The Spanish manufacturer SEAT is advancing the use of 3D printing in automotive as well. The company has recently completed a new 3,000 m2 building that will unify all processes and activities prior to mass production of a new model. A large space in the new center will be dedicated to additive manufacturing projects. SEAT's AM center houses multiple 3D printers, nine, to be precise. The machines include: an HP Multi Jet Fusion, an SLS machine, 6 FDM 3D printers and a PolyJet solution. Thanks to the diversity of these technologies, SEAT is able to produce parts with greater or lesser detail, with important mechanical properties and advanced functionalities. The machines operate 24 hours a day and produce an average of 50 parts per day. According to the manufacturer, 80% of the parts are prototypes used to develop vehicles more quickly, the rest being mainly tooling and customization components.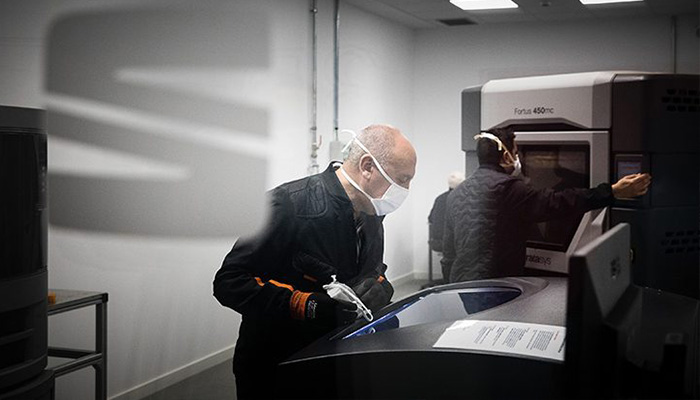 Volkswagen and its iconic van
On the occasion of the opening of its new innovation and engineering center in California, the car manufacturer Volkswagen presented a modernized electric version of the 1962 Combi, called Type 20. Interestingly, the famous van model featured several additively manufactured components, namely the steering wheel, the mirror supports and even the wheels. Incorporating 3D printing technology allowed Volkswagen to reduce the overall weight of the van while gaining in geometric complexity.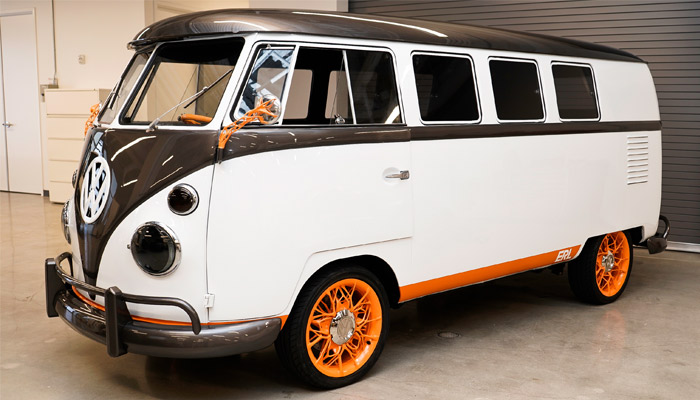 What do you think about these 3D printing applications in the automotive sector? Let us know in a comment down below or on our Facebook and Twitter pages! Don't forget to sign up for our free weekly Newsletter, with all the latest news in 3D printing delivered straight to your inbox!