3D Printing Paves the Way for Both Comfort and Performance With the Aerorise Backpack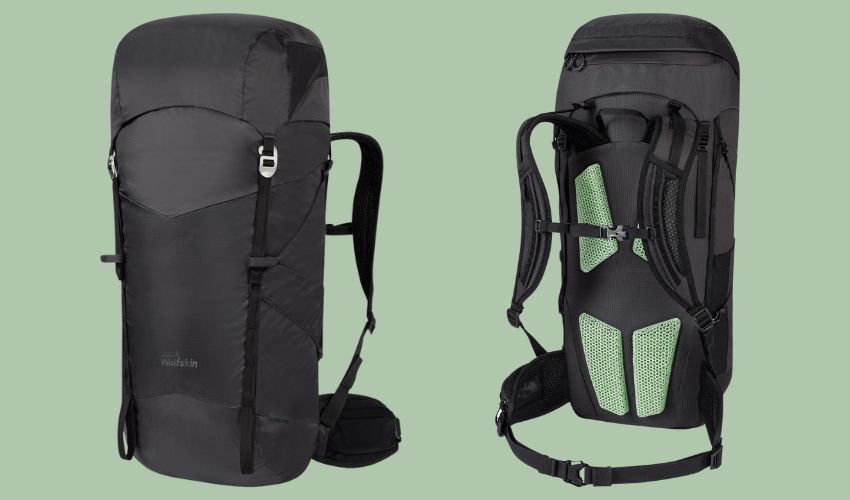 Increasingly, it seems as if the sky's the limit for applications in 3D printing. We have already seen parts made for everything from rocket engines to sneakers. Though when it comes to consumer goods, particularly for sports, 3D printing has truly found its footing. 3D printing's vast customization capabilities, among other benefits, can greatly improve performance and comfort for athletes. Even major organizations like the NHL, NFL, and the Olympics have started to adopt the technologies. A recent example of this is how Jack Wolfskin looked to  3D printing, and more specifically, the respective technologies and expertise of Carbon and OECHSLER, to create a better backpack called Aerorise.
Jack Wolfskin is a German-based outdoor wear and equipment producer. Though they have been active for almost 40 years, they have only recently moved into the North American market. The company is passionate about creating products that are proven effective in the wild using innovative, eco-conscious technologies. They turned to 3D printing for this latest product as a way to overcome ventilation issues in backpack padding. In traditional pack design,  padding  is added to make the wearer comfortable at pressure points while carrying heavy loads, but it can also cause a lot of back sweat, as any experienced hiker will tell you. 
Now thanks to the use of additive manufacturing, Jack Wolfskin, Carbon, and OECHSLER have created a backpack that offers both optimal load distribution and excellent ventilation. Namely, the newly designed cushioning system can provide an optimal distribution of weight and pressure thanks to its ergonomic shape while still providing excellent ventilation. The dual-cure elastomer EPU 41 material from Carbon was especially key in the process. Richard Collier, CEO of Jack Wolfskin, commented, "It's not every day that material advancements come along that make such a difference. Aerorise addresses all of the primary challenges of backpacks – ventilation, support, and comfort – through a single technology advancement. Our customers are going to love this product." 
Creating the Aerorise Backpack
As mentioned, to create the Aerorise backpack, Jack Wolfskin turned to the Carbon Idea-to-Production platform, powered by Carbon Digital Light Synthesis™ (DLS™) technology. Though Jack Wolfskin had never worked with 3D printing design before, the company was drawn to the process as it knew AM and DfAM offered opportunities when it came to increased performance benefits and reduction of material waste. Jack Wolfskin had several requirements for the Aerorise backpack. Most importantly, they needed to provide superior lower back ventilation for the user and zonal cushioning to minimize pressure points, all while still being lightweight and durable. 
Mechanical qualities such as elasticity and structural support were also a must, which led to the choice of Carbon EPU 41, an elastomeric material that provides high resiliency. With this material, the final product was able to be abrasion-resistant, highly breathable through its lattice structure and has a surface finish with the right degree of grip while remaining easy to clean. However, the material was not the only aspect necessary to create an improved backpack — the design of the 3D printed panels was also a consideration.
Carbon's expertise in design was useful in creating a solution that combined durability, lightness, comfort, and ventilation. In particular, Carbon Design Engine™ software, a proprietary solution that allows designers to go from an idea to a functional latticed part in hours, was used. Lattices are popular in DfAM as they have several benefits but they are difficult to make using traditional processes. For example, the geometry can reduce material usage, improve cushioning and dampening, and increase breathability, all critical in a project such as the Aerorise backpack. In this particular case, the open cell structures were able to vastly improve ventilation, maintain comfort, and improve load control. Moreover, 3D printing allowed the engineers at Jack Wolfskin to integrate different degrees of horizontal and vertical cushioning in one piece.
Beyond the design and the material, 3D printing itself obviously cannot be ignored in the creation of the Aerorise backpack. Carbon partner OECHSLER was the best choice for Jack Wolfskin, not just for its German roots (allowing the company to abide by its ethos "Engineered in Germany/Proven in the Wild) but also for its extensive experience in additive manufacturing. OECHSLER was able to abided by the two considerations set by Jack Wolfskin: not to compromise on the print quality while keeping the industrialization process as lean as possible. Additional struts were added for reinforcement in critical areas, and the part height was reduced to shorten the print time. This allowed the company to reduce printing time from prototype to serial production by 40%.
Durability, Lightness, Comfort, and Ventilation in One Solution
The early response to the Aerorise backpack  has been positive. The pack has also already been tested internally to great satisfaction. Gerold Ringsdorf, Head of Development of Backpacks for Jack Wolfskin noted that thanks to its strength in ventilation, cushioning, and support, no other packs can compare. The Aerorise backpack also offers a great balance between soft, hard, snug, and supportive. In any case, the three companies all agree that this partnership made innovations possible that could not have been accomplished alone. It is also expected to just be the start of Jack Wolfskin's journey into additive manufacturing. 
Magdalen Hamel, Category Manager of Equipment at Jack Wolfskin concludes, "Comfort, load control, and ventilation are age-old challenges in pack design. The technology presented in Aerorise directly benefits hikers on the trail and takes the industry in a new direction. The design is really impressive from an engineering perspective and further supports our belief that together, in cooperation with partners, we can make a notable difference and take the industry a step forward." You can find out more about the collaboration on Carbon's website HERE.
What do you think of the use of 3D printing for the creation of the new Aerorise Backpack from Jack Wolfskin? Do you have one of their solutions? Let us know in a comment below or on our LinkedIn, Facebook, and  Twitter pages! Don't forget to sign up for our free weekly Newsletter here, the latest 3D printing news straight to your inbox! You can also find all our videos on our YouTube channel.
*Cover Photo Credits: Jack Wolfskin