TOP 10 3D Printing in Aeronautics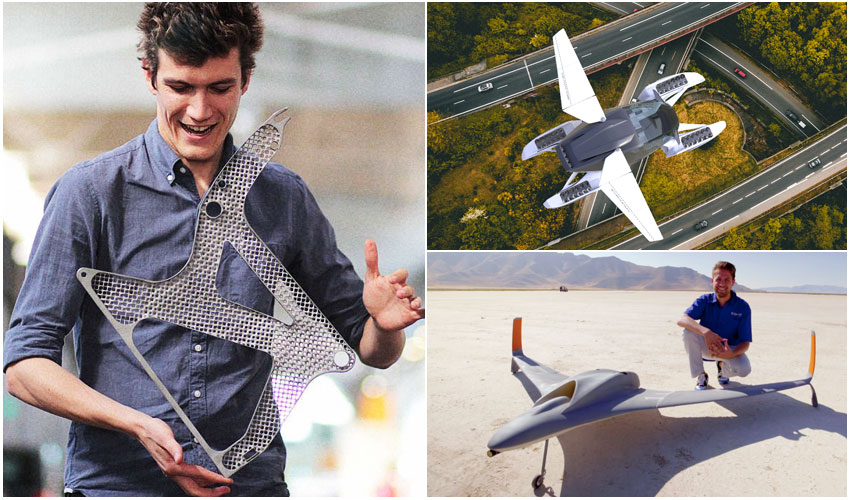 3D printing and additive manufacturing are constantly affecting new and established industries. This is due to the ability to create lighter, stronger, and more geometrically complex parts, creating cost savings. This time, we're talking about 3D printing aeronautics and the aerospace industry. Therefore, we did our research and found the Top 10 best applications of 3D printing in the aeronautics industry, following on from our Top 10 3D printing in space article.
1. A lighter plane seat
Andreas Bastian is an engineer working at Autodesk who has manufactured a 3D printed aircraft seat. This structure weighs 766 grams (54%) less than a normal aircraft seat due to additive manufacturing. Andreas first 3D printed the plastic mold of the seat to create a ceramic mold to obtain the final piece. Andreas Bastian explains that this manufacturing method could save significant amounts of fuel during flights due to the weight reduction.
2. Safran helicopters
Safran Helicopter Engines recently launched a new range of helicopter engines, called Anteo-1K. These engines incorporate 3D printed parts, including guide vanes and parts inside the combustion chamber. Additive manufacturing has allowed Safran to save production costs as well as to improve engine performance. These 3D printed engines created are around 30% more powerful than those previously produced. This increased performance helps helicopters in areas such as search and rescue missions.

3. Additive Manufacturing in Pratt & Whitney Engines
Approximately twelve parts of a Pratt & Whitney engine were created using additive manufacturing, engines that now equip Bombardier aircraft. These are mainly fasteners, fuel collectors and injection nozzles 3D printed from nickel and titanium. 3D printing saved Pratt & Whitney around 15 months over the entire engine design process and reduced the final weight of the part by 50%. The aeronautical engine manufacturer has mainly used electron beam melting (EBM) and direct metal laser sintering (DMLS) technologies. 
4. STELIA and its fuselage panel
STELIA Aerospace is a French aerospace company who turned to additive manufacturing to design a reinforced metal fuselage panel. They used Wire and Arc Additive Manufacturing (WAAM) technology to complete this project. Its one square meter demonstrator shows that additive manufacturing makes it very easy to design the stiffeners of the fuselage panels, offering more design freedom.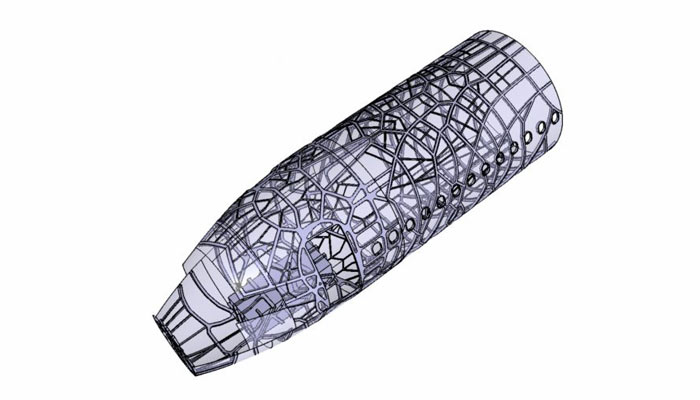 5. 3D printed drone by Stratasys
In 2015 Aurora Flight Sciences, specialists in advanced systems of unmanned aerial vehicles, unveiled the first unmanned aircraft with jet propulsion that can fly faster than 240km/h, in collaboration with Stratasys. This extraordinary aircraft is called the UAV. This vehicle consisted of more than 80% 3D printed parts, manufactured through fused deposition modeling technologies. The ULTEM 9085™ material, a lightweight but high-performance material, was used to manufacture the UAV, enabling it to reach those high speeds.
6. 3D Printed Aircraft Parts – Emirates & 3D Systems
At the end of 2017, Emirates Airlines, one of the world's leading airlines, announced its collaboration with 3D Systems to develop 3D printed aircraft cabins. Emirates and 3D Systems collaborated using selective laser sintering technology to create video monitoring projectors and ventilation grills for the aircraft. Since then, the companies have announced they hope to further use additive manufacturing due to its speed and ability to create lighter parts, in Emirates aircraft.
7. 3D printed pieces for fighter aircrafts (BAE Systems)
BAE Systems is a British company specialising in the aerospace defence sector. In 2014, BAE Systems created parts used in their Tornado GR4 aircraft using additive manufacturing. In addition to improving the appearance of the aircraft, 3D printing enabled significant cost savings for the company. Following this success, BAE Systems created more than 2,500 aircraft parts using 3D technologies in 2016, an increase of over 20% year on year. They have now incorporated augemented reality (AR) and virtual reality (VR) technologies into their research.
8. 3D Printed aerospace turbines by Renishaw
Renishaw are a well-known British additive manufacturing company who sell a variety of metal 3D printers. Through their Spanish subsidiary, Renishaw Ibérica, they are collaborating to create high-speed aerospace turbines. This 4 year project called Futuralve aims to develop new technology for high-speed turbines, and is using 3D printing to print lightweight, high-performance parts and measure their effectiveness. Renishaw's RenAM 500M metal 3D printer is being used to print the parts in nickel based 'super-alloys' in complex geometries that can't be created using traditional manufacturing methods.
9. US Army Perdix Drones
The US Army are no strangers to 3D printing, having previously created a 3D printed concrete barracks. Using a $20M budget in collaboration with researchers at MIT, the 'Perdix' drones were designed, printed, and tested. These 103 drones don't think individually, but as one collective brain. They fly through the air, using sensors to make sure they don't crash into each other, collectively deciding the best way of executing their mission. These drones likely have applications in surveillance and jamming enemy radars.
10. Hoversurf flying car
Hoversurf are a company creating incredible hovercraft, having previously developed the Scorpion-3, a single seat aircraft that can fly a person. However, Hoversurf have one-upped themselves this time, announcing plans to release a part 3D printed flying car called the Formula. This self flying air taxi can seat 5 people, reach speeds of up to 300 km/h, and can be parked in a normal parking space since the wings fold up! The car can be landed near an electricity charging point to be recharged before additional flight. Hoversurf plan to release the Formula as early as next year! Full story here.
What do you think about the future of 3D printing aeronautics? Let us know in a comment below or on our Facebook and Twitter pages! Don't forget to sign up for our free weekly Newsletter, with all the latest news in 3D printing delivered straight to your inbox!