Recent 3D Printing Applications in the Aeronautics Sector
Published on October 28, 2021 by
Jamie D.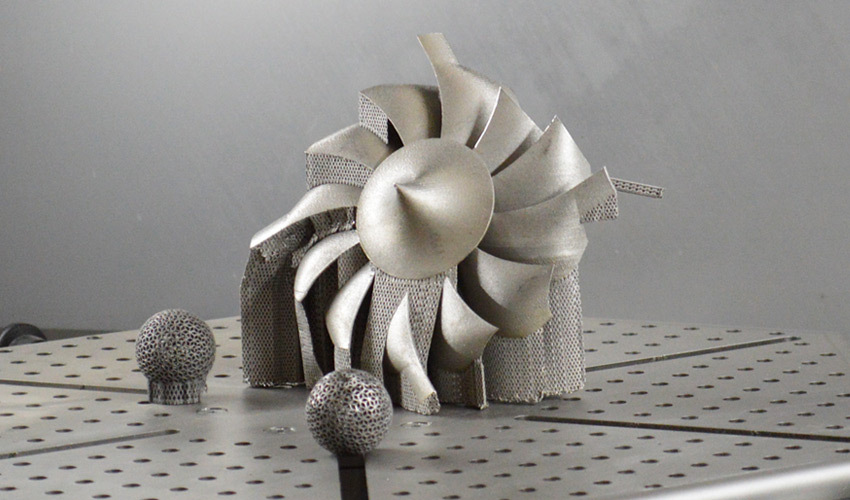 Though maybe not the first thing that comes to mind when it comes to 3D printing, the aeronautical sector was actually one of the first to adopt the technology. Initially used for rapid prototyping, increasingly additive manufacturing (AM) is even being implemented for end-use parts. This is due to the technology's inherent ability to create lighter, stronger, and more geometrically complex parts, a must in sectors like aviation where strength and lightness of parts are paramount. To illustrate the many applications of 3D printing in the industry, we have compiled a list of some of the recent and most impressive uses of AM in aeronautics.
XB-1 Supersonic
The XB-1 is an aircraft that was rolled out towards the end of 2020 by Boom Supersonic. It was designed to be a high-speed jet, comparable to the now defunct Concorde, and is considered to be the world's first independently developed supersonic jet. It is also notable because the plane has 21 titanium 3D printed components which were made by metal AM solution provider Velo3D. The parts were all made using Velo3D's Sapphire metal AM printer which uses laser powder bed fusion. The parts were qualified and equipped in the jet's engine hardware and environmental control system, as well as several structural parts.
Norsk Titanium Supplied Parts for the Boeing 787
Norsk Titanium US Inc, a leader in titanium AM for the aerospace industry, supplied new parts for the Boeing 787 Dreamliner. Norsk used a Rapid Plasma Deposition (RPD) process which uses melting a titanium wire in a cloud of argon gas. This technology ultimately improves the strength and durability of the final part, and works similar to Directed Energy Deposition (DED) though Norsk's process employs an electron beam which enables it to heat the powder in several places simultaneously. The parts included 3D-printed titanium components which were certified by the FAA (Federal Aviation Administration, A U.S. government agency which regulates civil aviation).
Renishaw, HAP and NCAM's 3D Printed Helicopter Door Handles
Engineering firm Renishaw collaborated with Hyde Aero Products (HAP) and the National Centre for Additive Manufacturing (NCAM) in the UK to deliver 3D printed door handles for two Class II helicopters. Though HAP had already invested in polymer 3D printing before this collaboration, the project was its first foray into metal AM. The goal was to see whether metal 3D printing cold be a viable and cost-effective solution to manufacture handles for helicopters and possibly other parts moving forward. To do this, the build was completed using laser powder bed fusion and were printed horizontally with an internal lattice support.
The US Air Force Runway Mat
In the United States, as part of the Small Business Innovation Research project, Indiana Technology and Manufacturing Companies (ITAMCO) collaborated with a Purdue University professor, Pablo Zavattieri, to develop a 3D-printed runway mat for Expeditionary Airfields (EAF) used by the US Air Force. These EAFs allow military aircraft to launch and land in any flat terrain in the world, making this 3D-printed runway mat solution indispensable for the armed forces. Traditionally, the US military would rely on a portable runway,  assembled with an aluminum plank matting. With the $1 Million USD grant, Purdue and ITAMCO began developing 3D-printed mats that used phase transforming cellular materials (PXCMs) as an alternative to the AM-2 mat that has been in use since the Vietnam War.
Markforged Luxury Aircraft Parts
To create a luxe aesthetic in the cabins of private aircrafts, Cabin Management Solutions (CMS) used two Markforged X7 industrial carbon fiber 3D printers to print high-quality, end-use parts. The parts are used for cabin upgrades and replacements for luxury aircraft. Beyond the sleek finish, more impressively, the parts meet the strict demands of FAA compliance. CMS uses Markforged's flame-retardant micro carbon fiber filled nylon Onyx FR material to fabricate custom parts including light switch panels, USB-C and drop-in USB-A chargers, and adjustable touch screen brackets.
Saab
Saab, a Swedish aerospace and defense company, has been using additive manufacturing in its production process for some time to create parts in-house for its fighter jets. 3D printing allows Saab to create and repair parts, while limiting manufacturing time and costs. Last March, the company made one of its first test flights with a 3D printed part. It was a hatch made from PA 2200, polyamide 12 which is capable of withstanding outdoor conditions. Eventually, Saab hopes to find even more resistant materials, especially in relation to the freezing cold present at high altitudes, and wants to develop a mobile 3D printing system, so that it can be taken to different bases.
Satair
An Airbus subsidiary since 2011, Satair is a Danish company that has been producing aircraft components since 1957. Using additive manufacturing, the company last year supplied one of its customers with a certified 3D metal-printed part. 3D printing was used to manufacture a part, the wingtip fence for an A320ceo aircraft specifically, that was no longer available from the usual supplier. According to Satair, this design method reduced costs by 45%, while providing flexibility.
ITP Aero
Founded in 1989, ITP Aero develops and designs applications for the aeronautical sector. Recently, using selective laser sintering (SLS) technology, the Spanish company designed one of the main structures of the new UltraFan® engine. Called TBH (Tail Bearing Housing), the component will be used, among other things, as a connecting element between the aircraft and the engine. According to ITP Aero, 3D printing has made it possible to produce parts with complex geometries, using only small amounts of powder and achieving 25 percent material savings. The company says this manufacturing method is more environmentally friendly and reduces the carbon footprint during the production process.
A 3D printed Nose cone from Safran
At the end of March, Safran group introduced the first titanium nose gear casing, printed on an SLM Solutions machine. With its imposing volume of 455 x 295 x 805 mm, the part was designed in a single run – though usually it is manufactured in three parts with a 5-axis arm. Capable of withstanding the stresses transmitted by the nose wheel of a business jet, the titanium housing will be tested next year. In any case, its overall weight has been reduced by 15%, thanks to metal additive manufacturing, while Safran has significantly reduced its production time.
3D Printing and the Madrid Air Force
In Spain, the Maestranza Aérea de Madrid (MAESMA), an organization that manages the maintenance of the Spanish Air Force's planes and helicopters, has integrated additive manufacturing into its factories to develop custom tools and test new components, among other things. More specifically, it uses FDM machines to create carbon fiber-filled parts. For example, it has printed tooling parts for leak control or a custom key for the helicopter's main rotor. MAESMA has also invested in 3D scanning solutions to scan spare parts and build up a stock of 3D files in case maintenance is needed.
Airbus Certified 3D Printed Parts from Materialise and EOS
In addition to the 3D printing technology used, the choice of material also determines whether the high quality standards for airworthy parts can be met. PA 2241 FR, a flame-retardant polyamide from EOS, meets these requirements and has been certified by Airbus. In a collaboration with Materialise, around 100 different parts for the A350 aircraft will be 3D printed using laser sintering technology. The parts, which must provide a certain level of protection against fire, smoke and toxicity, will be manufactured using an EOS P 770 3D printer. The production volume is expected to reach around 26,000 parts per year.
The Lufthansa AM Center for a Holistic Approach
Germany's Lufthansa Technik also knows how to take advantage of the benefits of 3D printing. In their center, additive manufacturing is split into the clusters "Prototyping," "Tooling" and "Flying. The technology therefore makes both repair and maintenance processes more efficient internally and is also used to manufacture individual parts and spare parts for aircraft components. In addition, customized tools can be produced, made from either polymer materials or metal. In the "Flying" cluster, the approval process for qualifying parts must always be taken into account, which is why the use of additive manufacturing is evaluated on a component-specific basis in each case. The center aims to accelerate the development and implementation of additively manufactured products.
What do you think about the future of 3D printing aeronautics? Let us know in a comment below or on our Facebook and Twitter pages! Don't forget to sign up for our free weekly Newsletter, with all the latest news in 3D printing delivered straight to your inbox!