Essentium releases 3D printing adhesives in partnership with Magigoo
Published on August 28, 2020 by
Aysha M.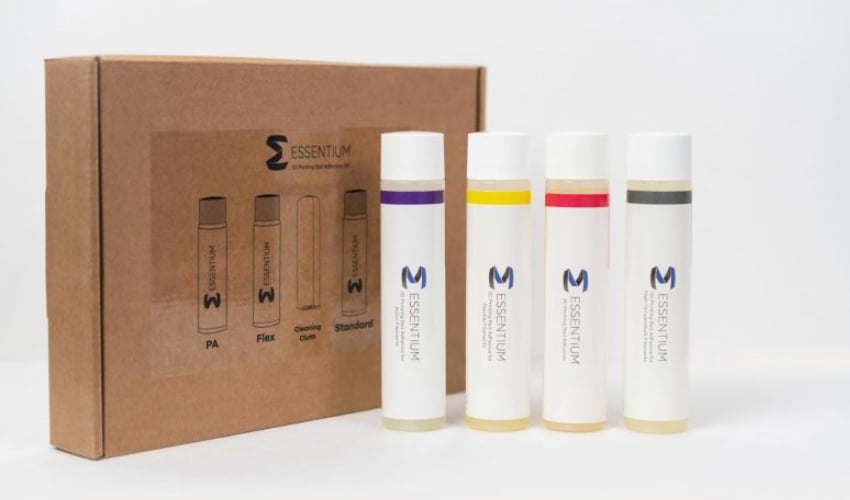 3D printers based on Fused Deposition Modeling, be it a desktop or an industrial one, typically require an adhesive solution for the print to stick to the print bed. Otherwise, there is a risk of the piece falling, which would obviously damage the object, but it could also damage the machine itself. Therefore, it is important to use 3D printing adhesives to firmly "attach" the print to the surface of the machine. Recently, Essentium Inc., a leading manufacturer of industrial 3D printers, has released a line of adhesives that are specifically tailored for their portfolio of materials and the High Speed Extrusion (HSE) 3D printing platform. In order to develop high-quality adhesives, the company partnered with Magigoo, one of the main providers of 3D printing adhesive solutions.
Magigoo, a brand owned by Malta-based Thought 3D, specializes in developing the products that improve the 3D printing bed-adhesion of various engineering-grade polymers. The product looks like a typical glue stick that you need to apply to the print bed. A great advantage of Magigoo adhesives is that they are "smart" – they ensure perfect adhesion to the hot plate during the printing process, but release it once the plate cools down. This property distinguishes Magigoo adhesives from other brands, that usually make it difficult to detach the piece after it's finished. Furthermore,  Magigoo products even help prevent warping. So, it is quite clear why the company is a leading one in the 3D printing adhesives field, and why Essentium chose to collaborate with them.
The recently launched Essentium 3D printing bed adhesives enable consistent and reliable printing process. The product was introduced in a large format of 120ml, since Essentium aims to meet the growing demand for industrial additive manufacturing. The newly-released line comprises four varieties of adhesives, each one being specifically tailored to a certain material(s). There is a Standard type, which is compatible with a range of 3D printing filaments; then there is one for Nylon Filaments. The third type is to use with thermoplastic polyurethane (TPU) filaments; and finally the fourth product is called High-Temperature Filaments, the purpose is obvious from the name. The line is are now available on the market.
Brandon Sweeney, Ph.D., Head of R&D for Materials and Co-founder, Essentium Inc. commented, "Continuous innovation across the entire 3D printing ecosystem is central to the revolutionary shift to large-scale additive manufacturing and Essentium is committed to providing a powerful platform to help manufacturers drive significant performance improvements. For customers, these new adhesives enable high-quality prints every time while also being solvent-free and environmentally friendly."
What do you think about Essentium and Magigoo jointly releasing 3D printing adhesives? Let us know in a comment below or on our Facebook and Twitter pages! Sign up for our free weekly Newsletter, all the latest news in 3D printing straight to your inbox!