3D Printing In The Heart Of Christmas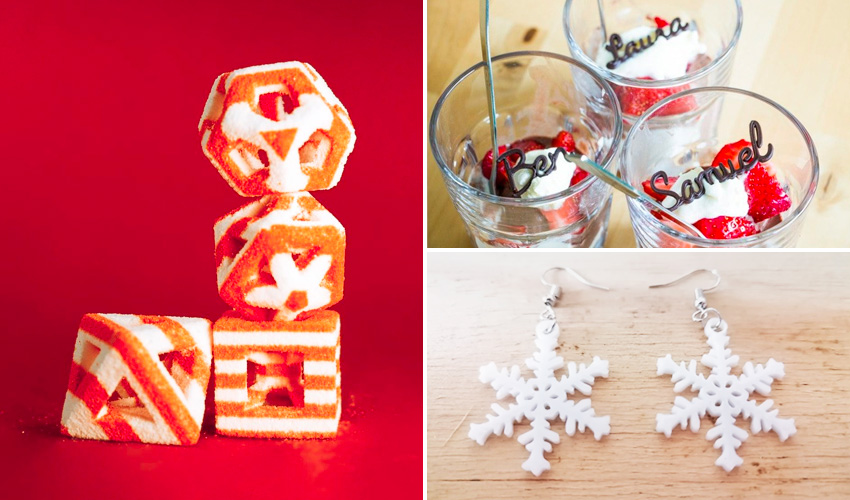 The end of the year is just around the corner! We are in dates where the food, meetings with friends, family, search and delivery of gifts are the order of the day… On the occasion of these holidays, 3Dnatives has prepared a list with gifts to put under the tree, decorations to have your house ready, food, accessories that you can wear for these special dates, all these objects have used 3D printing, so that you can spend Christmas under the sign of 3D technologies! We have helped you to plan everything. Let yourself be tempted by our advice and have a merry Christmas in 3D!
Lithophane Lampshade
Christmas simply requires a cozy atmosphere, so candles, fairy lights or lamps are a must. If you are still looking for the right gift for your loved ones, why not give them a lamp from the 3D printer? However, we are not talking about a normal lamp here, but with lithophane: meaning artwork made (or printed) with porcelain or plastic, which is visible when backlit by a lamp. You can do this by FDM 3D printing your chosen image for example, of you and your family, which is illuminated after printing with light through the lamp and thus the image shows up.This lithophane lampshade is sure to be an original Christmas gift!
Nexa3D XiP
Have you thought about trying your hand at 3D printing? Maybe you already own several printers and are looking for your next challenge? Whatever your status, we can recommend the XiP from Nexa3D as a perfect Christmas gift! Suitable for beginners and advanced users alike, the XiP is Nexa3D's venture into desktop resin printing (SLA, LCD, and DLP) and is suitable for a range of applications, including prototypes, engineering, and education. With a build volume of 4.8 liters and print speed of up to 18 cm per hour, this printer offers 'industrial strength at desktop size', as Michael Currie of Nexa3D puts it! For a full review of the printer from the 3Dnatives lab, you can click HERE.
Bluey, the 3D-printed Christmas tree
If you have a 3D printer at home, you have to create this Christmas doll. Called Bluey, this little Christmas tree is able to stand up, sit down and even bend down to dance. His design includes Christmas presents as feet, a star as a hat and a face on the body of the tree. To create it you will need to download the 3D file and print each part with the appropriate color, or paint the parts afterwards. After getting all the parts, you will only need to join them together with some adhesive or glue. With a versatile and fun design, you can place the original doll on a table or desk to give a special touch to your Christmas.

Snowflake Napkin Ring
You may not use a napkin ring in your day to day life, but as you know we are in special dates and it is a good time to use them. The decoration of the table is something to which we dedicate a lot of time during these dates, and it can be a detail that makes the difference and leaves your relatives surprised. Normally we pay attention to the selection of the tablecloth, cutlery, crockery, candles … How about you print this giant snowflake as a napkin ring? In just 50 minutes, you'll have a gorgeous product which will keep your table organized. The napkin ring measures 8 x 8 x 1 cm and has a hole of 3.5 cm through which you can insert your napkin. HERE is the link.
Sweets from Sugar Lab
Good food is simply part of Christmas, and the crowning glory of any meal is dessert. Instead of relying on cake, ice cream and the like, this year you could offer your guests something from the 3D printer! Sugar Lab combines the skills of chefs, architects and designers in one to offer you a selection of delicious products in their online store – including sugar, candy, chocolate and more. This dessert is sure to make your guests' eyes wide at Christmas. HERE you can order directly from the online store.
MyCusini's 3D Printed Chocolate Creations
Who here loves chocolate as much as 3D printing? This year, treat yourself to something very special and try the mycusini 3D printer. The premise is simple: to 3D print your own chocolate, you simply insert their proprietary mycusini 3D Choco and choose from the selection of shapes. The printer has a multilingual interface in German, English, Spanish, Italian and French, and users have access to the mycusini Club. This means you can easily create your own personalized 3D objects with individual lettering and names. The mycusini 3D Choco comes in a range of flavors and colors: as well as the standard dark and white, you can also have green or pink-colored chocolate if you fancy! A vegan option is also available. So, what are you waiting for? The printer is available on the website now for €478.00.
Snowflake Earrings You Can Make At Home
If you're lucky enough to already have a 3D printer at home and you want to show off something wearable this Christmas, try printing these snowflake earrings! The stl file is available HERE on cults3D for just €1, courtesy of user BNCarey. We like the simple, beginner-friendly design and of course the gorgeous end result. The printing material recommended by the user is PLA. As well as these earrings in particular, cults3D hosts numerous jewelry stl files for the festive season, from christmas trees to a miniature Grinch so take your pick, and enjoy your Christmassy creations!
Festive Bow Tie
The question of your perfect accessory for this year's Christmas has finally been solved with this festive bow tie! This STL file probably couldn't be more Christmassy, featuring two fir trees with presents underneath and a large poinsettia in the middle, this bow tie is sure to be the eye-catcher at the Christmas party. If you want to 3D print this bow tie yourself, be sure to add support structures so that there is stability in the button slot. The maker of this file used zigzag supports, which were then easily removed with needle nose pliers. Click HERE to go directly to the file.
What do you think of these 3D printed Christmas ideas? Let us know in a comment below or on our Linkedin, Facebook, and Twitter pages! Don't forget to sign up for our free weekly Newsletter here, the latest 3D printing news straight to your inbox! You can also find all our videos on our YouTube channel.