Exclusive interview with the creators of the 3D printer with 6-axis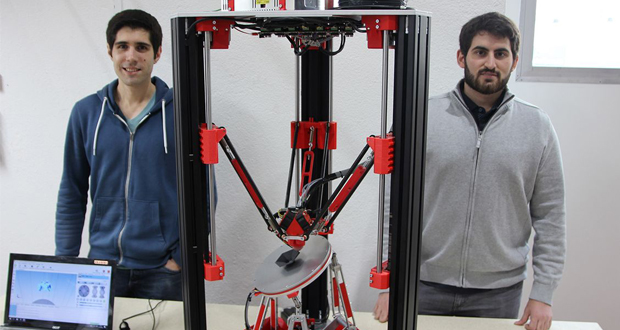 Last week, we presented you with a 6-axis printer that was created by two Swiss students from the University of Applied Sciences in Zurich, Switzerland. This printer allowed you print without having any material support. We wanted to know more about this ambitious project, so we decided to meet with Oliver Tolar and Denis Herrmann, the two masterminds behind this new innovative machine.
3DN: How did you discover 3D printing?
We used a 3D printer for the first time when we were enrolled in a systems-engineering course at the University of Applied Sciences in Zurich. We had to run a 3D printer and make different parts, but we were never happy with the results and so, assisted by one of our teachers, we decided to develop our own printer in the third year of our degree that was capable of using several materials like PLA, ABS and TPE. The printer is still being used by the Institution of Mechatronics Systems in Zurich, where we work part-time. We also print prototypes for the R&D department of the institution.
3DN: What was the idea behind a 6-axis 3D printer?
Our goal was to go further in Fused Deposition Modeling. The technology in its very form is now well developed, and so we have further focused on the movement of the axis and print media. Geometrics need to be designed so that they can be printed without support, but the problem is that the support often leaves unattractive traces on the printed object. Professional machines have supports that can be removed very well in a water-soluble solution. But for personal 3D printers, it's a challenge and removing it represents an extra expense. It is thus more desirable to avoid this problem by orienting the printing plate.
3DN: In which sectors can your 6-axis 3D printer be used?
For now, our printer is not yet widely used; although it could be used for the manufacturing of prototypes for an R&D oriented purpose. Printers that have a tray that can be tilted or with additional axis may also be interesting for individuals, but it would be necessary to accelerate developments of our machine, especially in terms of software. Traditional cutting software can be used up to a certain limit. You need software to transmit the data and a good calibration for the mechanics overall.
3DN: What are the next steps for your project?
The printer was designed as part of our university thesis, making it our final project with the development and construction of the mechanics on one side and the evolution of the software on the other. Today, we don't have any definite stages. Any further developments will most likely be in the form of a university project at the institute.
Do you think that a 6-axis 3D printer can be further developed? Let us know in a comment below!