Smartpod, 3D Printed Mobile Workspaces to Work From Home Anywhere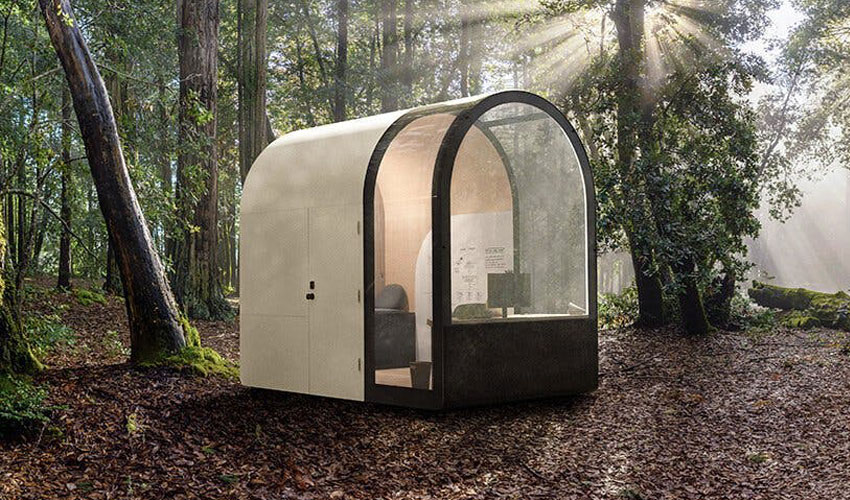 California-based design studio Denizen has re-imagined flexible workspaces with its new Smartpod — a 3D printed mobile office that can be installed anywhere. The structures are capsule-like and integrate all the equipment necessary to make work from anywhere possible, even in the middle of the woods. Built using sustainable materials, the mobile workspaces are 100% recyclable. However, it remains to be seen whether this project will be able to go beyond the project phase and enter the market.
The global health crisis has forced many employees to work from home and many employers to seek flexible work solutions. Some workers may find that their home spaces are not conducive to a productive workday — no dedicated room, bad furniture, unstable internet connection, etc. These are likely some of the problems Denizen considered when setting out to design this mobile and fully-equipped work environment. Part of the structure is 3D printed, similar to the first Danish offices in Copenhagen whose walls were made with a concrete 3D printer.
Smartpod, The 3D Printed Work Capsule
Designed to be an ideal remote workspace for one person, the Smartpod structure is only 90 square feet. Yet, with 10-foot ceilings and huge windows, it appears quite spacious. The studio is discreet about the printing method chosen but shares that the materials used in the production of the units are fully recyclable, opting for quality and durability. Inside, you can find a compact lounge and reading area, a mini-fridge, an adjustable desk for more comfort, as well as a 6-foot whiteboard for meetings and ideation. On the electronics and connection side, Denizen says the Smartpod is equipped with everything you need, including a router and business-level wifi. It's difficult to discern if we could have a network in the middle of the woods, but it's a good start!
According to the creators of Smartpod: "Denizen office pods are designed like consumer products, not conventional buildings, making them the perfect place to leverage advanced technology — like 3D printing, robotic fabrication, and integrated connectivity." Installation of a Smartpod would not require a building permit or any other regulation; the unit is also easily transportable if you ever decide to change where the unit is stationed. The price of the cabin is not communicated but you can make a request HERE.
What do you think of this Denizen's 3D printed workspace? Let us know in a comment below or on our Facebook and Twitter pages. Don't forget to sign up for our free weekly newsletter, with all the latest news in 3D printing delivered straight to your inbox!
Cover Photo Credit: Denizen