New Innovation Enables 3D Printed Wood to Dry into Shape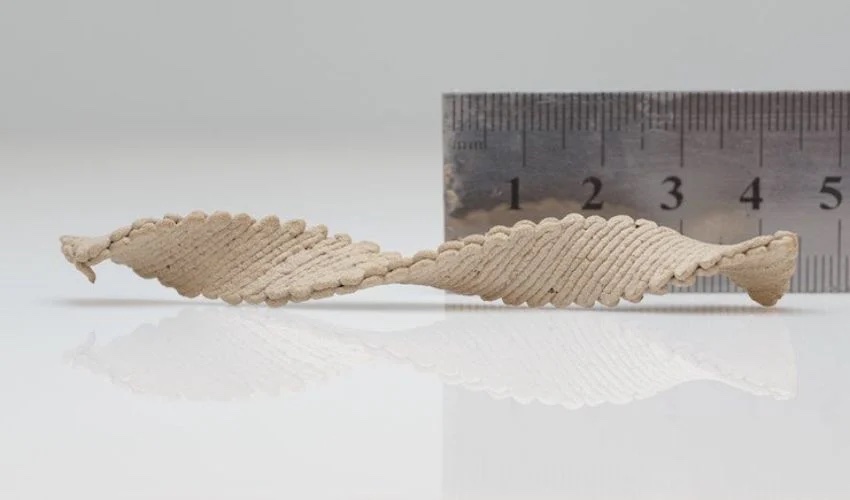 To design furniture, structures or even buildings, 3D printing is slowly becoming a popular manufacturing method. And innovations in this sector have been becoming more and more common. Now, in Israel, researchers at The Hebrew University in Jerusalem have developed a 3D printing method that uses wood in resin form to transform parts once they have lost all their moisture. Presented recently at the American Chemical Society Fall event, held from August 21st to 25th, this new wood ink could transform the world of furniture as we know it.
Because of its structure and cell arrangement, wood naturally changes shape when dried. Thanks to this characteristic, the researchers were able to 3D print a bowl of about 1 meter. To do this, they 3D printed the wood ink in a circular shape so that the ends of the circle would stand up once the piece dried. Eran Sharon, one of the members behind the project, explains what the researchers' motivations were, "We wanted to go back to the origin of this concept, to nature, and do it with wood."
Why Combine 3D Printing and Wood?
To develop this wood ink, the team says they collected wood waste from other projects. The resulting ink was made out of these microparticles, known as "wood flour" mixed with cellulose nanocrystals and xyloglucan, natural binders from plants. This results in an environmentally friendly, water-based ink. Once obtained, they need to determined the optimal printing parameters for this type of application. After several tests, they realized that the printing speed and orientation of the 3D printed strips played a major role in the transformation of the part. Specifically, these parameters determined how the wood will behave when dry.
Several pieces, including kitchen utensils and furniture, have already been designed using this method but the scientists' research does not stop there. They also want to prove that with certain parameters, it is possible to change the shape of the wood again. Eran Sharon concludes: "We hope to show that under some conditions we can make these elements responsive — to humidity, for example — when we want to change the shape of an object again." You can find out more in the press release HERE.
What do you think of the 3D printed wood from The Hebrew University of Jerusalem? Let us know in a comment below or on our LinkedIn, Facebook, and Twitter pages! Don't forget to sign up for our free weekly Newsletter here, the latest 3D printing news straight to your inbox! You can also find all our videos on our YouTube channel.
*Cover Photo Credits: The Hebrew University of Jerusalem