Student creates CUDA; a 3D printed jetpack
There is no better way to enjoy the summer than under water, this is what Archie O'Brien, a 21 year old student at the University of Loughborough in the United Kingdom, thought. He has developed a 3D printed jetpack with the help of the 3D Hubs company. There will be no reason not to enjoy swimming in pools or the sea without speed. "I want this to be something so cool that you're wearing it when you're not even using it," O'Brien told the website Digital "You feel like James Bond."
During months of work and research, he was finally able to present his latest university project, in which he had the collaboration of one of the largest 3D printing networks, winning the 3D Hubs Student Grant 2018, for his CUDA jetpack (water propeller printed in 3D), which is expected to be for sale shortly with a price of $ 6,000.
CUDA: The development of the 3D printed jetpack
The aquatic propeller printed in 3D, is something similar to a backpack driven by jet propulsion that allows the user to have an experience of speed under water without needing another element. To succeed in his project, O'Brien turned to 3D printing and CNC technology. That allowed him to reduce costs, and time in development. It used the technology of molten deposition and stereolithography for the development of the propellant, mixing carbon fibre, which provided the necessary rigidity for the pieces.
In total, 45 pieces of the CUDA were 3D printed, which were subjected to post-processing by adding a layer of resin and adding silicone seals to prevent water leaks that could affect the operation of the propeller, a great challenge for 3D technologies.
After months of development, the ultimate test for CUDA came up: to test it under water, and it passed with resounding success. So far, the 3D printed jetpack has been tested in swimming pools and open water, and there has been no problem with the 3D printed parts. In addition, they have been kept for long periods in water or in freezing temperatures to check their resistance.
To assemble the propeller only 10 minutes are needed, something that according to O'Brien is very simple to perform. The harness keeps the propeller at 90 degrees from the shoulders, so the user only needs to point with their body in the desired direction, and it has a manual trigger system to control the speed you want.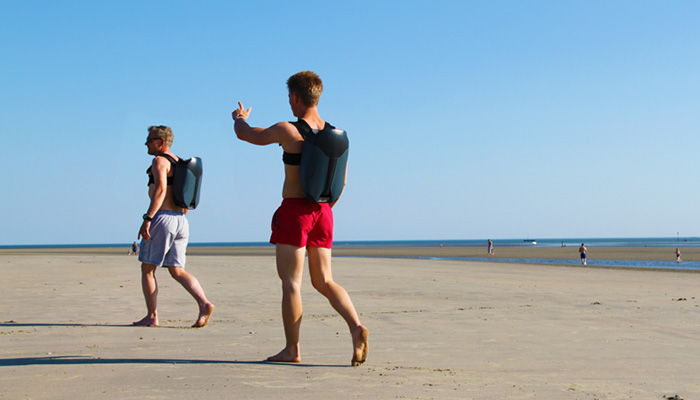 The development of CUDA still has the patent pending for its propulsion system and its first production models, expected to be officially launched in the first quarter of 2019 . In addition to being used in water sports, it is expected that this innovation will also be used in maritime rescue or coastal emergencies.
Video of the CUDA being tested:
Would you get this 3D printed jetpack to get through the waters with? Let us know in a comment below or on our Facebook and Twitter pages! And remember to sign up for our free weekly Newsletter, to get all the latest news in 3D printing send straight to your inbox!