HorizON project: 3D printed suspension light
Published on September 17, 2020 by
Aysha M.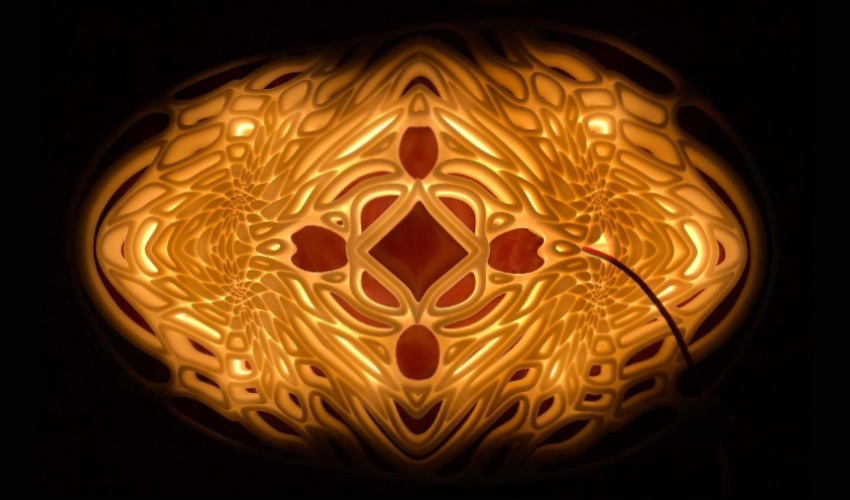 We have seen by now how additive manufacturing can inspire designers to create shapes and forms that were impossible to make with conventional manufacturing methods. New designs are emerging not only in fashion, but also architecture. With the ever increasing number of new 3D printing materials, such as the recently introduced Illusory materials, and techniques that allow more and more creative freedom, artists from all over the world are starting to explore the potential of AM for creative applications and aesthetic pieces. One of the most recent projects that caught our attention is the HorizON suspension light. The lamp features an intricate 3D printed pattern and combines advanced technologies with traditional Italian craftsmanship – it was made with the famous Murano glass.
One might say that the HorizON project is all about contrasts – it merges tradition with innovation, advanced algorithms and LED technology with the legendary Venetian glass that has been around for more than a thousand years. The suspension lamp was made for architectural interiors by an Italian artist Arturo Tedeschi together with Michael Pryor and Pavlina Vardoulaki. Actually, it is not the first time Arturo Tedeschi expresses his creative vision through 3D printing – earlier this year he was part of the team that designed perfume bottles for Formula 1 using metal AM.
As for HorizON, Arturo Tedeschi and the team said that the project is based on the belief that industry in the next years won't only evolve through a constant, technological upgrade of products, but reconsidering and reintegrating values such as uniqueness, hand making and even imperfection. "In this smartphone era, people are experiencing a sort of equation where technical perfection accelerates the obsolescence of products and disaffection. Objects are just temporary tools and companions that no longer tell a story and get abandoned at every hardware upgrade", wrote Tedeschi.
The outer shell of the lamp was handmade by a glass master, who relied on CNC-milled molds to obtain the beautiful form. In addition to the glass master, an expert glass consultant, Matteo Silverio, was overlooking the process. As for the core of the suspension light, it was additively manufactured. You can see its sophisticated pattern on the cover image of the article. The 3D model was made using generative algorithms and then 3D printed with Nylon. This material can allow a certain amount of transparency, which results in a beautiful game of light and  shadow reflected on the ceiling and the walls. But when the integrated LED light system is off, the Murano glass sheltering the 3D printed core becomes more noticeable, and thus creates a whole new aesthetic, different but just as beautiful. You can see it in the video below. The project was presented at The Venice Glass Week 2020 at Palazzo Loredan, in Venice, Italy.
What do you think about the 3D printed suspension design? Let us know in a comment down below or on our Facebook and Twitter pages! Don't forget to sign up for our free weekly Newsletter, with all the latest news in 3D printing delivered straight to your inbox!