First Ever 3D Printed Vegan Haute Couture Dress Presented at Paris Fashion Week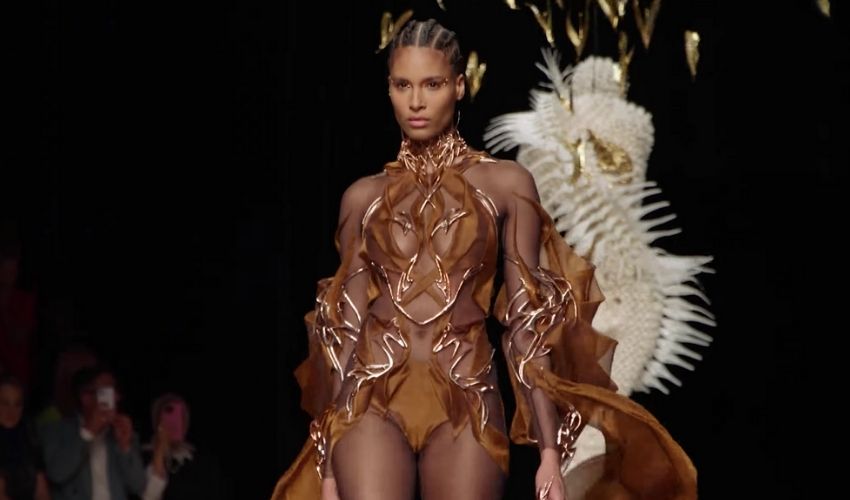 Recently, during this year's Fashion Week in Paris, a 3D printed haute couture dress was presented, which was designed by Dutch Fashion Designer Iris van Herpen. The dress is the result of a collaboration between the designer and Belgian ice cream brand Magnum and was made with a vegan biomaterial based on waste cocoa bean husks. 
Iris van Herpen is not new to the idea of combining 3D printing with fashion. The Amsterdam-based star designer already created a number of outfits that included 3D printed elements, that were presented at the most prestigious fashion shows around the world. Her most recent creation is another fantastic example of what can be done with the help of additive manufacturing. The dress, which was presented on the catwalk by supermodel Cindy Bruna at the event in Paris, is the world's first 3D-printed haute couture vegan dress. The brown color and shape of the dress as well as its material were inspired by the vegan ice creams made by Magnum. 
Creating The Vegan Dress
To fulfill her vision of the dress, Iris van Herpen sought help from Klarenbeek and Dros. The Zaandam-based design studio specializes in creating bioorganic materials and has previously created a variety of biopolymers made from organic materials such as algae, mycelium, and seaweed. Together, the team managed to create an organic biopolymer that was made from waste cocoa bean husks, which are left over in huge amounts in the cocoa industry. The haute couture piece features a three-dimensional design, combining the appearance of Magnum chocolate-coated ice cream with Iris van Herpen's signature luxury fluid style. The garment's brown fabric is equipped with entangled, copper-coated elements that are reminiscent of the roots of a tree. These elements were 3D printed by using selective laser sintering (SLS) technology.  
 Iris van Herpen said about the project, "I am honored to have been approached by Magnum ice cream as a partner to bring to life the Magnum Vegan Dress. As a designer, I have always worked to push the boundaries of design and this collaboration has really allowed us to take this one step further by linking the ingredients of an iconic Magnum Vegan to create an haute couture design. The opportunity to work with the brand on such an innovation in sustainable fashion has been a very special experience."  
The eye-catching dress is one of 16 futuristic-looking outfits from Iris van Herpen's 15th-anniversary fall-winter collection named "Meta Morphism". For Magnum, the project is the company's first step into circular fashion and promotes their new line of dairy-free, vegan ice creams. In addition to that, the project shines a light on the possibilities of creating fashion pieces in a more sustainable way and with more eco-friendly materials.     
Cindy Bruna, who was chosen to present the dress, was excited about the project, and said about it, "What an honor to be able to reveal the Magnum Vegan dress to the world, and to be able to do this at Iris's 15th-anniversary show just makes this even more special. Bringing together ice cream and haute couture in such an unexpected and impactful way is so exciting, making this a partnership that I am delighted to be a part of." If you're interested in other projects by Iris van Herpen, you can visit her website HERE. 
What do you think of the 3D printed vegan haute couture dress? Let us know in a comment below or on our Linkedin, Facebook, and Twitter pages! Don't forget to sign up for our free weekly Newsletter here, the latest 3D printing news straight to your inbox! You can also find all our videos on our YouTube channel. 
*All Cover Photo Credits: Iris van Herpen