3D-Printed Vaccine Patch Delivers Stronger Immune Response Than a Vaccine Shot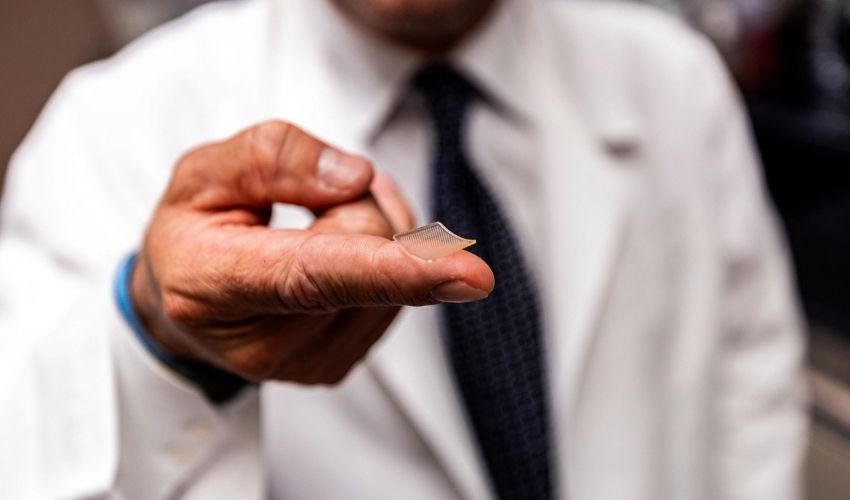 Since the emergence of this recent global pandemic, researchers across the globe have been coming up with new medical interventions to combat the virus. One such intervention has emerged through a collaboration between scientists from Stanford University and the University of North Carolina at Chapel Hill. The team of researchers has developed a 3D-printed vaccine patch that is capable of providing greater viral protection when compared to a traditional vaccine shot administered via syringe. Due to the skin's vast immune cells, applying the vaccine patch directly to the skin allows for improved immune response.
The team of microbiologists and chemical engineers are innovating existing RNA vaccines, like the Pfizer and Moderna COVID-19 vaccines, using microneedle patches. "In developing this technology, we hope to set the foundation for even more rapid global development of vaccines, at lower doses, in a pain- and anxiety-free manner," said lead study author Joseph M. DeSimone, professor of translational medicine and chemical engineering at Stanford University and professor emeritus at UNC-Chapel Hill.
The researchers used 3D-printed microneedles, lined up on a polymer patch that penetrates the surface of the skin just enough to deliver the vaccine. With the use of 3D printing, the microneedles can be customized to develop a myriad of vaccine patches for illnesses such as flu, measles, hepatitis, or COVID-19. "Our approach allows us to directly 3D print the microneedles which gives us lots of design latitude for making the best microneedles from a performance and cost point-of-view," explained lead study author Shaomin Tian, a researcher in the Department of Microbiology and Immunology in the UNC School of Medicine. The microneedles were created at the University of North Carolina at Chapel Hill using a CLIP prototype 3D printer that DeSimone invented and is produced by CARBON, a Silicon Valley company where he is also a co-founder.
The results from the study show the vaccine patch caused a significant response from T-cells and antigen-specific antibodies which was 50 times greater than a traditional injection delivered under the skin. Furthermore, the 3D-printed vaccine patches do not require cold storage and circumvent the hurdle of needle-training professionals to administer vaccine shots. Since the patch can be self-administered the researchers also believe this will lead to more people taking the vaccine. Learn more about these vaccine patches HERE.
What do you think of the 3D-printed vaccine patch? Let us know in a comment below or on our Facebook and Twitter pages. Don't forget to sign up for our free weekly newsletter, with all the latest news in 3D printing delivered straight to your inbox!
Cover Photo Credit: University of North Carolina at Chapel Hill