3D Printed Tourniquets Could Help Save Lives in Ukraine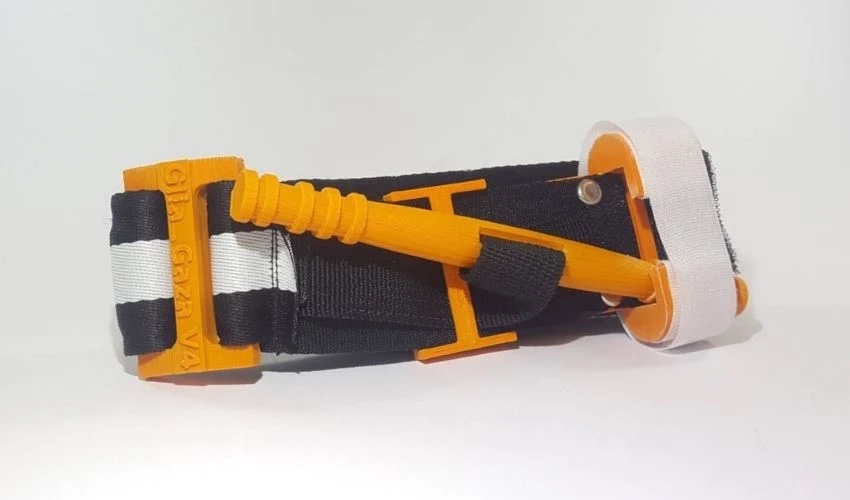 The need for assistance to residents in Ukraine could not be more urgent due to the current Russian invasion. Aid organizations, States and even private companies have called for donations necessary for survival. From clothes, food or medicine – the list for the people in Ukraine is endless at the moment. One product that is in particular focus are bandages, with a new alternative being pushed by the Canadian company Glia. Glia is a well-known face as a developer of 3D-printed medical supplies and is doing its part in the current crisis situation: they are calling on all medical professionals who have a 3D printer to download, print and donate the 3D-printed tourniquet template they have developed for free. In this way, Glia is enabling every medical professional to actively make a humanitarian contribution through the help of additive manufacturing.
Glia was founded for the purpose of making medical components of all kinds more accessible to medical personnel, and especially to countries and regions of the world where access to medical supplies is very difficult. For those who might not know, tourniquets are critical medical devices that are used to apply pressure to a limb or extremity in order to stop bleeding. Though not always ideal, they can replace bandages in war zones which may not have access to other medical materials, thus saving lives. For the past several years, the Canadian 3D printing company has developed these 3D printed tourniquets as well as a small but important line of clinical devices, among them: Facial goggles, stethoscopes, and the otoscope – all of which have also been used around the world to save lives.
Glia Has Launched a Global Call to Manufacture 3D Printed Tourniquets
In addition to padding and a buckle, the tourniquet also consists of a holder, a rod as well as a sheath and can be manufactured using additive manufacturing and ABS. This design could possibly contribute on a large scale to saving people with serious injuries from bleeding to death. The 3D printing company commented, "We're watching a humanitarian tragedy unfold in Ukraine, and civilians are bearing the brunt of it. We can and must help. Glia will create tourniquets in Canada and in Ukraine, as well as disseminate our experience of how to produce more in battlefield conditions. These tourniquets will be distributed to hospitals and civilians in Ukraine who are at risk of serious injury and death." To ensure that anyone with a 3D printer can help the cause, Glia has released a repository. This contains the material list, print models and assembly instructions for the tourniquets. With this free-accessible, yet life-saving design, they are making it possible for 3D printing to help save lives.
But the 3D technology also fulfills another advantage: the tourniquet most urgently needed for Ukraine and other crisis areas can be produced at a fraction of the cost that would have to be spent on conventionally manufactured tourniquets. For the equivalent of just €18.13, or about half the cost of a gold-standard combat application tourniquet (CAT), the tourniquet can be manufactured using additive manufacturing. Glia's next step is to plan to raise $20,000 through a fundraising campaign they have launched, which will allow them to manufacture 1,500 tourniquets and send them to Ukraine. However, if before reaching this goal the attack on Ukraine has already ended, the Canadian company has decided to send the tourniquets to another war zone. If you are also able to manufacture Glia tourniquets, you can find the free template HERE.
What do you think about the tourniquets for Ukraine? Let us know in a comment below or on our Linkedin, Facebook, and Twitter pages! Don't forget to sign up for our free weekly Newsletter here, the latest 3D printing news straight to your inbox! You can also find all our videos on our YouTube channel.
*Cover Photo Credits: Glia