BigRep 3D printed bicycle tire that could be indestructible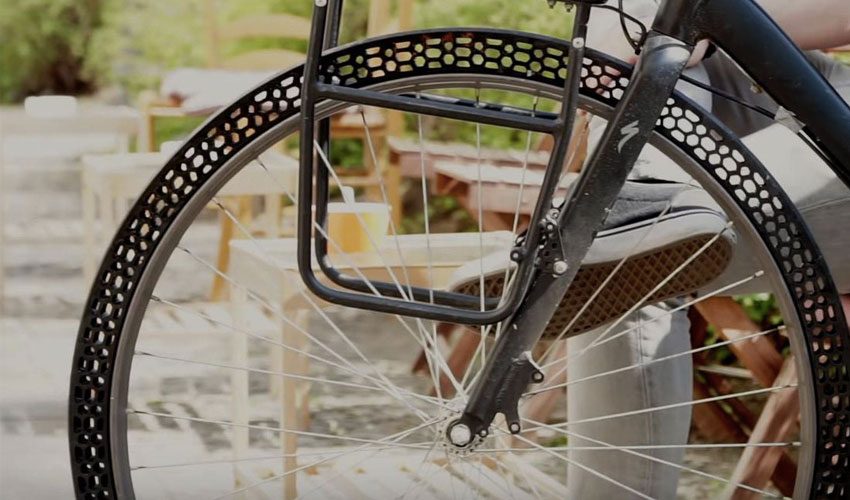 BigRep is continuing their research into the creation of innovative, 3 printed tires; this time, they are focusing on bicycles. To help us see their vision more clearly, BigRep has presented a new 3D printed tire that was printed using one of their large format industrial machines, the BigRep One. The startup says it has found a solution to avoid punctures, which will allow all cyclists to ride their bikes more serenely. They also explain that their tire can adapt to any type of environment, and it even allows cyclists to customize the tread and the internal structure of their bicycle tires!
Last week, BigRep presented its 3D printed rim prototype, an organically designed rim that was created to be both stable and convey a strong aesthetic. The German manufacturer is not stopping only with cars as they have now revealed their 3D printed bicycle tire. A tire that could probably be equipped on the electric bicycle, the Kinazo e1 that was also created through additive manufacturing!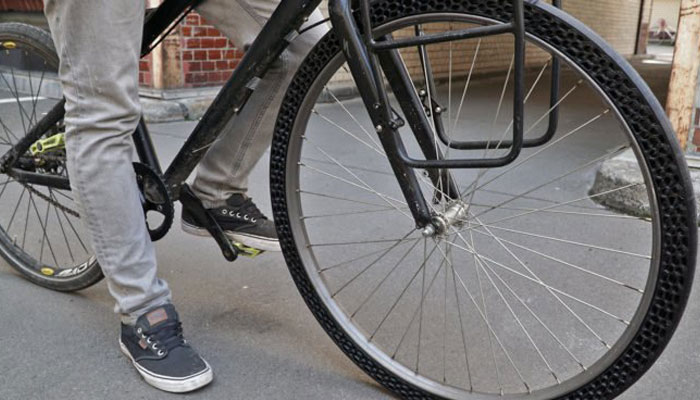 A tire 3D printed tire that is indestructible?
The startup explains that it has 3D printed an airless tire with a honeycomb structure, similar to the one developed by Michelin but adapted to any type of bike. It was designed and tested by designer Marco Mattia Cristofori, who claims that the driving was easy and unhindered. BigRep has printed its prototype with its Pro Flex filament, which is based on TPU, a flexible material that is ideal for tire manufacturing. It has good resistance to high temperatures and shocks as well as good durability with good damping behavior.
The German manufacturer explains that it has used 3D printing to offer more customization, both for tread and wheel size. One could imagine that the bike could ride just as well in the city as on mountain trails. In addition to this, the tire is also adaptable to the climate, with a tire that adheres more or less to the surface. Finally, BigRep especially wanted to create a tire that can not die; as 3D printing cannot inflate the tire with air, it, therefore, eliminates this risk for cyclists.
Unfortunately, we will not be seeing this tire in stores anytime soon because for now, it is only an "internal industrial application" according to BigRep and it simply aims to explore the different possibilities of large-scale 3D printing. The tire would therefore not be intended for mass production at the moment but who knows, we could possibly have airless tires in a few years on our next bike!
To find out more information on the tire, check out BigRep's Official website or the video below:
What do you think about this airless 3D printed tire?Let us know in a comment below or on our Facebook and Twitter pages! Don't forget to sign up for our free weekly Newsletter, with all the latest news in 3D printing delivered straight to your inbox!