3D printed Third Thumb lends an extra finger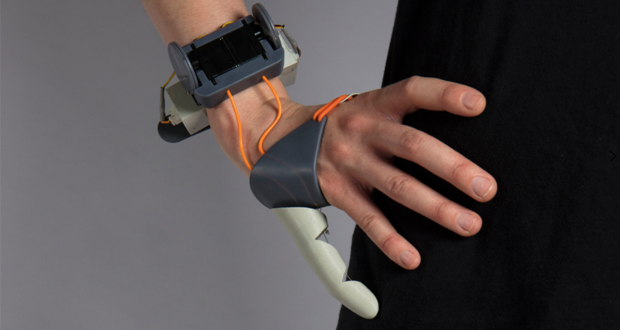 Today, there are many players in 3D printing – be they companies or associations – who have embarked on the creation of 3D-printed prostheses. Often associated with a physical disability, they replace a broken or underdeveloped part of our body. Dani Clode, a graduate of the Royal College of Art in London, wants to break this stigma and show how a prosthesis can be an advantage, not a handicap. It is with this goal in mind that she created the Third Thumb, a 3D printed prosthetic finger.
Prostheses today generally offer their user a considerable benefit, whether that be in terms of mobility or as an aid in the performance of certain tasks. The only downfall of this benefit is the price tag that comes along with it. It is because of this price that we are starting to see more and more 3D printed prostheses, as they give even more personalization at an even lower cost. Several examples of this can be seen, with a more recent one being the Fin– a prosthetic specifically made for a veteran in the United States.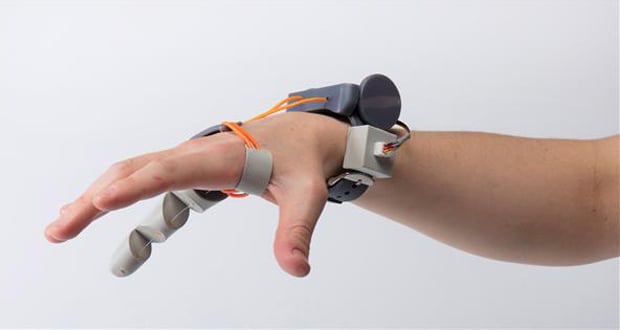 What makes Dani Clode's prosthesis original is that it is not intended for people who suffer from a physical disability. Instead, it helps the user to catch, squeeze, and perform more complicated tasks- like playing the guitar. Dani Clode's overall goal with her prosthesis is to change the perception that is usually attached when someone uses them. To her, prosthesis should be seen as something positive, more in the sense that it can increase a person's abilities, rather than repairing something.
"The origin of the word 'prosthesis' meant 'to add, put on to,' so not to fix or replace, but to extend," Clode explained. "The Third Thumb is inspired by this word origin, exploring human augmentation and aiming to reframe prosthetics as extensions of the body."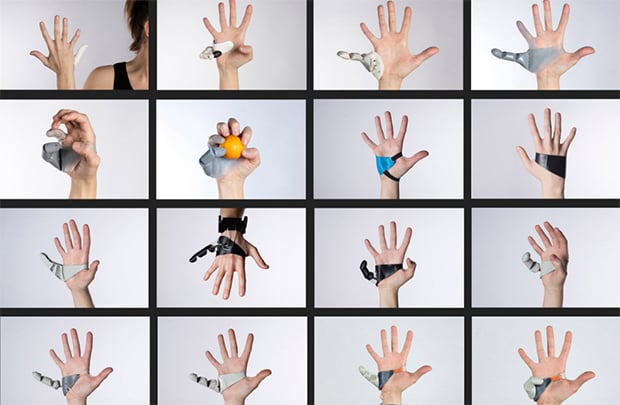 The Third Thumb is controlled by the feet of its user, thanks to pressure sensors located in their shoes. Clode explains that it is actually quite natural to link these two ends because we use a lot of connections between our hands and our feet – for example: when we drive or when we play the piano.
The prosthesis was 3D printed using a Ninjaflex filament and is held by a layer of resin that was also 3D printed. Two small motors allow the thumb to move in different directions through the folding of three hinges. The prosthesis is personalized to be totally adapted to the hand and its user. Different designs should be available soon.
To learn more about the project, click here.
Could the Third Thumb change the stigmas against prosthesis? Let us know in a comment below or on our Facebook and Twitter pages. Don't forget to sign up for our free weekly Newsletter, with all the latest news in 3D printing delivered straight to your inbox!