AM companies make 3D printed swabs for COVID-19 testing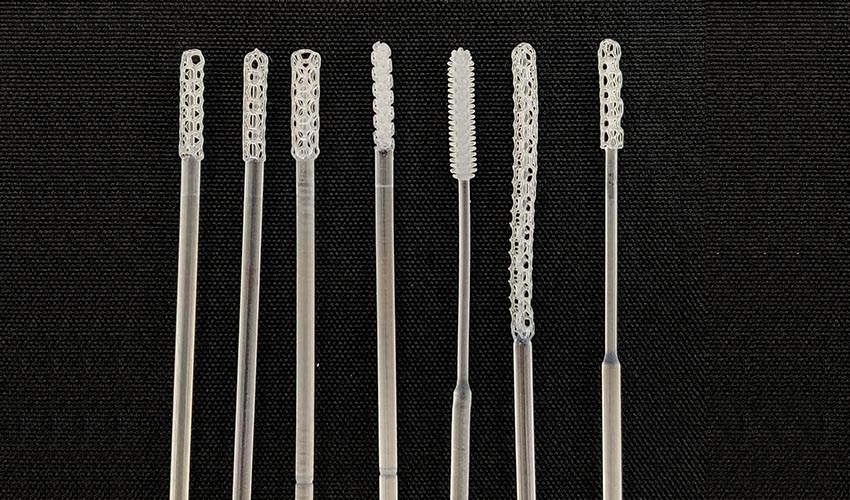 As you might have heard, nasopharyngeal (NP) swabs are needed to collect samples for COVID-19 testing. More precisely, NP swabs are flexible sticks with a bristled end that are inserted into the nose of a person before being placed in a vial that contains a culture medium. This is yet another medical device that is low in stock in many places around the world. Therefore, 3D printing companies are developing 3D printed swabs that can be quickly manufactured and sent to places that are out of stock.
Of course, the certification of any medical device or piece of equipment is essential to ensure it can be used safely. Based in California, the 3D printing company, Carbon is responding quickly to help meet this unprecedented demand by designing, validating and producing sampling swabs. In order to make sure this device can be used by healthcare professionals, Carbon designers are working in partnership with multiple healthcare institutions on the designs and production. The company explains that at the moment multiple designs are undergoing clinical assessment and they will release files as soon as this process is done.
Carbon is using its technology that enables the creation of lattice structures to create a test swab that is more efficient. Its Lattice Engine software allows to reduce the material usage, therefore reducing the printing time, and improving the comfort and performance for patients and healthcare workers. Furthermore, the company officially stated: "Given the current crisis, designs produced with Carbon's Lattice Engine will not be specifically restricted to Carbon DLS™ printing technology and may be designed for printing on any platform in any material." You can find more information HERE. 
Still in the US, Formlabs is co-creating swabs with doctors at USF Health and Northwell Health in order to maximize throughput, and ship as many swabs as possible to health systems in need. They explain that the entire swab is printed as one piece using their biocompatible, autoclavable materials (such as their Surgical Guide Resin). These samples have passed a variety of tests at USF Health, and have received an Emergency IRB approval as well as authorization from regulatory, infectious disease, and virology, among others.
The manufacturer of SLA 3D printers has put online a contact form if you wish to order test swabs from them. It will produce swabs in its FDA-registered, ISO 13485 certified facility in the United States. You can find more information HERE. 
What do you think of these initiatives to create 3D printed swabs? Let us know in a comment below or on our Facebook and Twitter pages! Don't forget to sign up for our free weekly Newsletter, with all the latest news in 3D printing delivered straight to your inbox!