Creating beautiful 3D printed structures inspired by nature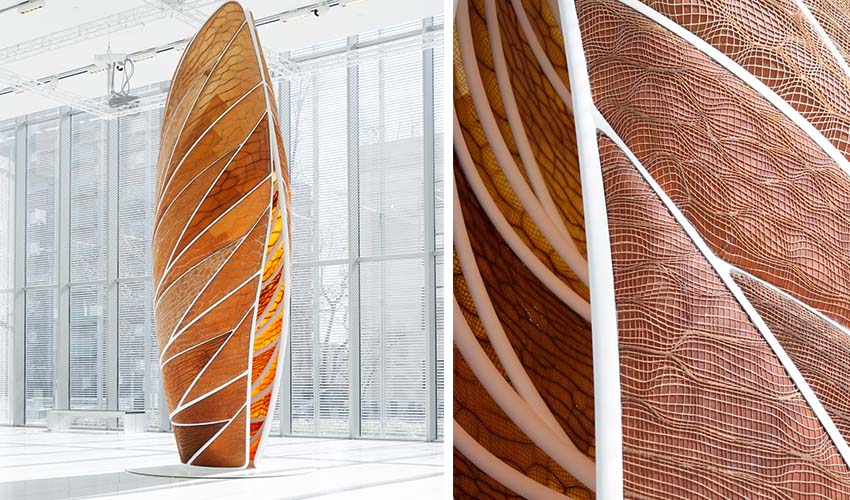 Together with acclaimed designer Neri Oxman and The Mediated Matter Group, Stratasys is showcasing how its 3D printing technology can achieve great art and design opportunities by producing beautiful 3D printed structures inspired by nature. The project is a collection of artefacts made almost entirely from organic matter and shaped by water. This collaboration led to the creation of a 5-meter high 'AguaHoja' frame and a complex 'Totem' structure.
The 'AguaHoja I' pavilion is a tall, honey-colored cocoon structure that is composed of the most abundant biopolymers on the planet. Given the extremely large size of this structure and its complex geometry, it's Stratasys' F900 3D printer that was selected as it offers a large building volume. However, the assembly of the structure was also challenging. Therefore, a number of custom features were also 3D printed to hold each individual component together. Neri Oxman explains, "The support from Stratasys to the Aguahoja project offered my team and I the unique capability to design complex shapes that ensure the structure's geometric stability, while also faithfully upholding the organic integrity that is central to the project's theme. The ability to quickly iterate the design throughout the project using 3D printing enabled us to optimize the structure and aesthetics of the pavilion in a way not possible with traditional techniques."
The second project, also called the 'Totem' seeks to address designers' ability to chemically synthesizes the 'pigment of life', melanin. Included in the project is an architectural proposal for an environmentally responsive melanin-infused glass-like structure. The channels in the glass structure, within which the melanin is housed, were 3D printed using a transparent digital material from Stratasys.
"One of the key criteria for Totem was the need to securely contain the melanogenic structure without compromising the ability to flawlessly promote every level of visual detail. As a result, we used an advanced transparent 3D printing material that can simulate the clarity of glass, enabling a clear visualization of the internal components and features," explains Neri Oxman.
You can find more information HERE.
What do you think of this project? Let us know in a comment below or on our Facebook and Twitter page! Don't forget to sign up for our free weekly Newsletter, with all the latest news in 3D printing delivered straight to your inbox!