3D printed shoes: what's available on the market today?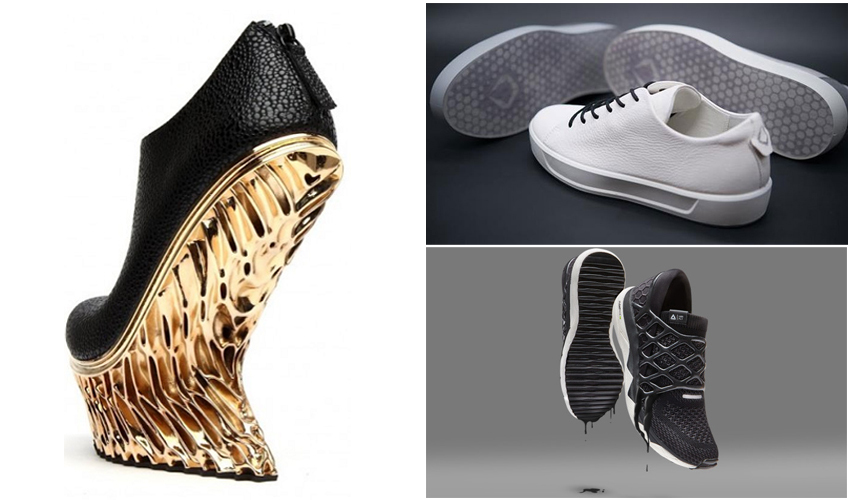 In the fashion industry, additive manufacturing allows designers' creativity to unleash: the collections are unique, personalized and can surprise thanks to their shapes and geometries. If we take a closer look at the footwear market, it is clear that 3D printing technologies also have their cards to play. Last year, SmarTech Analysis predicted that the use of additive manufacturing in this industry should generate more than $6.5 billion by 2029, a projected annual growth of 19.5%. If we just take a look at the number of projects launched in the last few years from sneakers, futuristic footwear to sports shoes – 3D printing technologies are everywhere. Note that it is not always the shoe itself that is 3D printed, but the outsole for example, or the midsole. Either way, 3D printing and shoes make a great pair and here are 10 3D printed shoes that will prove it to you!
1. Adidas
When Adidas decided to use additive manufacturing to manufacture sneakers in 2018, this generated a lot of attention. It showcased how 3D printing technologies could be used in series production, beyond prototyping. That year, the sports manufacturer made 100,000 3D printed pairs of shoes, called Futurecraft 4D, using Carbon's CLIP process. Carbon's 3D printing technology, CLIP, works by projecting a continuous sequence of UV images, generated by a digital light projector, through an oxygen-permeable, UV-transparent window below a liquid resin bath – a process similar to stereolithography (SLA). Adidas used CLIP to produce the 3D printed lattice soles for its Futurecraft 4D shoes. Not only does 3D printing add performance thanks to the lattice structure, Adidas revealed that 3D printing added a lot of flexibility to its activities, from reducing lead times to offering a shoe that could be completely customized at a reasonable price. In December of 2018, Adidas released another 3D printed shoe: the Alphaedge 4D sneaker, in partnership with Carbon again.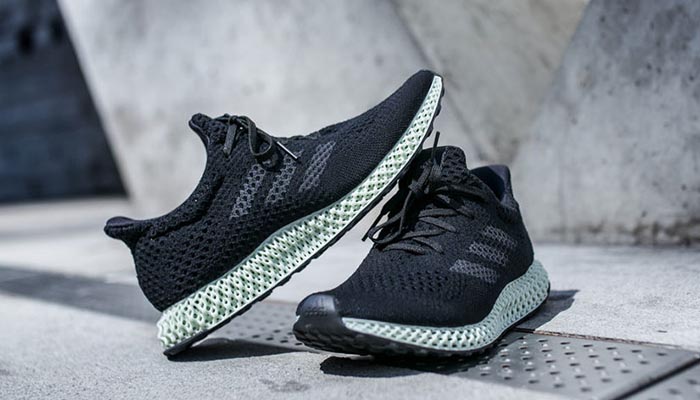 2. Reebok
Reebok is one of the most recognizable companies in the footwear industry. A few years ago, the company decided to use additive manufacturing technologies to create soles for a collection of their sports shoes. Although the rest of the shoe has been manufactured using traditional methods, the so-called Liquid Speed soles integrate a maximum-fit sole. For its development, the company used 3D printing in association with the chemical company, BASF, which used a liquid polyurethane material in the production of the soles. They used a robot to create the layers of the liquid material that form the pattern on the shoe and sole. In addition to providing greater performance and durability, the Liquid Speed has a very original design.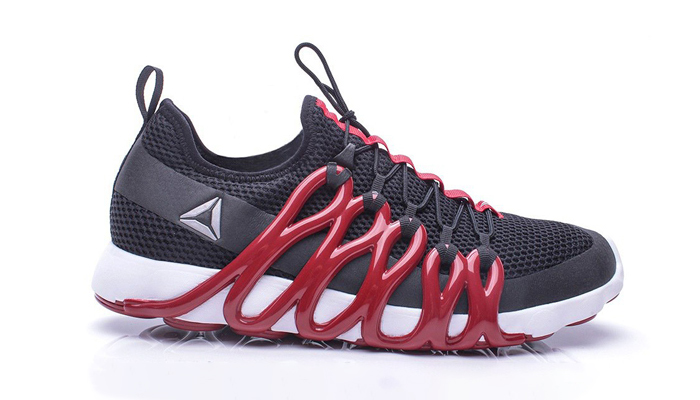 3. New Balance
In 2015, New Balance collaborated with 3D Systems to develop midsoles by means of additive manufacturing for its sportswear line. The so-called DuraForm Flex are soles created with SLS technology from a thermoplastic elastomer material. Their main features are those of a running shoe combining strength and flexibility thanks to the plastic used. The 3D printing technology allows for the production of complex structures that optimize shock absorption while making the shoe lighter. This is another example where the integration of additive manufacturing drives improved footwear design and production. Last year, New Balance worked with Formlabs on the TripleCell platform to launch the 990 Sport and the FuelCell Echo Triple trainers.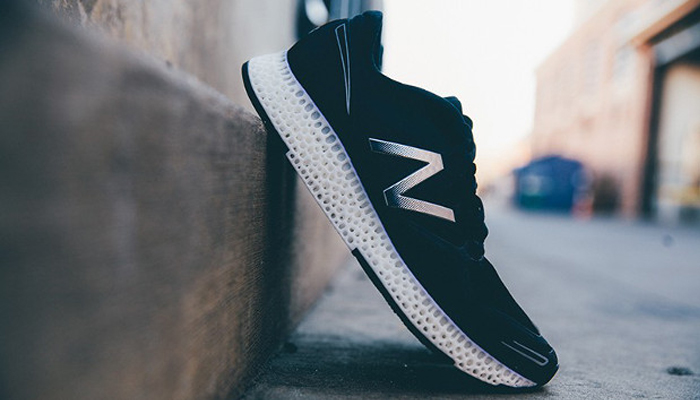 4. ECCO
The Danish shoe manufacturer, ECCO released its QUANT-U service in 2019. QUANT-U provides footwear customization. Thanks to a 3D scanning process which you can access in its stores the company is able to create 3D printed midsoles, perfectly adapted to the wearer. The midsoles are 3D printed from silicone to provide the right amount of cushioning and performance. The 3-step experience involves 3D scanning your feet for about 30 seconds to determine individual orthotic fit, analyzing the data, and 3D printing the midsole immediately in store after this!
5. Wiivv
Wiivv is a young Canadian company that specializes in the production of 3D printed insoles and flip-flops, fully adapted to the wearer's morphology. Thanks to a smartphone application, users can directly scan their foot, send this data to the company and receive a custom-made solution a few weeks later. Take flip-flops for example: thanks to 3D printing, Wiivv can customize certain elements of the shoe such as the straps or the vertical strap. The aim is of course to offer more comfort to the user. The company has its own machine park in San Diego and uses SLS technology.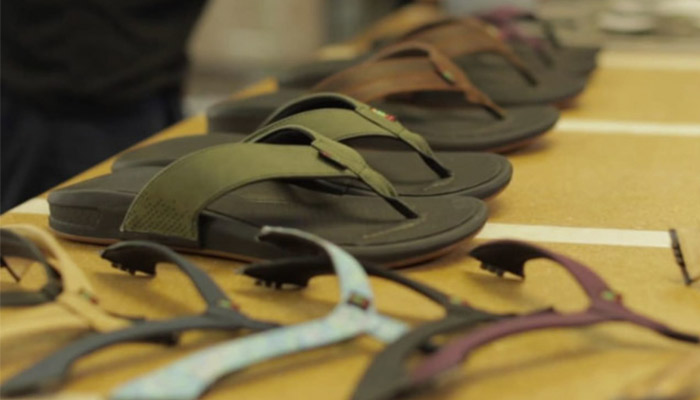 6. Prevolve
Prevolve was founded around the barefoot movement to provide minimalist shoes that empower the human body by letting your feet move in a natural way. The company based in Seattle, Washington, uses BioFusion Technology to create completely custom-fit and flexible material 3D printed shoes. After gathering data on your feet, they are able to create a tailored 3D model of the shoe. Following this step, Prevolve sends the code to the 3D printer to make a shoe with a sole thickness between 7 and 14 mm depending on how much cushioning you want and need. These shoes, which are also recyclable, are manufactured on-demand which also has the advantage of reducing waste.
7. Native Shoes
The Canadian manufacturer Native Shoes has launched the Liquid Printed Natives project with the intention of developing everyday objects using advanced methods, such as additive manufacturing. To this end, the initiative seeks to use liquid rubber as a production material in 3D printing on footwear. The manufacturer states that they used a 50% recycled ethylene vinyl acetate (EVA) material to achieve much more flexibility and the rubber look. What stands out in Native Shoes' project is the speed of production, as the people in charge explain that the 3D printing technologies had made it possible to significantly reduce manufacturing time compared to traditional methods. In addition, it offers consumers a high level of personalization when using the footwear.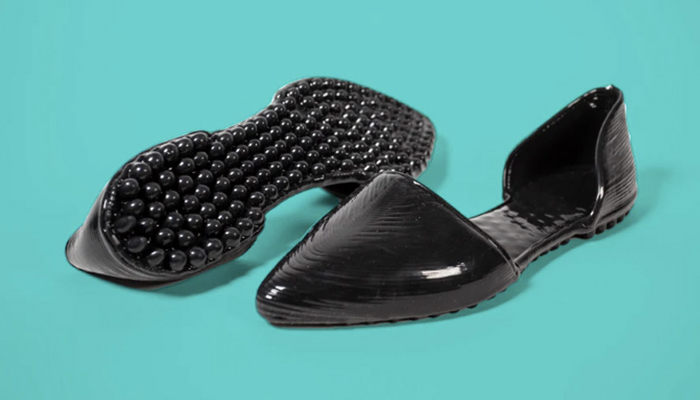 8. Organic
The Organic collection, designed by a young fashion student, Lucie Trejtnarová, continues the trend of 3D printed sandals. In collaboration with the materials manufacturer Fillamentum, she 3D printed the outer sole of the sandal on which she sewed several organic fabrics made from fibres extracted from pineapple or coconut leaves. The printed sole had to be strong enough to support this fabric: that's why Lucie chose a TPU that was flexible enough but resistant to abrasion and wear. It is also recyclable, a key component for the young woman.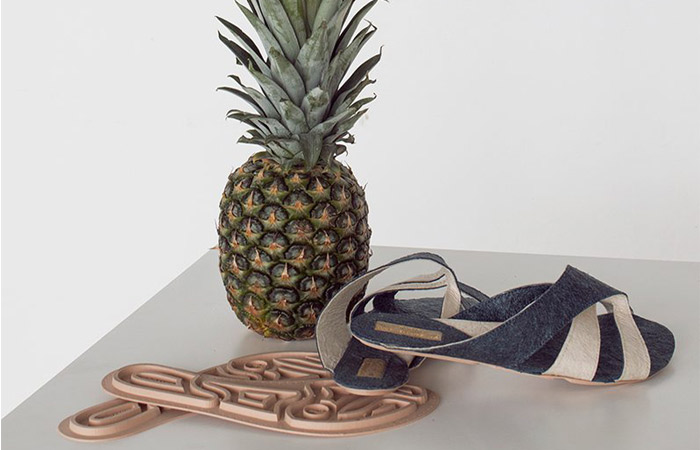 9. Iris Van Herpen
Iris Van Herpen is without doubt one of the best-known 3D printing designers: she is one of the first to use additive manufacturing to design entire collections, from dresses to shoes. The ones we are interested in today are those created in collaboration with Rem D Koolhaas, founder of the United Nude brand. On the occasion of the Paris Fashion Week, the designer had imagined a dozen pairs entirely 3D printed, inspired by the tree called banyan. The shoes, worn only in this context of high fashion of course, were made on a PolyJet 3D printer from Stratasys and in different colours.
10. Mycelium
Imagined by the design studio Ica and Kostika, the Mycelium pair is entirely 3D printed on an SLS machine. Rather imposing by its shape, size and design, it does not go unnoticed in the street – in fact, only 5 pairs have been created. Its designers say that these 3D printed shoes are very comfortable because they are fully customized to the person's feet: the 3D file is made from scanned data. It remains to be seen whether walking in them is fun!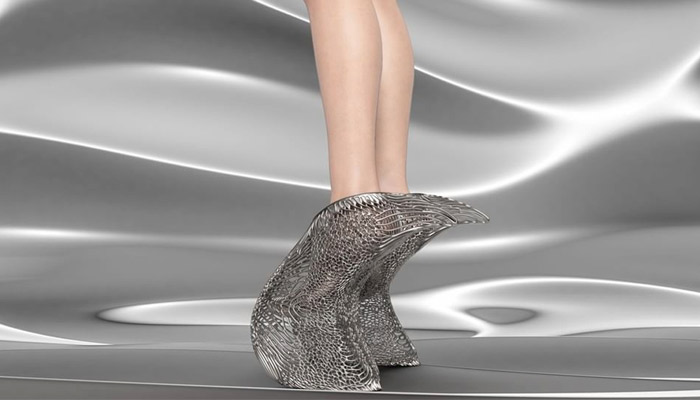 What do you think of these 3D printed shoes? Let us know in a comment below or on our Facebook and Twitter pages! And remember to sign up for our free weekly Newsletter, to get all the latest news in 3D printing send straight to your inbox!