Another 3D Printed Shoe Prototype Hits the Paris Runway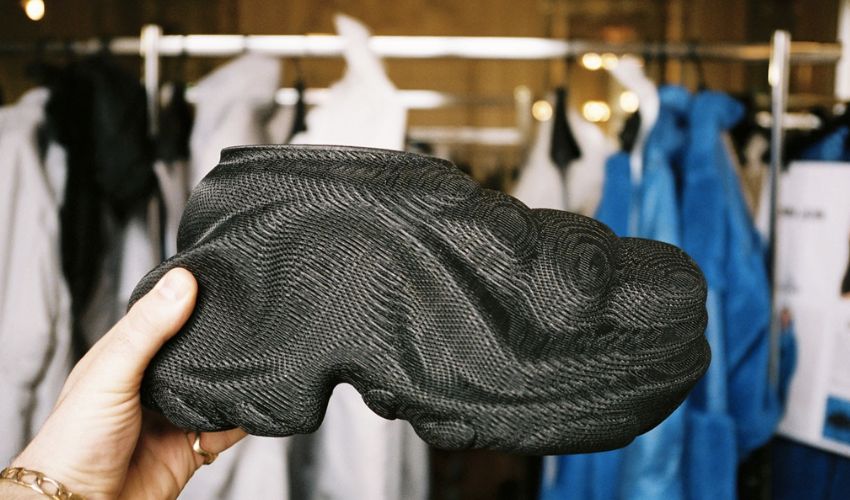 Paris Fashion Week men's haute couture collection (A/W 2023) took place this last week, seeing eclectic designs from Dior, Comme des Garçons, and Kenzo, as well as smaller unorthodox firms. Thursday 19th saw a piece from Danish outerwear brand Rains, which collaborated with the German shoe firm Zellerfeld to produce a 3D printed shoe named 'Puffer Boot'. The shoe has an unconventional look with an instep of 90% empty space.
Rains is known for their quirky easy-wear staples. They manage to combine practical, waterproof clothing with the unique high fashion looks suited to a runway. The inspiration for this recent collection is as follows:  "For AW23, Rains shields the hero. Owners of spaces void of green screens – the universe deep within. The unsung ones behind masks of everyday life. Harnessing power to stand in authenticity. For self. For all". Clearly, for Rains the 3D printed shoe is part of this celebration of individuals, using a technology which can make unique products.
For now, the shoe is not available for sale, and neither Zellerfeld nor Rains offer a great deal of information on the design or manufacturing process. Nevertheless, Zellerfeld promises that the silhouette will "inspire more printed shoe designs to go the oversized route in the future." According to their site, Zellerfeld's current customers range from NBA and Hollywood stars to Elon Musk's youngest child.
3D printing is often used in the fashion industry to create unique and unorthodox designs. It is a way of giving a piece a distinguishing feature and unique selling point simply through the manufacturing method. 3D printing also allows for the manufacture of complex structures in a short time span. For example, the Dutch designer Anouk Wipprecht recently produced 3D printed dresses inspired by technology, which were debuted at a New York gastronomy event, and Miss Universe Singapore, the pageant winner for the country, recently wore a 3D printed outfit which paid homage to her homeland. For now, 3D printing has not been used for mass production of clothing, in part because the materials in both these examples were not 'normal' clothing materials like silk, cotton or polyester, but plastics. 
What do you think of this 3D printed shoe? Let us know in a comment below or on our LinkedIn, Facebook, and Twitter pages! Don't forget to sign up for our free weekly Newsletter here, the latest 3D printing news straight to your inbox! You can also find all our videos on our YouTube channel.