3D printed rocket from Relativity will launch satellite into space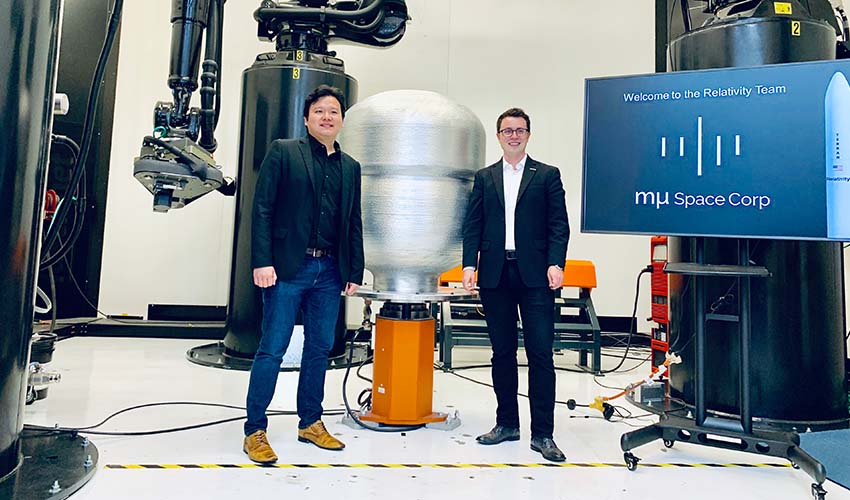 Relativity, the first autonomous rocket factory and launch services platform for satellite constellations has announced that it will partner with mu Space to launch a satellite to space on Relativity's Terran 1 rocket – the world's first 3D printed rocket. This partnership seeks to advance both companies' vision that the future of humanity lies in space. In fact, Relativity is planning to 3D print the first rocket on Mars. As for the Thai satellite and space technology company mu Space, it has the goal of developing space technologies to ensure safer lunar missions and enable human settlement on the moon within the next 10 years.
A new collaboration for a 3D printed rocket that will launch a satellite to space
Relativity is expecting to build its Terran 1 rocket in less than 60 days. In order to do this, it has and is continuing to develop the first aerospace platform that integrates machine learning, software, robotics and metal 3D printing technologies. As a result it is disrupting the time scale for such missions – instead of taking years it could build and launch in a matter of days.
Tim Ellis, CEO and co-founder of Relativity commented, "We're excited to partner with mu Space, a disruptive innovator in the Asia-Pacific region, to launch their satellite and space technologies with our 3D printed Terran 1 rocket. We look forward to collaborating to strengthen the U.S. and Asia-Pacific space economy, and to advancing the future of humanity in space together with James and the entire mu Space team."
More specifically, mu Space is developing both Low Earth Orbit (LEO) and Geosynchronous Earth Orbit (GEO) satellite and space technologies that will accelerate the adoption of Internet of Things (IoT) devices in smart cities, and encourage new space investments in the Asia-Pacific region. mu Space's LEO satellite will be a primary, dedicated payload on Relativity's Terran 1 rocket, launching in 2022. The CEO and founder of mu Space, James Yenbamroong added, "mu Space is accelerating space technology development in Asia, and we consider the moon as the next explorable body in space beyond Earth. Relativity has the vision, team, and technology to deliver exceptional advantages in launching mu Space's payloads, and supporting our goal of creating an interplanetary society in the future."
Relativity's Stargate 3D printer is supposedly the largest metal 3D printer in the world and the backbone to their vertically integrated factory. It is with this printer that the company will create the Terran 1 rocket and disrupt 60 years of aerospace technology by integrating intelligent robotics and 3D autonomous manufacturing technology. Apparently, Terran 1 has 100x lower part count than traditional rockets, a radically simple supply chain, and will be built from raw material to flight in less than 60 days. 
Find out more about Relativity and mu Space's partnership HERE.
What do you think of the use of 3D printing in aerospace? Let us know in a comment below or on our Facebook and Twitter pages! Sign up for our free weekly Newsletter here, the latest 3D printing news straight to your inbox!