BigRep 3D prints a wheel rim with a unique design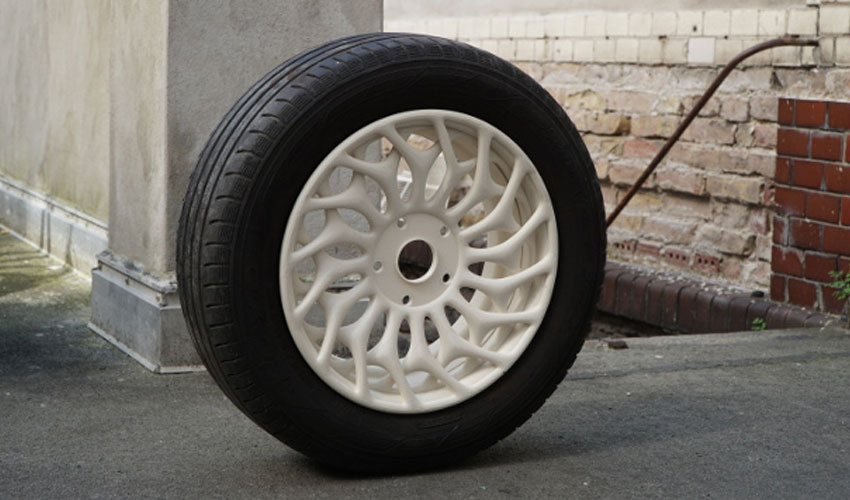 German 3D printer manufacturer, BigRep, recently unveiled a 3D printed prototype of a completely original wheel rim. One of their designers, Marco Mattia Cristofori, wanted to show how large format additive manufacturing could be beneficial for the industry while offering greater freedom in design. To demonstrate this, they used wheel rims, one of the most customized vehicle components by car enthusiasts.
While 3D printing has already proven itself in the design of tires – such as seen with Michelin or the 3D printed Oxygene tire, a concept unveiled by Goodyear this year – it has hit the automotive sector again with a 3D printed rim. This metal part of the wheel can be customized according to the needs and wants of drivers, with more or less complex structures. This customization is usually achieved through injection molding techniques, often long and expensive. However, the use of additive manufacturing could alleviate this process and offer more freedom in terms of form and design.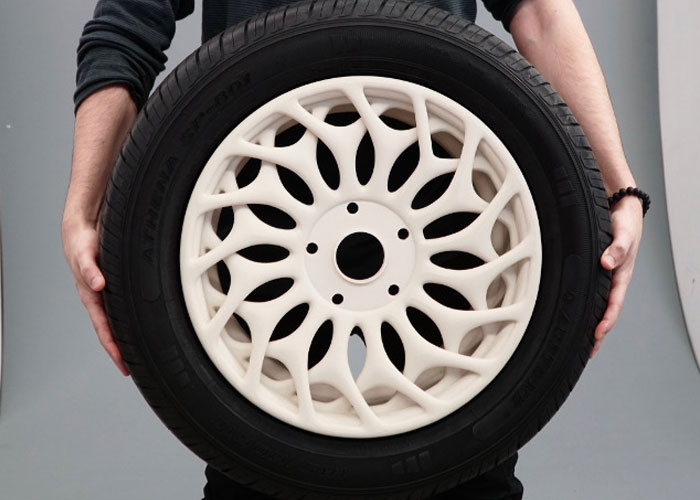 "With 3D printing, you can prototype organic forms, like with our Terra chair," said Cristofori. "It allows you to envision more complex shapes because you don't really have any limits." The 3D printed rim is the ultimate illustration of this freedom of design; the structure is reminiscent of interlaced tree branches that meet in the center. They offer all the necessary stability while conveying a strong enough aesthetic – as traditionally, hubcaps or rims are formed of a single line.
The structure of the rim is one that would have been very difficult to achieve with traditional manufacturing methods. Additive manufacturing offers the opportunity to test different designs, calculate exact dimensions and produce functional prototypes more quickly. Customization is also easier; one could imagine that the shape of these rims are all different, with branches more or less intertwined, or of various colors.
The rim was printed using the BigRep FDM Studio 3D printer. With a generous volume of 500 x 1000 x 500 mm, it will have achieved a high level of precision and detail, an essential element according to Cristofori. The prototype of the rim was printed using BigRep's PRO HT filament, which possesses good thermal resistance and interesting mechanical properties. It is not known which manufacturing method will ultimately be used to create the finished product, but Cristofori specifies: What we've developed here is a true-to-life model that can be powder coated." In regards to their next steps, "We are planning to Meta-Coat one of them, to see how it looks as a more final product with a highly professional effect."
Find more information on BigRep's official website.
What do you think of this 3D printed rim? Let us know in a comment below or on our Facebook and Twitter pages! Don't forget to sign up for our free weekly Newsletter, with all the latest news in 3D printing delivered straight to your inbox!